That mixed bag has left some conservation groups feeling "cautiously optimistic," while others are outright skeptical.
The former Montana congressman and Navy SEAL is now tasked with managing some /www.doi.gov/sites/doi.gov/files/migrated/pmb/osdbu/upload/dbwdoi.pdf","lnid":"500 million"}}">500 million acres of federal land ― roughly one-fifth of the United States. The Interior Department has a bifurcated and at times conflicted task: to preserve and protect public lands for future generations while also setting the polices that govern extracting natural resources from that land.
The challenge, of course, is to strike a balance. And with environmental activists becoming increasingly set against any development on public lands, a Republican Party with a platform that calls for transferring control of federal lands to states and a boss who enthusiastically promotes the fossil fuel industry, Zinke has his work cut out for him. 
"Outdoor recreation is about both our heritage and our economy," Zinke said in a statement at the time. "It worries me to think about hunting and fishing becoming activities for the land-owning elite."
On Monday, Zinke announced the department would offer 73 million acres in the Gulf of Mexico for oil and gas exploration and development. It's an area the oil industry has been eager to develop, but it's less controversial than offering new onshore leases. (As The Washington Post noted, the Trump administration's proposal doesn't stray far from former President Barack Obama's, which called for leasing 66 million acres in the Gulf.)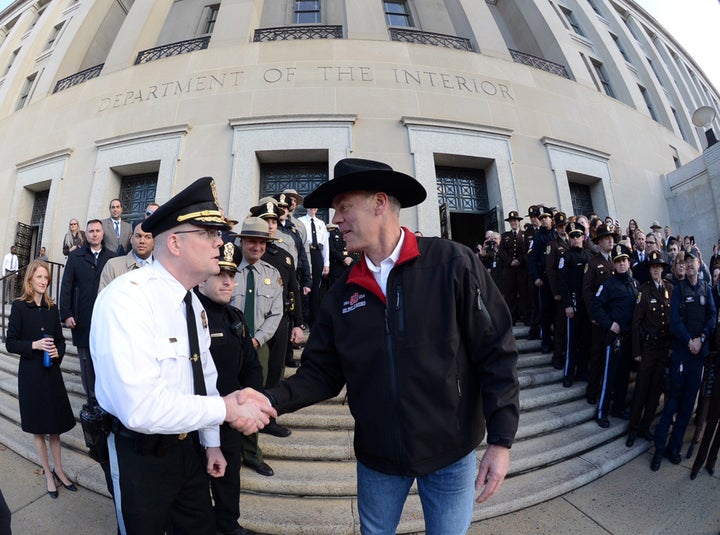 Although he's no stranger to criticism, Zinke has largely managed to retain the support of sportsmen, who are hopeful he will follow through on his promises to protect and expand hunting, fishing and recreation access. But even his most loyal supporters say they plan to keep a close eye on how President Donald Trump's pick approaches the job.
Land Tawney, president and chief executive of Backcountry Hunters and Anglers, a Montana-based nonprofit dedicated to protecting public lands and preserving America's tradition of hunting and fishing, told The Huffington Post that his organization is not against fossil fuel development on public land — if it is done responsibly. 
"That means staying out of core habitat areas, whether that's for sage grouse, mule deer migration, antelope — keeping those areas off-limits to development," Tawney said. "And then where it does happen, making sure it happens in a phased way so you're cleaning up as you go." 
The Theodore Roosevelt Conservation Partnership, a Washington, D.C.-based nonprofit advocating for public land access, was one of the groups that endorsed Zinke's nomination. Whit Fosburgh, the group's president, told HuffPost that while TRCP continues to support Zinke, the organization is "absolutely" concerned that Trump's energy agenda could affect public land access.
"There's a right way of doing it and there's a wrong way of doing it," Fosburgh said, adding, "You have to be smart about it and you have to plan upfront."
Technology has come a long way. And if Zinke and Trump do things right, Fosburgh said, they can conserve fish and wildlife and improve access while increasing energy development, both fossil fuels and renewables, on America's public land.
Among Fosburgh's biggest concerns is the looming repeal of a Bureau of Land Management rule known as "Planning 2.0." Finalized by the Obama administration in December, it aimed to increase public involvement in land use planning and management. The House voted in favor of a resolution to repeal the rule last month, and the Senate followed suit Tuesday. The bill now heads to Trump's desk for final approval.
"The point of the BLM planning rule is to get people together, to sit down early in the process and figure out smart development," Fosburgh said. "The fact that Congress is about to repeal that — and, by the way, with a provision that says you can never do something substantially similar to this — we actually think it's going to tie Secretary Zinke's hands with how smart you can be with development."
In voicing support for increased mining and energy development, Zinke has stressed the importance of doing things responsibly.
"Our public lands can once again be economic engines for our nation by creating jobs in energy, recreation, and conservation," he said in a statement following his confirmation. "By working with President Trump and Congress to reevaluate and fix flawed regulations that are barriers to job creation, we will unleash the economic opportunity within our borders. Creating jobs on public lands can and will be done in an environmentally responsible way during my tenure."
So far, Zinke has said all the right things, according to Fosburgh. But others are less convinced that Trump's pick will walk the walk. 
David Brooks, of Montana Trout Unlimited, an organization dedicated to conserving and restoring coldwater fisheries, told HuffPost that his group remains "skeptical" of Zinke.
"His record has certainly been inconsistent as a state representative on our issues — on clean water, good habitat, public lands," he said. "And so we're watching him closely and certainly hoping for the best."
Along with a measly 4 percent lifetime score from the League of Conservation Voters, Zinke has been listed on The Center for American Progress's "anti-parks caucus," a collection of lawmakers the group says jeopardize the future of the country's flagship protected lands. 
Other advocates worry about the simple fact that Zinke answers to Trump, a president who has dismissed climate change as a "hoax" and largely surrounded himself with like-minded deniers and fossil fuel executives.
And as Zinke told the Los Angeles Times in December, "When you're asked by the president to serve, it's awfully hard to say no, and I'm loyal." 
REAL LIFE. REAL NEWS. REAL VOICES.
Help us tell more of the stories that matter from voices that too often remain unheard.
BEFORE YOU GO
PHOTO GALLERY
Ten Best U.S. National Parks