Interior Secretary Ryan Zinke, who has painted himself as a fierce opponent of selling and transferring public lands, played host Wednesday to members of the conservative American Legislative Exchange Council, the Koch brothers-backed nonprofit that advocates handing over control of federal lands to states.
During the closed-door meeting, which was held at the Interior Department's library, Zinke and other top agency officials discussed the issue of transferring public lands and "empowering local communities to make land use decisions," South Carolina state Rep. Alan Clemmons (R), the secretary of ALEC's board of directors, wrote in a Twitter post.
In a subsequent post, Clemmons said Zinke "shared his plan to push the land use questions down to the local area."
"He still opposes transfer of lands but gave some hope, without promises being made, that he will consider [memorandums of understanding] with local government on land management," Clemmons wrote.
MOUs with local governments are "functionally equivalent to transferring ownership," said Chris Saeger, director of the liberal environmental group Western Values Project.
"It's like leasing a house ― they get the keys, but not the title, and if they break something we have to pay for it," he said in an email.
President Donald Trump and Zinke have both repeatedly said they will not dispose of federal lands, either by sale or transfer. There are approximately 640 million acres of federally controlled lands.
"[Zinke] has shown he cannot be trusted to keep public lands in public hands."
The Bureau of Land Management, one of the many agencies Zinke oversees, is considering the proposal "due to the isolated nature of the parcel from other BLM managed lands," according to a statement earlier this month by Chris Conrad, manager of the agency's field office in Price, Utah. The parcel is surrounded on three sides by PacifiCorp land and would be offered to the company as a non-competitive direct sale. A public comment period on the proposal ends Saturday.
It seems unlikely that the land is a hotspot for outdoor recreation, given that it is adjacent to a coal-fired power station. Nevertheless, BLM's looming sale goes against Zinke's repeated assurances.
Zinke "has shown he cannot be trusted to keep public lands in public hands," Saeger told HuffPost.
"The persona he crafted to advance his political career has disintegrated under public scrutiny over the last two years," he said in an email.
This is neither the first time Zinke has spoken at a private meeting of the pro-land-transfer group nor the first time BLM has proposed selling federal lands under Zinke's watch.
In October, the Trump administration proposed disposing of more than 1,600 acres that until recently were protected as part of Utah's Grand Staircase-Escalante National Monument, as HuffPost first reported. The recommendation ― buried in a draft resource management plan ― called for the selling or transferring 16 federal parcels, including 120 acres adjacent to property owned by Utah state Rep. Mike Noel (R), an ally of the administration and a staunch opponent of the Clinton-era monument.
Facing widespread public outrage, Interior scrapped that proposal within roughly 48 hours. In a memo to BLM staff, Bernhardt said the the plan is "inconsistent" with Interior Department policy, as the Salt Lake Tribune reported at the time. An agency spokesperson told the paper Zinke "did not see the proposal before it went out and was not happy about it."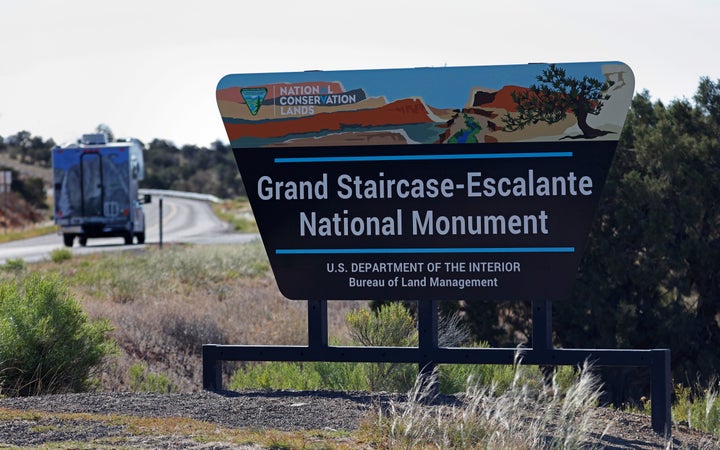 It's unclear if the agency chief supports, or is even aware of, the current proposed land sale in Utah. The Interior Department did not respond to HuffPost's request seeking comment about that proposal or the Wednesday meeting with ALEC. Clemmons and ALEC also did not respond.
Interior Deputy Secretary David Bernhardt, an ex-oil and gas lobbyist, and Ryan Nichols, an adviser at Interior and former employee of the conservative Heritage Foundation, also addressed ALEC members at the event, according to Clemmons' posts.
While with Heritage, Nichols helped organize an event on Western land management issues with Federalism in Action, another right-wing think tank affiliated with the billionaire Koch brothers. Through its "Free the Lands" project, Federalism in Action has pushed to get public lands out of the federal government's hands, arguing that their disposal is "the only solution big enough to tackle" today's economy challenges.
Also at Wednesday's gathering at Interior was Utah state Rep. Ken Ivory (R), the former head of the Free the Lands project. In 2012, Ivory introduced legislation demanding that nearly all federal lands in the state of Utah ― some 30 million acres ― be turned over to the state. The bill was passed and signed into law, but the lands have remained under federal control.
Ivory posted photos to Facebook that show him mingling with Zinke and other Interior officials on Wednesday.
"So much progress is coming from the work and leadership of Secretary Zinke," he wrote.
Support HuffPost
The Stakes Have Never Been Higher
Popular in the Community