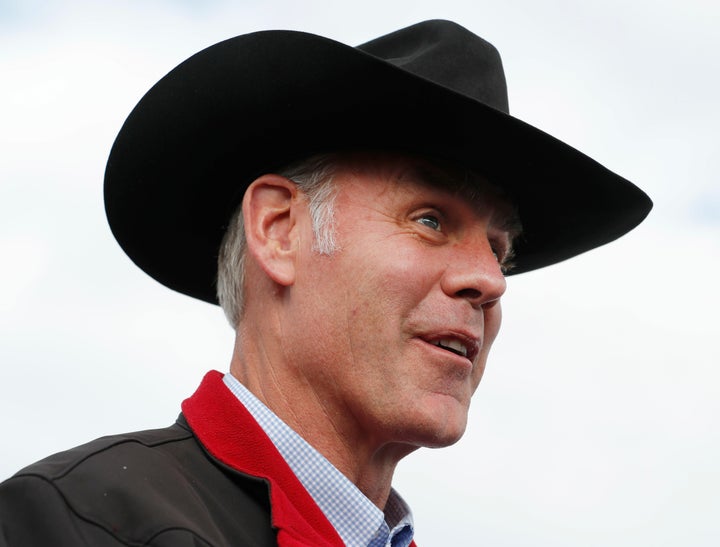 In January, Interior Secretary Ryan Zinke traveled to Las Vegas to mingle at the SHOT Show, an annual gathering of the shooting, hunting and outdoor trade industries. The people there were "all great conservationists, really good people, dedicated to the outdoors," he said in an interview with NRA-TV.
An avid hunter and angler himself, Zinke has often said that the best stewards of wildlife are America's sportsmen and -women. But after taking over the Department of the Interior in March 2017, he made quick work of angering some of those would-be supporters.
Zinke and his team focused on boosting fossil fuel production and rolling back national monument protections. And he repeatedly voiced support for budget requests that would gut federal funding for land acquisition and conservation programs.
Several hunting and fishing groups that initially found a lot to like about the self-proclaimed "Teddy Roosevelt conservationist" have become outspoken critics.
Earlier this month, he hosted a roundtable of more than two dozen outdoor sporting and conservation organizations to get their input on his planned reorganization of the department. He promised them a "grand pivot" away from energy development and toward species and habitat conservation, according to E&E News.
Besides the conservation roundtable, Zinke has taken a number of steps in recent months that might reel back those groups.
The Interior Department made several pro-hunting announcements in the week after the conservation roundtable. It moved to scrap a 2015 rule that bans aggressive hunting tactics in national preserves in Alaska, including shooting bear cubs and wolf pups in their dens and swimming caribou from motorboats. It proposed expanding hunting and fishing opportunities on numerous wildlife refuges. And it named 17 members to a new panel, the Hunting and Shooting Sports Conservation Council, which will advise Zinke on wildlife and habitat conservation.
"We're going to take him at his word. He seemed sincere about it."
Some of those who attended this month's roundtable are now sounding a more optimistic note about Zinke.
Whit Fosburgh, president of the Theodore Roosevelt Conservation Partnership, told HuffPost last July that it was "troubling" to watch Zinke work solely on the development of natural resources "without even lip service to conservation." Fosburgh's nonprofit advocates for access to public lands for hunting and fishing.
At the roundtable, he said, the secretary acknowledged that energy was the major push in 2017 and declared that the next few years would be about conservation, departmental reorganization and tackling the maintenance backlog at national parks.
"We're going to take him at his word," Fosburgh told HuffPost this week. "He seemed sincere about it."
Collin O'Mara, president and CEO of the National Wildlife Federation, also voiced newfound optimism after the meeting, telling E&E that his group is "committed to working with Secretary Zinke more closely on priorities like increasing America's wildlife populations, conserving wildlife corridors and expanding outdoor recreation opportunity." And Steve Moyer, vice president for government affairs at Trout Unlimited, told the publication he was "glad to hear of a change of direction from Mr. Zinke."
Jamie Rappaport Clark, president and CEO of the nonprofit Defenders of Wildlife, told HuffPost that non-game and endangered species are still missing from the conservation conversation. Zinke's pivot, she added, seems largely geared toward rebuilding crumbling park infrastructure and reorganizing the agency.
"I didn't come out of [the meeting] believing that our nation's natural resources chief steward was either enlightened or energized to conserve biodiversity," Clark said. "Not at all."
Zinke is mistaken, she said, if he thinks shuffling employees around will lead to more sustainable fish, wildlife and plant habitat and resources.
In a statement after the roundtable, David O'Neill, chief conservation officer of the National Audubon Society, said that while he appreciated the opportunity to join the discussion, the group continues to "fundamentally disagree with the Department of the Interior's interpretation of the Migratory Bird Treaty Act."
The Interior Department had announced in December that accidentally killing birds — with windmills, power lines or oil rigs — would no longer be treated as a violation of federal law. The Trump administration's re-interpretation of the Migratory Bird Treaty Act protects energy companies from prosecution for these unintentional, albeit not always unpredictable, deaths.
Popular in the Community