 WASHINGTON -- Ryan Zinke, a Republican House candidate in Montana, has gained an edge in his crowded primary race thanks to the enthusiastic support of a super PAC. The group has been running ads touting his candidacy and was even encouraging people to back him before he officially jumped into the race. The two were so close -- literally -- that at one point, the super PAC was renting office space from Zinke, in a building right across the street from his house.
But the decision by the group, Special Operations for America, to support Zinke is not exactly surprising. Zinke founded it himself two years ago, and he's now reaping the benefits of its support as he runs for Congress.
It's not completely clear how legal this set-up is in this post-Citizens United world. But it smells fishy enough that it's raising objections -- not only from campaign finance reform experts, but also from Zinke's fellow Republicans, who don't usually complain about the influence of super PACs.
Shortly afterward, on Oct. 11, SOFA began tweeting about a possible Zinke candidacy, writing, "Washington needs leadership. Should Ryan Zinke run for Congress?" Over the next six days, the group sent seven more tweets about Zinke. Those were followed by five tweets enthusiastically promoting his exploratory committee, sent from Oct. 18 to 21.
The ties between the Zinke campaign and SOFA go beyond advertising. According to Federal Election Commission reports, SOFA paid a researcher named Lester Cooper more than $4,000 between August and November. Zinke's campaign also employed Cooper, paying him more than $1,400 in November. Sharing a researcher isn't necessarily illegal, but it may be, depending on what projects Cooper worked on.
And until Nov. 12, 2013 -- after Zinke declared his candidacy -- SOFA listed its official address as 336 W. 2nd St., Whitefish, Montana. Zinke revealed that he owned that property on a disclosure form he filled out in 2012, when he ran for lieutenant governor. Zinke is currently registered to vote at a residence right across the street. The arrangement is not illegal, but it does demonstrate the close ties between the super PAC and Zinke.
SOFA changed its address to one in Malta, New York, in November. Below is a video, sent by a campaign source, showing the proximity between Zinke's residence and the former location of SOFA:
Neither Zinke nor SOFA returned requests for comment, although in the past, both have insisted they operate independently of one another.
But the Campaign Legal Center, a non-profit campaign finance group that has broader concerns about the set-up between SOFA and Zinke, believes the law has been violated in this case.
The group filed a complaint with the FEC last month taking issue with two ads the super PAC created. Both ads used photos of Zinke that appear to have been created by the Zinke campaign but were not readily available to the public on its website, according to the complaint. It alleges that the campaign gave the photos to SOFA, which then disseminated them, in what amounts to illegal "coordinated communication."
As a super PAC, SOFA is prohibited from contributing to the Zinke campaign, through both in-kind contributions and coordinated communications.
There is also the larger question of whether Zinke's situation is legal. "The notion that a person could set up a super PAC and operate it for a couple of years and then simply announce that they're stepping away from the super PAC and running for federal office -- the opportunity to do that could be a pretty big threat to the integrity of the contribution limits," said Paul S. Ryan, senior counsel for the Campaign Legal Center.
"It's not a huge concern specifically with respect to Zinke and the super PAC because my understanding is that as of last fall, when he stepped away from the super PAC, the super PAC didn't have much money," he added. "But I could see that general fact pattern being used as a model down the road for someone to say, 'Oh yeah, I could set up a super PAC and raise millions of dollars in unlimited amounts, and then become a candidate and announce my candidacy and have that super PAC that I just raised millions of dollars for spend every penny to get me elected.'"
And the set-up falls into a legal grey area on which neither the FEC nor the courts have ruled yet. But it could, in the end, be illegal.
Ryan explained that the McCain-Feingold campaign finance law bans candidates or office-holders from raising or spending money from any entity "established, financed, maintained or controlled" by that candidate or office-holder, outside of federal limits.
The question, however, is whether the rule applies if the candidate formed the group in question before deciding to run for office.
"Does the entity have to have been established by an individual while they were a candidate? Or is it enough for a now-candidate, previous to becoming a candidate, to have established an outside group for the soft money ban to apply?" he wondered.
The arrangement is questionable enough to raise the concern of some prominent Montana Republicans.

Former U.S. Rep. Rick Hill (R-Mont.) wrote on Facebook that some of his "reservations" about Zinke concern "the obvious ethics questions surrounding his association with SOFA and it's [sic] improper promotion of his candidacy."
Former GOP gubernatorial candidate Ken Miller sent an email to supporters, writing, "While [Zinke] claims no coordination between the groups, both conservatives and liberals alike are taken aback by this shady affiliation. This issue is already being brought up amongst liberals. ... These concerns are real and will be used to defeat Zinke in the general election, essentially give away the congressional seat."
Both Hill and Miller are former chairmen of the Republican Party in Montana. State Sen. John Brenden (R) also held that position, from 1983 to 1987, and similarly expressed concerns about the super PAC arrangement in an interview with The Huffington Post.
"That arm's length situation can sometimes get a little cozy," said Brenden. "It's kind of like nepotism. ... I think overall, should he win the primary, it could hurt him in the general election. I know the Democrats very well because I've been in this game for over 50 years, done about everything in Montana that you can do, and I know what they'll make out of it."
One of Zinke's primary opponents, former state Sen. Corey Stapleton (R), has also spoken out about SOFA.
"You've not supposed to have a super PAC raise money for themselves then hand it over with a wink and a nod and be able to use it as a source of revenue," Stapleton told the Associated Press.
Zinke is running in a crowded primary field. In addition to Stapleton, he faces state Sens. Matt Rosendale and Elsie Arntzen and tea party activist Drew Turiano.
Reached by The Huffington Post, Turiano said he had no comment on the coordination allegations. "All I know is that he's taken in a lot of money from a lot of of special interests and he'll owe them a lot of favors if elected," Turiano said.
Brenden said he is backing Rosendale, whom he first met in the 2011 session of the legislature. He said he was impressed with the first-term senator and liked the fact that he had business experience. Hill is backing Arntzen and Miller is backing anyone besides Zinke, according to the Associated Press.
The winner of the primary will face either former state Sen. John Driscoll (D) or John Lewis, who served as an aide to former Sen. Max Baucus (D-Mont.), in the general election. Rep. Steve Daines (R-Mont.), who currently represents the state's at-large congressional district, is running for Senate.
Zinke's scheme, of course, is similar to one made famous by Comedy Central host Stephen Colbert, who started his own super PAC and then left the group when he announced that he was running for office. But Colbert's campaign was different from Zinke's in several key ways, not least of which is the fact that Colbert was running for "president of the United States of South Carolina," which is not a real office.
Before You Go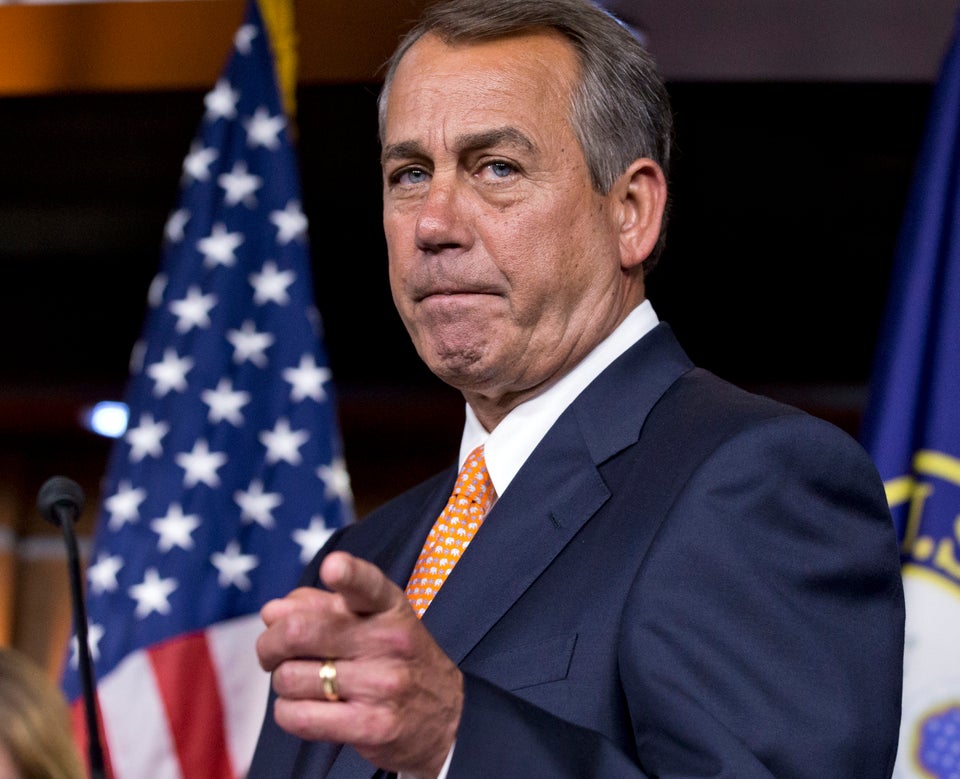 Conservatives Pointing Fingers
Popular in the Community