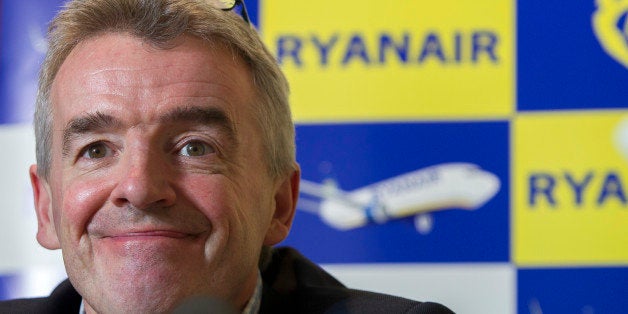 Even for Ryanair, this is too crazy to be true.
Ryanair, the love-to-hate Irish airline, hopes to offer transatlantic flights at crazy low prices one day.
According to the Telegraph, Ryanair chief executive Michael O'Leary told the Irish Hotels Federation conference Tuesday that his airline would offer tickets to New York and Boston for €10 (that's £8.26 or $13.81). Flights back to Europe would cost €7.30 (£6.03 or $10.08).
These insanely cheap flights won't happen, however, until Ryanair acquires the long-haul aircrafts necessary to make the flights. And that could take up to five years.
O'Leary also admitted that extra fees would apply, charging passengers for everything from luggage to meals. Business and first-class seats would also be an additional cost.
"We can make money on 99 cent fares in Europe," O'Leary added. "Not every seat will be €10 of course, there will also need to be a very high number of business or premium seats."
In October, Norwegian, another budget airline, announced they will be offering transatlantic flights at low -- but not £10 low -- prices. Norwegian's transatlantic flights start around $240 one way, which is still pretty cheap for a flight across the ocean.
Ryanair's plan seems pretty far fetched... But if they do get those planes one day, would you fly Ryanair long-haul?