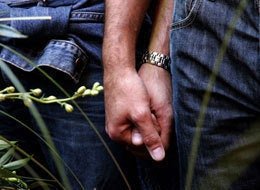 If any two people can truly know each other's hearts, Caitlin Ryan and Mary Griffith surely do.
Griffith, a California mother who raised her son Bobby in a devoutly religious household, became a most unlikely crusader for gay rights after Bobby committed suicide in the 1980s. After praying for her son, rejecting him out-of-hand and pushing him away because he was gay (and because she thought her faith required that she do so), Mary lost Bobby forever and began a remarkable journey that, in many ways, finally came full circle in just the past few weeks.
On January 24th, Lifetime television will bring Mary's story, based on the acclaimed novel Prayers for Bobby, to the small screen. And just weeks prior to the film's premiere, Dr. Ryan -- a researcher based not far from Mary's suburban California home -- released groundbreaking research showing that Bobby was never really alone. In fact, he had, unfortunately, far too much company.
Ryan, who heads up San Francisco State University's "Family Acceptance Project," released the first part of her new research on family acceptance and gay youth in this month's Journal of Pediatrics. And while, on the surface, her findings may seem overly logical, the story of Bobby Griffith shows us that for many families, there is still much to learn.
The research conducted by Ryan is chilling in its conclusions and unmistakable in its consequences. When families reject their lesbian, gay and bisexual children, it has a dramatic impact on the long-term health and well-being of those young people. Poor health, starkly higher rates of depression, an increased likelihood of drug use and, most disturbing, an undeniably greater risk of suicide are just a few of the side-effects of family rejection.
Misguided "prayers," Ryan found, can be very damaging things.
Her research also brings to light a long-standing problem in the way many healthcare and social services professionals have cared for lesbian and gay young people. By and large, most have (with incredibly good intentions) focused attention on providing direct services to youth, focusing funding, time and other resources on taking care solely of the effects of damaging behavior, rather than looking at their cause. The findings published in Pediatrics, however, lead one to believe that, if equal attention were paid to working directly with families to diminish anti-gay animus, prejudices and beliefs, the long-term benefit to young people in those home environments could be astonishing... and astonishingly positive.
And that's exactly where Ryan finds hope.
Not content with simply identifying the problem, the acclaimed researcher is determined to reverse the trend she has found. Through the Project at SFSU, she is hard at work developing a new, family-focused approach to working with LGBT youth and brightening the future for lesbian and gay young people. And Ryan is working with supportive family-oriented organizations -- like Parents, Families and Friends of Lesbians and Gays (PFLAG), where Mary Griffith also turned to for help -- to urgently make the case that changing hearts can also mean saving lives.
A little understanding, in fact, can go a very long way. And service providers who work with youth are imploring families to take note of Ryan's research and work to embrace their children.
"What I'd like to see down the road," Effie Malley, a senior prevention specialist at the federally funded Suicide Prevention Resource Center in Newton, Mass., told Shapiro, "is that parents and people who work with families counseling them would really take to heart Ryan and her co-authors' research about not trying to change who the parents are or their beliefs, but just to help them to recognize the words they use and the actions that are harmful to their kids and to stop using those behaviors."
That philosophy, in fact, is the heart -- and the hope -- of everything that Ryan does.
"Parents love their children and want the best for them," Ryan has said, noting that she hopes her research can begin to show them the way. And with a little help from mothers like Griffith -- who have courageously chosen to tell their own stories about the costs of turning their children away -- she may have found the most compelling argument yet to stop shutting doors and start opening arms.
Popular in the Community