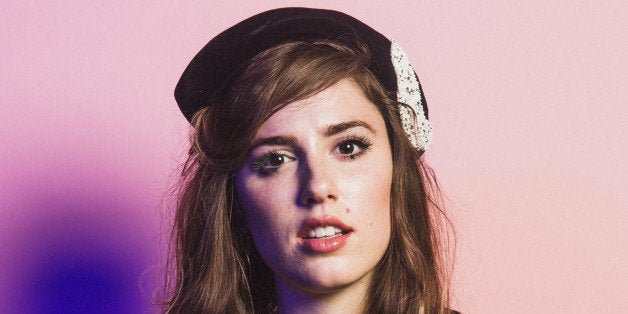 Ryn Weaver was balled up on a bed in the corner of mega-producer Benny Blanco's Chelsea apartment-studio in New York City. She couldn't keep her fingers out of her long hair and Blanco's 10-week-old French Bulldog, Larry, humped her leg. "I'm a weird creature," she said, rubbing Larry's back, "but he's a gargoyle."
Blanco's sprawling high-rise apartment hosts a revolving door of artists, two dogs and three recording studios. It's a Benny Blanco-branded hostel with rainbow rugs, mini pianos and dozens of shoes (Blanco asks his guests to leave footwear the hall). It's where Weaver conducted her first ever in-person interview with Billboard and it's the first place in a while that she's been able to call home.
On this warm November afternoon, Weaver had three coffees and just returned from a pitch meeting for MTV's "Artist to Watch" series. "I don't know if I'm the artist to watch," she said, "but I hope I am."
The Internet would agree. Weaver, 22 -- her real name is Aryn Wuthrich -- was totally unknown until June, when her single, "Octahate," produced with Passion Pit's Michael Angelakos, Benny Blanco, Cashmere Cat and Charli XCX, garnered 1 million plays on SoundCloud in two weeks. The catchy hook, powerful lyrics and A-list support system left everyone wondering one thing: "Who is Ryn Weaver?"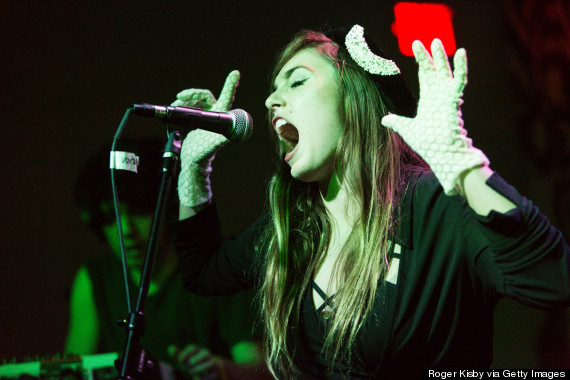 When her dreamy, four-song EP, "Promises," came out a month later, she gained more praise, booked shows at New York's CMJ Music Marathon, started doing interviews and began feeling the backlash. Blogs and commenters likened her to Lana Del Rey (and her perceived manufactured superstardom) and questioned Weaver's talent after only hearing a few tracks.
"People were saying, 'Well, with all these collaborators, it might technically not be her,'" she said. "The first week I let that stuff bother me. It was surreal because it's my first experience dealing with any sort of feedback." (She's the kind of artist who will respond to Stereogum's comment trolls and say, "hehe it would be nice to have some of that major label money.") Signed to Blanco's indie imprint, Friends Keep Secrets, Weaver counters the claims that she's got millions backing her. "I'm broke, but on my way to not being, right?"
Now, she's trying to make that happen with a motley crew of hitmakers who insist without hesitation that they just want to be around to see Weaver succeed for one reason: She's good.
"When you hear the voice and the writing and the point of view, it just clicks for me," Blanco told HuffPost Entertainment. "I'm positive that if everyone else thinks as highly of her music as I do, there's no doubt she won't be one of the biggest artists of next year."
Blanco has been working with Angelakos as co-executive producers on Weaver's full LP, due out in early 2015. "Even if it is manufactured, who cares?" Angelakos said in an interview. He faced similar criticism in 2007 when Passion Pit rose to fame. But since Twitter, Instagram and streaming services have made music reactions so immediate, Weaver now faces more intense and directed haters than Angelakos had.
"It doesn't have to be this huge, well-thought-out executive plan. It's not really. What it should be is a bunch of people hanging out, making music together. That's what we're doing. It's hilarious that we have to weirdly defend her," he said. "If there' a machine behind Ryn, it's a bunch of people who were like, 'We think people would really like your music if you went out there and owned it.' At this point it's a known fact that people are created. But, do you like the music? If so, great."
Weaver puts it like this: "I'm a little wild horse that got picked up and turned into a show pony."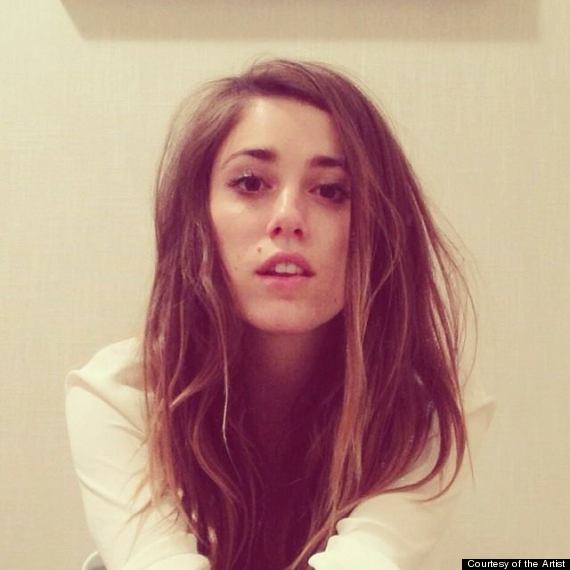 San Diego-born Weaver moved to New York to study acting at NYU's Tisch School of the Arts, but dropped out after two years. "I was just done," she said. "I was obviously caught in the waitress/school trap of life and was getting swallowed alive. I needed to focus on my art." NYU's "strict" rules combined with college expenses -- "My parents were like, 'We can't afford your college, so go do what you need to do'" -- a bad boyfriend and a worse breakup, convinced Weaver to retreat to California to pursue music and become nomadic for a while. "I'm a junkyard dog," she said as Larry continued to rub up on her leg.
She spent two years living out of her car, crashing with her uncle and having week-long sleepovers with friends until she connected with Blanco, whose credits include Katy Perry's "California Gurls," Britney Spears' "Circus" and Taio Cruz's "Dynamite," to name a few. Weaver was staying in Los Angeles at the time and her friend found Blanco on Tinder. Weaver recognized him from a chance encounter a few years prior and convinced her friend to message him. Blanco invited Weaver and her friend to his birthday party and Weaver said she spent the whole night showing guests her SoundCloud account.
"We were drunk and I was like holding an iPhone up to people's ears," she said of the night in March 2013. "It's not like one day I was like maybe I'll be a musician. It's all I ever wanted to do so I had to definitely put those vibes out all those times."
She didn't formally connect with Blanco or get in a studio until a few months later, but Weaver credits that night as her breakthrough. "I'm a hustler, a modern woman. I'm making my life work for myself," she said. "There's this fear in the back of my head. I love my mother more than anything, she's the best mother in the world, but she's a stay-at-home mom. There's something about me that always fought that. There's a part of me that's like I want to make my money. I want to be in charge."
In October, Weaver had her quasi-debut party at the Bowery Ballroom during CMJ. She did her own makeup in the bathroom, wore a top hat because a friend brought it, and played to a packed house of fans who, for the most part, had only heard her online. "It was scary," she said. "I've been this Internet artist, and there's nothing scarier than that because there's all this build up and all this ... whatever. All you're thinking about is I hope I can do these songs justice."
A few weeks later and the enthusiasm around her first live shows had passed. But she still has show dates scheduled in Los Angeles and San Francisco and there are hints of a few festival spots. Weaver and Charli XCX are working on a top secret project for an "older female artist" and she's well into recording her full album with Blanco and Angelakos. "I'm just getting started," Weaver said. "I'm exciting to get going and doing more. It's in a funny place right now because there's all this hope and expectation but you can't let it get to your head. That's how you fall."
But at that moment, she and the rest of the apartment were waiting for BBC's Zane Lowe to debut Cashmere Cat's remix of "Octahate." As the first few notes played from the computer, Weaver leapt from the bed and ran to the computer stations. "I'll tweet it out and you can retweet it," one of Blanco's assistants said.
Obviously excited, she ran back to the bed, which is actually Cashmere Cat's. "He's lived here for a year or something and he literally just got the apartment above," she said. "Now there's an extra bed for a new artist." Weaver crashes in the studio off the main living room.
Before saying goodbye, she moved to the couch and cuddled with Larry, who had left her leg to made a bed inside of a jean jacket. "I'm gonna steal him when I go on the road," she said, holding his face like a baby's. "So I don't get lonely."
Before You Go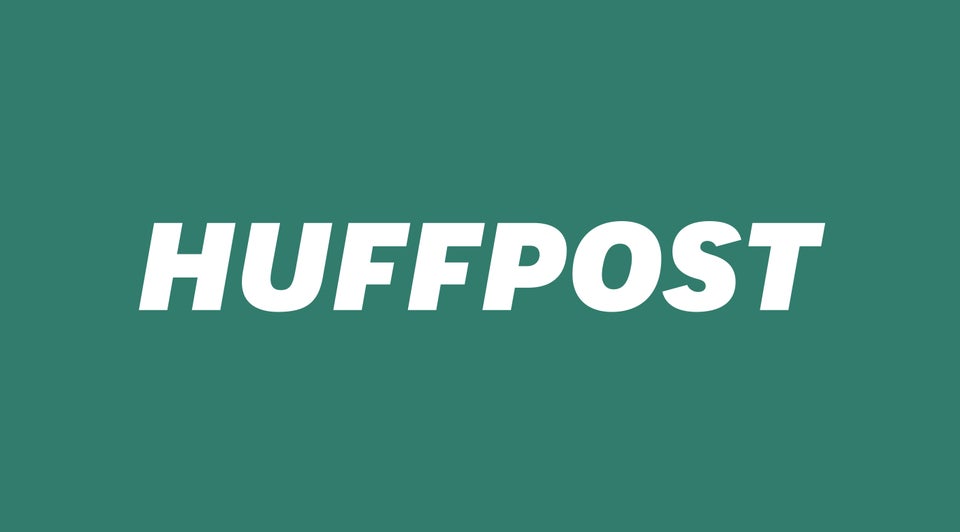 Ryn Weaver
Popular in the Community