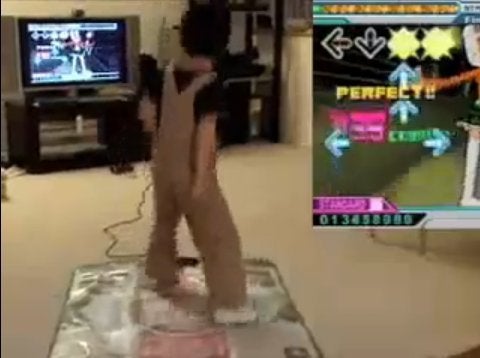 By the age of nine, most of us have just about learned to tie our shoelaces. But one little boy rung in his ninth birthday by setting a Guinness World Record.
Ryota Wada, now ten, took the record for "Youngest Gamer to Achieve a Perfect Score on Dance Dance Revolution" in the Record Book's 2011 Gamer's Edition. Dance Dance Revolution is a game that syncs dance music to the gamer's steps on a touch-sensitive footpad, with varying levels of difficulty. It has gained some fame as an arcade staple, and more recently as a way for schools to battle childhood obesity.
Wada shot to fame at the tender age of five, when his father's YouTube channel featured videos of the boy performing spectacularly to a difficult song on the game, transforming him into a YouTube sensation. Contacted by an editor at Guinness World Records, Wada logged a perfect score dancing to the expert setting of a song called "Heavy Eurobeat."
"Other kids say DDR is an adult game and it's very hard," he told the Washington Post. "I can do it very well. Why, I don't know. I think maybe because I can catch rhythm easily."
Now ten, Wada still plays DDR for hours and hours at a time. But otherwise, he's just your typical ten-year-old boy.
As the Washington Post recounts:
He wants to be in a rock band, he stuffs his face with microwave popcorn and harasses his little brother, and he is obsessed with robots. He used to talk like a robot with his friends, and now he writes about them, in both English and Japanese.
Watch Ryota dominate DDR below in his first video at the age of five:
Calling all HuffPost superfans!
Sign up for membership to become a founding member and help shape HuffPost's next chapter