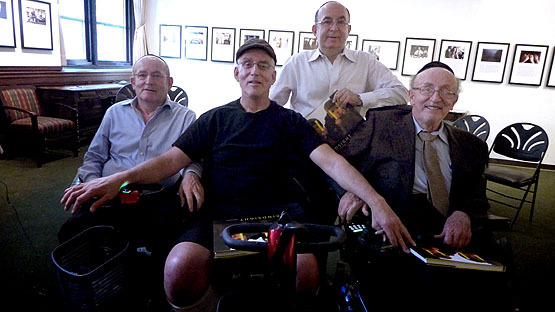 I love in life how one thing leads to another, especially if we are open to it. When I began having balance and mobility difficulty in 2003, I went, on the guidance of my primary care physician, to a neurologist at Cedars-Sinai Hospital in Los Angeles. After four years of too many tests to remember - including MRI's, brain scans, CAT Scans, PET Scans, X-Rays, Spinal Tap (Lumbar Puncture), Nerve Conductivity Tests and more, with no satisfactory diagnosis, I switched over to UCLA in hopes of getting diagnosed. Meanwhile, my impairments were slowly, inexorably worsening. After two years of seeing a neurologist at UCLA, my case caught the attention and interest of Dr. Brent Fogel, whom I then began seeing. After nearly two years of testing, including a muscle and nerve biopsy in my legs, Dr. Fogel gave me a conclusive diagnosis of Adult Polyglucosan Body Disease, APBD for short, a rare, untreatable, inexorably worsening genetic disease that affects primarily Ashkenazi Jews. Dr. Fogel helped me get into a clinical trial at Baylor Medical School in Dallas, but I was unable to keep up with it. However, Mary Wallace, the associate of lead doctor Raphael Schiffman there, referred me to Susan Coddon of the APBD Research Foundation, a New York based organization serving those afflicted with APBD. Through Susan I met Dr. Jeffrey Levenson, who tirelessly runs the APBDRF on behalf of its founder (in 2005), Gregory Weiss, himself afflicted with APBD and wheelchair bound. Here, at the opening reception of my KINDSIGHT exhibit at the 92nd Street Y in NYC in September, 2014, I'm with Gregory (right) and his brothers, Michael and Emil, all afflicted with APBD. As I've written before about Judith Kraier and Deberah Goldman, there is a deep, instant, powerful connection among those of us living with this disease. We are bound somehow in this great challenge. I am grateful to Gregory in ways I cannot articulate for his forming the APBDRF and creating a blanket of connection among us that warmly transcends this lonely, difficult journey.
photograph by Ronete Levenson
info@kindsightfoundation.org
www.robertzuckerman.com
REAL LIFE. REAL NEWS. REAL VOICES.
Help us tell more of the stories that matter from voices that too often remain unheard.