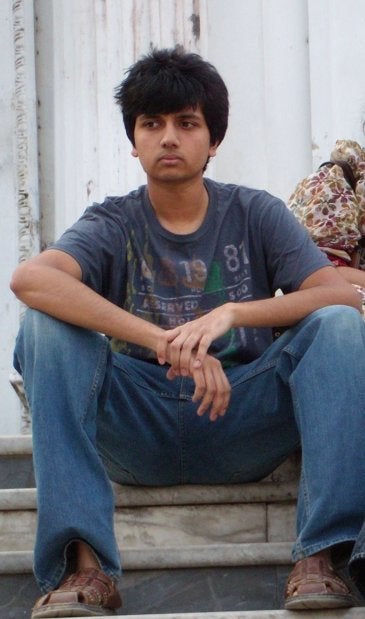 Saad Nabeel doesn't get much sleep these days. Holed up in an undisclosed location in Malaysia, the lanky 20-year-old spends his nights furtively working to bring himself back to America, the only home he's ever known.
Born in Bangladesh, Nabeel moved to California with his parents at age three, and then to Texas at age 11. It was there that he developed a southern drawl and a love for fast food and Taylor Swift (whom he refers to, only semi-jokingly, as his wife). He also began charting his path to an electrical engineering degree at the University of Texas-Arlington, from which he received a full scholarship.
But that all changed in late 2009. Nabeel's father was deported and he and his mother followed. After being denied refuge in Canada, the younger Nabeel was sent to jail for 42 days in Buffalo, N.Y., where he says he was forced to sign papers barring him from returning to the United States. He and his family were sent back to Bangladesh in January 2010.
Less than one month earlier, the Development, Relief and Education for Alien Minors Act, which would allow students like Saad -- who came to America illegally at young ages but graduated from U.S. high schools and attended U.S. colleges -- to obtain conditional permanent residency, failed to pass the Senate despite a dramatic last-minute push. For Saad Nabeel, its failure meant that he would have to work that much harder to come home.
Nabeel was miserable in Bangladesh. He missed school, his friends, his home in Texas. He didn't know the language. After a policeman attacked him for speaking English on the streets of Dhaka, his father thought it best that he relocate to Malaysia to attend school. "We thought it was going to be an escape plan, but it turned out not to be," the younger Nabeel says.
At the International Islamic University of Malaysia, Nabeel, who calls himself "the most liberal Muslim guy you could probably find," was thrown into intense religious orientation. The environment was hostile and got worse when he told a group of Palestinian students that he had Jewish friends back in Texas. Feeling unsafe, he retreated to his room, only to discover online that the rumors he heard about suspected al Qaeda trainees having been enrolled at the university were true. He never unpacked.
Friends at home did what they could for Nabeel. He kept everyone abreast of his situation via Facebook updates and the website meltice.net. UT-Arlington's student paper, the Shorthorn, ran story after story on his plight. Another friend, Shawna McNary, wrote a letter to Attorney General Eric Holder asking for help and tried to organize students in protest, but found it difficult to mobilize. She's never met Nabeel -- they're online friends -- but hopes she will soon. Nabeel, McNary said, "is very strong-willed. He doesn't take no for an answer."
If anyone can help him get back to America, it's Dallas businessman Ralph Isenberg. Isenberg, 59, has become Nabeel's de facto advocate since he first read about the student's struggle in a Dallas Morning News article last spring. The two are an odd couple -- an old Jew and a young Muslim, a man who barely uses email and one who lives and breathes the Internet. (When they're not poring over immigration policy, Isenberg reaches out to Nabeel for Facebook help. "Hi Saad, still do not understand Facebook," he recently commented on one of the younger man's status updates. "Need you home to teach me.") Nabeel says they exchange an average of 30 emails and talk on the phone three or four times daily.
Isenberg's experience with immigration law is deeply personal. His wife was sent back to China in 2006 and he spent more than a year trying to get her back to the United States, flying across the Pacific 22 times. He managed to bring her home in 14 months, which he claims is a world record.
When he and his wife returned from China, he started getting requests from others to help with their immigration problems, and now he has 1,000 emails asking for help in his inbox. Isenberg says his work is a higher calling. "I can't apologize for doing God's work," he says. "I did not ask to be an immigration advocate ... But that's the cards I got dealt. And I just cannot turn my back."
Nabeel's case, however, has been particularly difficult. The student is more or less alone in the world -- his parents do not support his wish to return to the U.S. -- and his situation is volatile. On Jan. 17, he discovered a hate group with more than 200 members called "Stop Victimizing IIUM, Stop the Fraudulence Saad Nabil [sic]" on Facebook. Most of the members were from his old school in Malaysia. They trashed him on the group's wall and sent him and Isenberg hate mail. Nabeel says he was "dumbstruck" by the vitriol.
Isenberg says the Bangladeshi government also blocked in-country access to Nabeel's Facebook profile, and that local newspapers condemned him as a traitor. Dallas ICE officials, Isenberg says, have not been responsive to his letters and phone calls. "You have an American kid who doesn't want to be over there," he said. "I think someone's got to listen and change their tone on this."
At this point, Nabeel has two options for attempting a return to America: He can apply for humanitarian parole or claim political asylum. According to Lauris Wren, a professor of clinical law at Hofstra University, either would be extremely difficult to for him achieve.
While the Facebook block and hate mail coming from Bangladesh could bolster his case for reentry under asylum, Wren says the fact that the case is outside the United States adds another level of difficulty. "If you have an asylum case and you're put in removal proceedings, that's when you're supposed to tell them 'I'm afraid to go back for x, y and z," she says. And humanitarian parole is "very rarely used to benefit someone who was deported from the United States."
With political asylum, Isenberg says, you're only as strong as your case. In 2009, 208 people from Bangladesh claimed asylum in the U.S. 47 got it. Isenberg says if Nabeel's bid for humanitarian parole is rejected, he will have to go to the border and try for asylum.
Isenberg was raised in Wisconsin by refugees from Nazi Germany. By his own account, he barely made it through high school. He eventually found his way to Dallas, where he specializes in distressed-property management. "I like going and managing where no one else wants to manage," he says.
Isenberg works on immigration cases 15 hours a day, seven days a week. Not being an attorney, he says he uses business techniques to solve immigration situations. He's a relentless caller and letter-writer, pressuring officials in Homeland Security and Immigration and Customs Enforcement. He asks influential friends to help, and he's not afraid to pull out his checkbook. Last August, he paid $10,000 to attend a Democratic fundraising dinner with President Obama in the hopes of discussing Nabeel's situation with him, only to be uninvited at the last minute -- he was told he had been "tagged by the White House." "They took my money, and then, no invite and no explanation," Isenberg told the Dallas Observer.
But the controversy was just a minor incident in Isenberg's larger crusade. He devotes the bulk of his energy to the young people ensnared in these thorny situations, offering them financial and emotional support and empowering them to take charge of their battles. It's hard work, but Isenberg is a pragmatic -- if not stubborn -- optimist. "Every immigration situation I've seen so far has had a solution unless the person is a murderer or a mass-drug dealer," he says.
Late last year, Isenberg scored a major triumph -- he successfully brokered the return of Portland student Hector Lopez from Mexico, an event he called nothing short of miraculous. Lopez, an advertising and marketing major at Portland State University, found out that he was an illegal immigrant on Aug. 23, 2010 -- the day he was arrested outside his home and told he had to return to Mexico. It was 5 a.m. and Lopez had been on his way to the gym. He spent the previous day at the beach.
Lopez says he was "out of his element completely" in Mexico City. Having no family there, he stayed with an old neighbor with whom he couldn't communicate because he doesn't speak Spanish. The transition was depressing. "[In Portland] I was in school, I worked, I had a very active life," Lopez says. "To go from that to sitting in a room all day because you don't know what to do, it just completely diminishes your morale."
That September, the mother of a friend of his linked him with Isenberg, who convinced him that his best bet was going to the border and asking for political asylum. On Nov. 17, Lopez boarded a bus and presented himself at the walk-in entrance to America with papers from two attorneys. He was handcuffed and sent to a holding cell for nine hours before being transferred to Tucson. From there he went to a detention center in Florence, where he was told he would be for one year. Isenberg had him out in 37 days.
While in detention, Lopez said he talked to Ralph for two to three hours every day. Ralph "was the one who focused on me being released sooner rather than later," he says.
And Isenberg wasn't afraid to take dramatic action. He called upon the Rev. Peter Johnson, a civil rights leader and original follower of Martin Luther King, Jr. Johnson went to the Immigration and Customs Enforcement Headquarters in Phoenix carrying a Bible and a toothbrush and offered to take Lopez's spot in detention so he could be home for Christmas. Lopez's case, which was already high-profile, became even more so. He reunited with his family in Portland on Christmas Eve. Immigration authorities told him he could try to gain political asylum and let him go home until his next court date.
Isenberg and Nabeel continue to work to secure an outcome similar to Lopez's. Nabeel sticks to his computer, recording Youtube testimonials, writing and answering messages and adding signatures to a petition to send to Nuria Prendes, the head of Immigration and Customs Enforcement in Dallas, whose office declined to comment on Saad's case. To relax, Nabeel watches movies or John Mayer videos. Given his newfound immigration expertise, he says, other students in similar situations have contacted him for help.
Isenberg says he's seen a change in the young man. "The Saad that I first met and the Saad that I know now are two different people," he says. "He's really grown up a great deal."
Nabeel speaks of his future in America with certainty -- he's even signed up for classes at a Dallas community college. A mother of a friend has offered to take him in upon his return. Nabeel says he has always dreamed of working for a company like Sony after graduating from college, but now, he's thinking of going to law school.
Popular in the Community