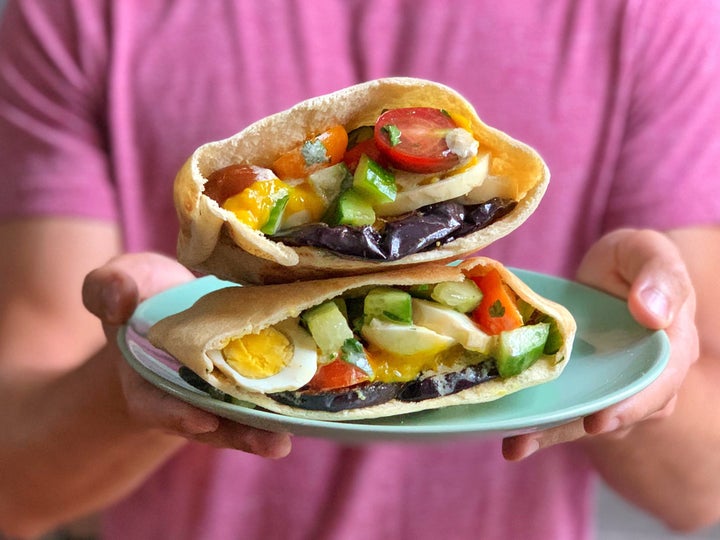 "Please, let us host your wedding brunch!" my husband's aunt begged me as we figured out the logistics of our recent nuptials. All we wanted was a casual get together for out-of-town family with some bagels and lox, but I immediately knew it was going to turn into something grander.
When we arrived ― extremely hungover, of course ― I saw my hunch was correct as an ornate spread of all the culinary staples from my husband's Iraqi Jewish family were being plated up to add to my already overflowing bag of bagels and schmear.
At the center of the table was a platter of brown-tinted, hard-boiled eggs sitting next to fried eggplant, both ready to get stuffed into pita with a sweet and spicy mango sauce called amba. This combo is the key to building the king of breakfast pitas: sabich. Before we dive in too far, you'll need a quick history lesson to understand this dish better.
While its roots come from the Jewish community of Iraq, the dish can't be found there today because it left with the Jews when they were exiled in 1950. With a great deal of the Iraqi Jewish community ending up in Israel, this pita joined the large list of diaspora foods that help make up the stunning melting pot that is Israeli cuisine.
Today, you can find sabich on Israeli menus everywhere, including here in America, and there's a good reason: It's the OG breakfast sandwich. Think about it: eggs for protein, fried eggplant for richness, chopped veggies for freshness and amba for a punch of sweet-and-sour all coming together in a warm pita. It's the perfect on-the-go meal to fuel your day.
Now that you understand sabich's past, let's fast-forward to the future when you make this recipe. You'll need to prepare some of the ingredients in the days leading up to eating it, but it'll be worth it.
The amba. I promise you, this is going to be your new favorite condiment. Iraqi Jews were prominent figures in the Indian spice trade, which resulted in the creation of this mango sauce, reminiscent of Indian chutney. These days, most people don't make amba themselves (you can buy it at any Middle Eastern spice shop), so I turned to chef Michael Solomonov's gorgeous new cookbook Israeli Soul for some amba inspiration that I married with verbal cues from some of my husband's aunts to develop this recipe. The result is a golden sauce that's sweet, sour, salty and spicy, making it good on just about anything.
The eggs. While you may be used to watching your timer like a hawk, ready to pull out your hard-boiled eggs at exactly 10 minutes, I'm here to tell you to let them go on for a whopping 8 hours ― in a slow cooker, that is. Originally, this was done in the oven so the eggs would be ready during the Sabbath when you weren't allowed to cook. These days, the slow cooker works wonders to let these eggs go low and slow, while red onion peel and tea bags help give them the brown color you're looking for.
The eggplant. The best secret for getting gorgeous golden eggplant comes from my mother-in-law, whether you're using it for this dish or any other. Toss your slices with beaten egg and salt before frying! You'll get an even sear on both sides, every time. Think of it like an egg wash on a pie, but instead, it will prevent you from ever having pale, soggy eggplant again.
Prepare your body for a breakfast that has truly traveled all over the world. It's the only time you won't mind being caught with egg on your face.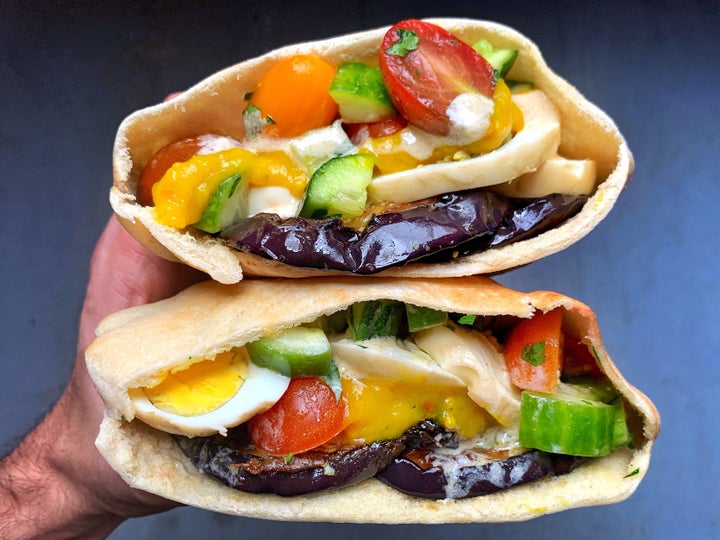 Sabich
Prep Time: 45 minutes, plus overnight pickling and cooling time
Cook Time: 8 hours and 30 minutes
Total Time: 9 hours and 15 minutes, plus overnight pickling and cooling time
2 ripe mangoes, peeled, pitted and diced

2 tablespoons lemon juice

1 1/2 teaspoons kosher salt

2 tablespoons olive oil

1/2 medium yellow onion, minced

1 teaspoon yellow mustard seeds

1 teaspoon fenugreek leaves

1 teaspoon turmeric

1/4 teaspoon red pepper flakes
12 eggs

2 black tea bags

1 red onion peel
For the tomato-cucumber salad:
1 cup cherry tomatoes

4 Persian cucumbers, diced

1/4 cup chopped parsley

2 tablespoon olive oil

1 tablespoon lemon juice

Kosher salt, to taste
1 cup tahini

2 tablespoon lemon juice

1 garlic clove, finely grated

Kosher salt, to taste
1 large eggplant, cut into ½-inch rounds
6 pitas, split open and warmed
Sliced Middle Eastern pickles for garnish (optional)
1. Make the amba: In a nonreactive bowl, mix the mango with the lemon juice and salt and toss to combine. Cover and refrigerate overnight to pickle.
2. Make the eggs: In a slow cooker, combine the eggs, teabags and red onion peel. Add enough water to cover the eggs by 1 inch and cook on low for 8 hours.
3. The next day, remove the eggs and roll around to crack the shell, then return to the liquid and let cool. Peel and slice.
4. Finish the amba: In a medium saucepan, heat the olive oil over medium-high heat. Add the onion and cook until slightly softened, 3 to 5 minutes. Stir in the remaining amba ingredients and cook until fragrant, 1 to 2 minutes. Add the salted, cubed mango and all its juices to the pan and cook, stirring constantly, until the fruit has broken down into a thick jam, 8 to 10 minutes.
5. Remove from the heat and let cool slightly. Transfer to a food processor and purée until smooth. Let cool completely.
6. Prepare the tomato-cucumber salad: In a medium bowl, toss together the salad ingredients. Set aside and drain before assembling.
7. Make the tahini sauce: In a small bowl, stir all the sauce ingredients until smooth.
8. Prepare and fry the eggplant: In a large bowl, toss the eggplant with the beaten eggs and salt until well coated. Transfer to a colander and let drain for 10 minutes.
9. In a large skillet, heat 1/4 cup of the olive oil over medium-high heat. Fry the eggplant in three batches, flipping once and adding 1/4 cup oil with every batch, until golden brown, 2 minutes per side. Transfer to a paper-towel lined plate to drain.
10. Assemble the sabich: In each pita pocket, spread a swoop of the amba and tahini sauce. Divide the eggs, eggplant and salad between each, adding sliced pickles if desired. Top with a little more of the amba and tahini sauce, then serve.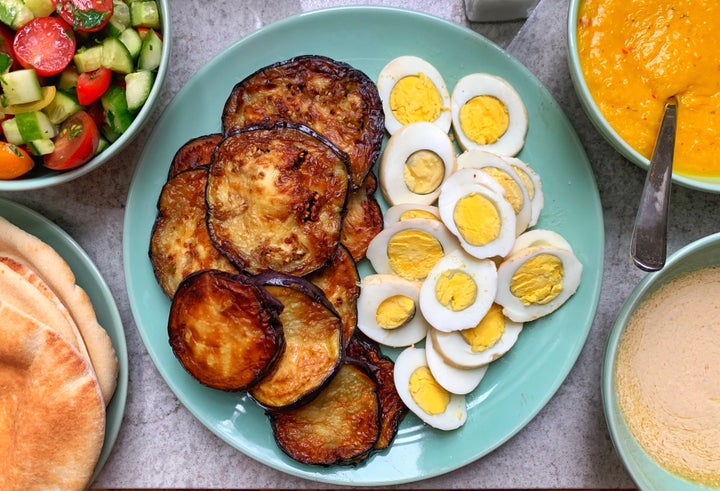 Popular in the Community