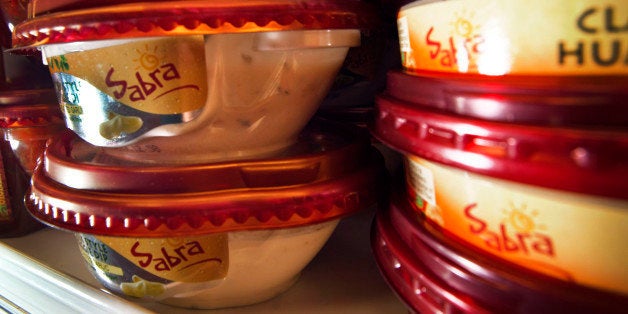 Sabra Dipping, by far the country's leading producer of hummus, made headlines this week when it announced it is petitioning the Food and Drug Administration to officially define "hummus" as a "semisolid food prepared from mixing cooked, dehydrated or dried chickpeas and tahini." Such a "hummus law" would prevent Sabra's competitors from marketing dips made from ingredients other than chickpeas -- or chickpea dips that do not include tahini, a Middle Eastern sesame paste -- as "hummus."
Sabra Marketing Director Greg Greene argued that an FDA definition, like those the administration already has in place for products such as ketchup, mayonnaise and peanut butter, could clear up consumer confusion now, and especially down the line.
"It's a slippery slope," he said. "If there's no definition for the term 'hummus,' products could stray further and further from what hummus traditionally is and what the standard is worldwide. That could make consumers unsure of what they're getting when they pick up a container of something called 'hummus.'"
The definition of hummus is a surprisingly high-stakes issue. The hummus product category has exploded in value over the past decade, with U.S. sales topping $600 million in 2013. Greene said that although Sabra, a joint venture of PepsiCo and Israel-based The Strauss Co., currently controls about 65 percent of the American market, more and more other companies have been trying to market dips made with ingredients such as lentils, edamame, eggplant and black beans as hummus in the last year or two.
"If hummus has no specific identity to refer to in the law, you could in essence call our guacamole 'avocado hummus,'" he said.
As it happens, the FDA doesn't specifically define "guacamole" either -- meaning no government official would stop Sabra from changing the name of the dip it currently calls "hummus" to "chickpea guacamole."
That certainly sounds absurd. But if Sabra had its way, it would also be illegal. Why? The company's 11-page petition cites culinary history, foreign countries' food standards and nutritional data in support of the idea. But there's no specific reason that the country that invented the Cronut and the Doritos Locos Taco should be conservative with its culinary nomenclature because of history or tradition. And indeed, careful analysis of the filing shows that the crux of Sabra's argument rests, as much as anything else, on etymology.
"In Arabic and Hebrew alike, 'hummus' commonly denotes both the chickpea itself and the dip that is made from it," the filing reads.
In other words, because "hummus" is Arabic and Hebrew for "chickpea," the dip's name implies its ingredients, as the (regulated) name "tomato juice" does but the (unregulated) name "salsa," Spanish for "sauce," does not. The filing even makes this explicit when it states, "By definition, 'hummus' made from legumes or vegetables other than chickpeas is not hummus."
But Sabra wouldn't be willing to make such a grand philosophico-linguistic claim without citing some other authority. And in this case, they cite one near and dear to our hearts: us. The Huffington Post!
The footnote for that crucial sentence directs readers to a June 2013 feature on Sabra by HuffPost reporter Saki Knafo. It's a great feature, well worth reading in full if you missed it the first time. You'll find the key passage, in this context, about two-thirds of the way through the piece. Knafo recounts a culinarily rich trip to Israel with his father who, it turns out, is a bit of a hummus snob. Knafo's father, he writes --
insists that hummus should have a subtle, earthy flavor, and disdains spicy hummus, lemony hummus, hummus with chipotles, hummus with artichoke, hummus with basil, sun-dried tomato or spinach, and most of all, the dip referred to as "black bean hummus."

As he has pointed out many times, hummus is the Arabic word for chickpea; by definition, hummus made of black beans isn't hummus.
In short, if the FDA ends up accepting Sabra's petition, and enforcing a definition of hummus as strictly made of chickpeas, the law will change, in part, because of the stubborn assertions of one Huffington Post reporter's father.
Related
Before You Go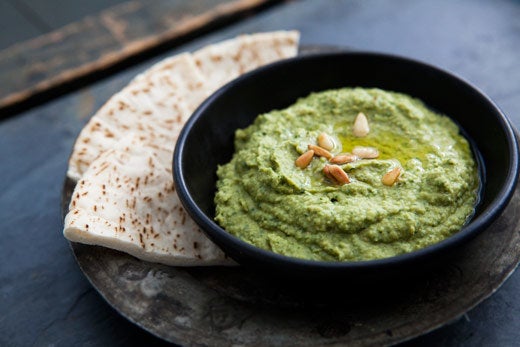 Chickpea Recipes