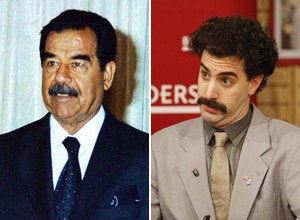 And you thought Borat and Bruno were uncomfortable to watch.
Actor/comedian/boundary-pusher Sacha Baron Cohen has signed on to star in a new film titled 'The Dictator,' Paramount Films announced on Thursday. The movie will be based on the Iraqi novel 'Zabibah and the King,' which was first published anonymously -- and then revealed to be written by then-dictator Saddam Hussein.
'Zabibah and the King' is about a benevolent, beloved king who falls in love with a beautiful girl, who is married to a cruel man who rapes her. While a love story on the surface, it is actually an allegory for Iraqi and the United States -- the king (based, obviously, on Saddam) is the peaceful Iraq, while the cruel, rapist husband is the Gulf War-waging United States.
Paramount Pictures announced today that Sacha Baron Cohen's new comedy The Dictator will be released worldwide on May 11, 2012. The studio also announced that Larry Charles (Borat, Bruno) has come aboard to direct.

The film tells the heroic story of a dictator who risked his life to ensure that democracy would never come to the country he so lovingly oppressed. It is inspired by the best selling novel "Zabibah and The King" by Saddam Hussein.

Producing alongside Baron Cohen are Scott Rudin, Alec Berg, Jeff Schaffer, and David Mandel. The project marks the first collaboration for Rudin (The Social Network, True Grit) and Baron Cohen, while Berg, Schaffer and Mandel ("Seinfeld," "Curb Your Enthusiasm") join him as screenwriters on the movie.

The movie is the latest collaboration between Baron Cohen and Charles, who previously worked together on Borat as well as Bruno. Dan Mazer (Borat, Bruno), Ant Hines (Borat, Bruno) and Peter Baynham (Borat) will serve as executive producers, reuniting the rest of the Academy Award®-nominated and Golden Globe winning Borat team. Todd Schulman (Borat, Bruno) is co-producing under Baron Cohen's Four By Two Films banner.
Popular in the Community