The head of the Israeli Defense Forces' New Media Desk has come under criticism for a scandalous picture on his Facebook page. The photo in question shows Sacha Dratwa wearing what appears to be blackface, alongside a caption that reads "Obama Style."
According to ABC, the IDF spokesman seems to be wearing mud from the Dead Sea in the photo -- an activity many engage in while visiting the site. Reactions to the photo, however, have been all but commonplace.
Dratwa has since restricted access to his Facebook account, but a prior screenshot shows one person's reaction: "You know this is racist yeah?"
Dratwa manages the IDF's social media feeds, including its Twitter account, where he sought to rebut such allegations:
The lieutenant went one step further Sunday, releasing this statement on Facebook:
There have been attempts to make use of private photos from my Facebook profile in order to publicly misrepresent my opinions. Due to the amount of public attention I've garnered in recent days I have decided to restrict access to my page, in order to protect my privacy and prevent further cynical use of the information therein.

I am, and have always been, completely candid about my beliefs and have nothing to hide – as reflected by my Facebook profile, which until recently was open to everyone. The aforementioned photos do not reflect my beliefs and have no bearing whatsoever on my position in the IDF.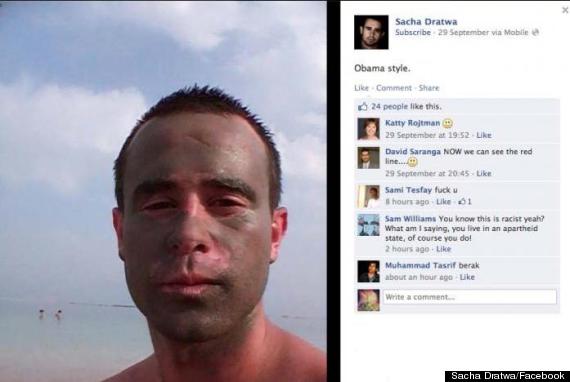 Popular in the Community