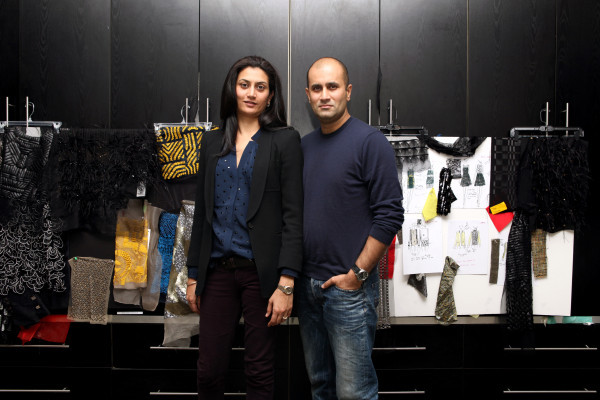 Photos by: Bobby Doherty/AOL
Designers Sachin and Babi Ahluwalia are not only the co-founders of New York based label Sachin + Babi, the Delhi and Bombay natives are also husband and wife. "We always referred to the label as 'S&B.'" Sachin explained, "Babi and Sachin would be 'BS.' I'm not a chauvinist, so I wanted to put Babi first, but then everybody would refer to it as 'B&S,' so I said, 'Yea, 'B&S' is just gonna be a bit harder to do.' So we stuck with Sachin and Babi."
The brand, which Sachin and Babi founded only less than three years ago, has been long in the process of development, as Babi explained: "This is a second generation business, per say. We inherited artisans and drapers and masters from Sachin's folks, so this is 23 years in the game. We've taken on old factories, given them a new face lift, but the hands are the same chaps that produced for our parents." Thus, Sachin's family was supportive of his choice to pursue fashion: "My mom got into it by chance; she had spent maybe seven or eight years doing it before I came here. I was coming here to do an MBA and study undergrad, I was a student of economics actually. And my mom said, 'I'll pay for your education, but come and work for me for a year because I want to see how responsible you are.' So I did that, and I really enjoyed it. One of her interns said, 'You know, there's a good fashion school in New York called FIT. You should check it out.' So I checked it out and I got in and the rest is history." Babi also had family support: "My mom actually was a kid's wear designer. She had a little workshop, so we used to go and see fabrics around and see how test sheets were done. And my dad's a bit of a poet, so, you know, we've had artistry in our upbringing. I wanted to study history, I was interested in journalism, but I think this was my calling."
It was certainly both of their calling: in the early 1990s, both Sachin and Babi moved to New York City to study fashion: for Babi, textiles, Sachin studied fashion design. "We met in school, there is a special group meeting for your social security card, so that was our first like meet and greet, you're like 'do you know your route around here?' and you're like 'no' so we sort of explored it together," Babi explains, insisting it wasn't exactly love at first sight, "Not really... I was dating somebody when we met, but Sachin said he always kind of had a fancy for me… he'll give you his version." Sachin's version was much different: "I saw her on the third day in school and we became friends. I always knew this was the girl for me. My first muslin that I ever made, I draped it on her. I used to wake her up at 4 o'clock in the morning, like, 'I have two, three or four hours left to finish my garment!' and I would go drag her out and try it on her." Ah, young love. "You don't want to know about our first date. It was terrible. We were supposed to go out with some friends and I didn't know anyone. Someone told us that there was a really cool nightclub called Webster Hall- it was quite a culture shock coming from Delhi and Bombay. But it was fun and we had a great time and we somehow connected. We started dating in the second semester and by the time we were ready to graduate, we sort of had put together an idea of what we wanted to do."
"We were very lucky," Babi insists, "we met Oscar [de la renta] in the first few months of starting our own embroidery company. So we got our first break quite early and then dove right in. I think that's what you do as a young business." Now the design duo, who have a home label, Ankasa, and design and manufacture couture embroideries for other fashion houses as ANK Embroideries, have two daughters, multiple stores, a jewelry line and dress the likes of Elizabeth Olsen, Jennifer Lopez, Demi Moore and Olivia Wilde. For more from Sachin and Babi, including a look into their Garment District office, take a peek in our gallery below: