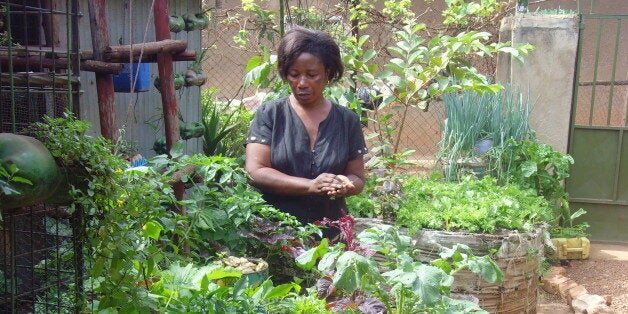 June 20th is Impact Journalism Day, a global media campaign to spotlight solutions. The Huffington Post is one of more than 45 news organizations committed to publishing solutions-based stories that can inspire change on a global level.
Harriet Nakabaale, 45, a resident of Kawaala, Uganda, a Kampala suburb, lives in a small one-bedroom house set on a plot of land measuring 30 feet wide and 50 feet long. This is typical for many peri-urban poor households who cannot afford the luxury of spacious lawns and tree-lined driveways.
Despite the small size, Ms Nakabaale has turned her small compound into a neat green garden that has become the envy of many and has now become a demonstration garden of sorts.
Nakabaale apparently learnt sack farming from her parents who used to practice it at home on a small scale. In fact, growing up she was always told that every woman needs a garden, something that inspired her to set up a sack garden to fit in her small space.
So when you walk through the small gate into her homestead, it is the green that welcomes you. Sacks sit side by side along a small corridor that leads to her door. There are also cut one-litre plastic soda bottles hanging at the verandah of the chicken coop and black disused paint cans stand in between the sacks. All are teaming with crops. The sacks are not ordinary, at least in regards to size. They are so gigantic with a radius of just over one meter. She has only four of them; exactly what her compound can hold.
"I started by collecting huge sacks that had been dumped around my neighbourhood. Given that I have always had a poultry house, I was able to compost chicken manure that had accumulated in the coop. This I mixed with black soil to enrich the soil. But I did not just fill the sacks with the soil, I had to place small pebble stones at the middle of the sack, right from bottom to top, then filled the sack with soil leaving the stones erect in the middle," the mother of three says.
Harriet Nakabaale shows some crops in eggshells that she grows as part of her extended farming in her sack garden.
The stones ensure sufficient water distribution throughout the sacks during watering. In one of the sacks she grows spinach, dodo and carrots. In another sack is a young guava tree right in its centre surrounded by green vegetables. In yet another there are spring onions, celery, tomatoes and spinach. True to her philosophy, size does not matter which is why even in egg shells there are thriving plants.
In order to ensure maximum usage of the sack, she grows some crops on the sides of the bag. "Usually the crops with big roots like carrots go on the top and the sides are reserved for those with small roots like ordinary vegetables. I water my sack garden almost on a daily basis so I have no such a thing as a crop growing season. My garden is ever green, even during the dry season," she says.
Nakabaale's approach to farming perhaps points the direction that many poor urban households with limited land could take; as it does not only ensure that there is something for the family to eat but also brings in a little money to meet other household needs.
As a model sack gardener, Nakabaale trains others from far and near at a fee of Shs 20,000 (about $6). Monthly, she earns about Shs 1 million (about $300), most of which comes from her services as a sack farming teacher, and also from the sale of seedlings for various crops she grows in her sacks. She also earns from the sale of her crops, mostly vegetables, onions and tomatoes.
As we interact, some of her customers from the neighbourhood keep streaming in to buy. On several occasions we are forced to put our interaction on hold to allow her attend to her customers.
"This business has been very instrumental in my life. With sack farming I have kept my three children in school. We don't buy foodstuffs from the market because, much as I sell most of the food crops I produce, there is always enough left for home consumption," Nakabaale shares.
Harriet Nakabaale collected huge sacks that had been dumped in her area to make her sack garden.
She has been doing sack farming for 21 years now and is proud to be making a decent living from a venture she did not even invest much money in. "The sacks I always use are those that have been dumped as waste. And the black soil and gravel stones are also readily available around the neighbourhood," she says.
Opportunity For Urban Poor
Surely, with Uganda's unemployment rate and poverty levels climbing, the urban folk with limited access to land will find sack farming very helpful as it is a venture that minimizes household expenditure while maximizing income.
According to Richard Mugisha, an Agricultural consultant at AgriProFocus Uganda, a variety of crops can be grown in sacks. Guiding us around BKB organic demonstration farm in Garuga, Entebbe, Mugisha shows us various sacks holding simple vegetables, onions, tomatoes, and even relatively big crops like maize.
"We need people, especially in the urban areas to engage in agriculture, regardless of limited land. And the answer is sack farming. It is simple to carry out and not economically straining to start. Sack gardening does not call for big space. Furthermore, one gets to harvest all year long as sack farming waits for no rain but only calls for a bit of watering," Mugisha sums it all up.
Popular in the Community