There are no grassy pitches or fields in basketball, but if Sacramento Kings owner Vivek Ranadivé gets his way, the world's most popular indoor sport may soon be its greenest.
"I think that basketball will be the global sport of the 21st century and it'll help set the global agenda in terms of green," Ranadivé told The Huffington Post in an interview on Tuesday. "Without question, basketball will be the greenest sport."
Ranadivé is doing everything he can do lead the way. When the Kings' new Golden 1 Center opens in October, it will become the first arena in league history to be completely powered by solar energy. About 90 percent of the food and drinks served will come from within a 150-mile radius of California's capital city and the stadium will use 40 percent less water than its predecessor.
"The Kings are using their visibility to help instigate behavioral changes in the marketplace and, actually, among their fans as they're considering responsible environmental behavior," said Allen Hershkowitz, president and co-founder of the nonprofit Green Sports Alliance. "They are validating the cultural shift in thinking around how we relate to the planet."
There's no shortage of ways to explain how Golden 1 Center has been constructed for the 21st century. About 15 percent of the electricity used to power Ranadivé's $507 million arena will from come solar panels install on its roof. The other 85 percent will come from a new 10.9-megawatt solar farm operated by the Sacramento Municipal Utility District. The Kings are also installing LED lighting and a newfangled ventilation system that will reduce its reliance on energy-sucking rooftop air conditioners. In a blog post published on HuffPost last week, Ranadivé said the new arena will keep the equivalent of 4 million vehicle miles' worth of emissions out of the atmosphere every year.
On Thursday, Ranadivé announced phase two of his sustainability plan: snacks and beverages that are not only responsibly sourced, but responsibly discarded, too. The vast majority of concessions at Golden 1 Center will come from local farms, ranches, wineries and breweries. But the team is also partnering with the nonprofit National Resources Defense Council to reduce its landfill footprint by donating excess fare to food banks and charities in Sacramento.
"We're able to direct the millions of dollars a year we're going to spend on [concessions] to local farmers, local ranchers, local wineries and local breweries, keeping money in the region so there's an economic benefit to it," Chris Granger, the Kings' president and chief operating officer, told HuffPost.
The overall plan, perhaps the most aggressive sustainability move by any major league team in the country, has set a new standard for the NBA. But Ranadivé, the software titan who bought the team three years ago, doesn't just want to woo other sports executives into fighting climate change. In a country uniquely stricken by widespread denial of humanity's role in global warming, the Indian-born millionaire thinks his state-of-the-art stadium can help shift opinions.
"Sports arenas are the-modern day cathedrals; that's where you engage people."
"This is the 21st-century communal fireplace," he said. "Two thousand years ago, you were building these gigantic cathedrals, and that's where people were influenced. Sports arenas are the-modern day cathedrals; that's where you engage people."
He added that he believes part of being a good steward in the league means responsibly wielding the cultural and political clout it provides.
"Owning a basketball team is a huge privilege, a huge honor," Ranadivé said. "It's incumbent upon you to be the standard-bearer and set the tone for what's important in the world and how we can shape dialogue."
The league office has made environmental issues a priority in recent years, most publicly with the creation of its NBA Green initiative. But as of now, the U.S. Green Building Council has certified just seven NBA arenas as meeting an acceptable level of sustainability, most recently the Barclays Center in Brooklyn, New York, according to NBA.com.
Ranadivé isn't hoping to stand out from the crowd of NBA owners with his solar powered arena. Instead, he hopes to inspire his fellow owners to be even more green than he is.
"I would be disappointed if the next arena that was built wasn't even better in terms of the environment and sustainability," he said.
Before You Go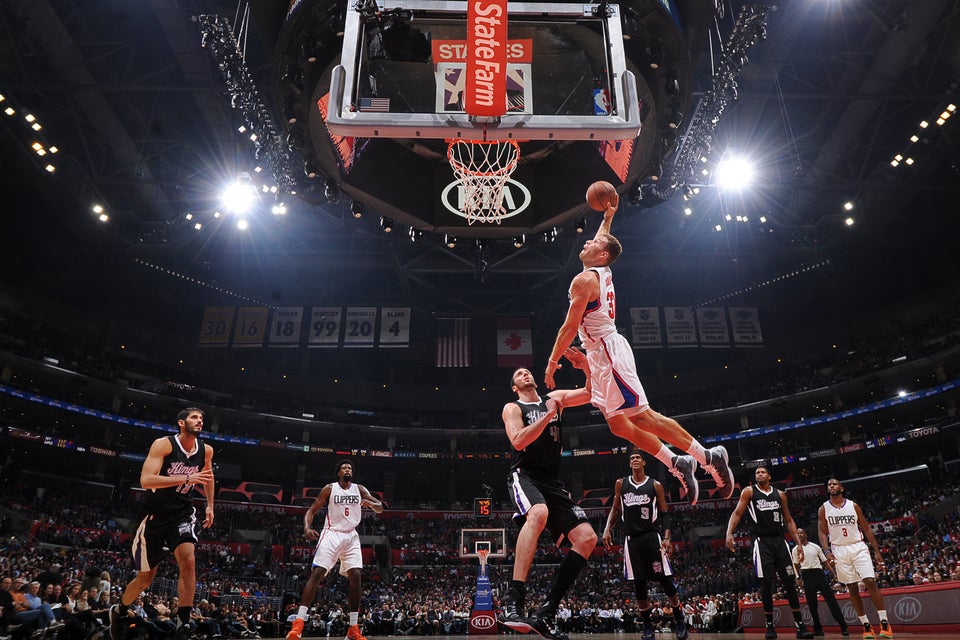 Monster Dunks From The 2015-2016 NBA Season