SACRAMENTO, Calif. — Protests engulfed downtown Sacramento on Friday night after an independent autopsy revealed a young black father shot to death by police on March 18 was hit at least seven times in the back.
The march was organized by the Sacramento Black Lives Matter chapter. Dr. Bennet Omalu had announced the results of Stephon Clark's autopsy that morning: Clark, 22, was shot seven times in the back, including his neck; an eighth bullet hit his leg. He was unarmed.
"Each one of these bullets possessed a fatal capacity," Omalu said.
The Sacramento Police Department hasn't received an official autopsy from the Sacramento County Coroner's Office and did not comment on Dr. Omalu's report.
Protesters gathered at 8 p.m. at Sacramento City Hall on I Street where, less than a week ago, Clark's brother Stevante rushed the dais during a city council meeting in protest of his brother's death.
The march started close to an hour later, with upward of 300 people marching until 1 a.m. through the streets of downtown and Old Town Sacramento, disrupting traffic, flooding local restaurants and facing off with police on freeway entrances.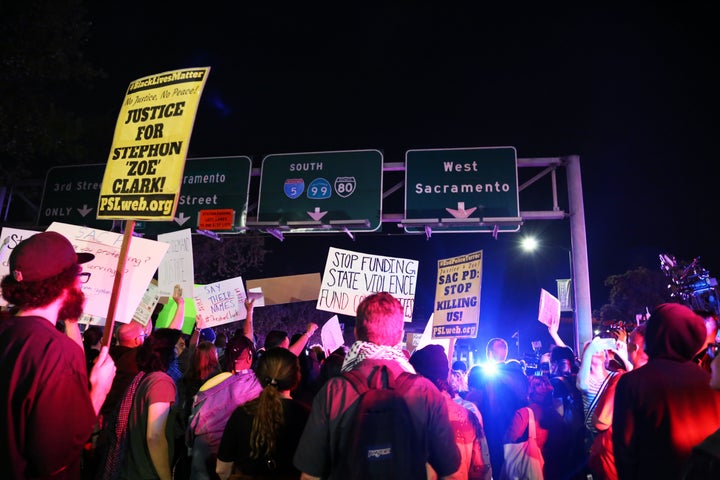 "Every one of those shots that entered that black man's body was fatal"
While heated, the protests remained peaceful with no reported injuries, arrests or conflicts.
Black Lives Matter leaders encouraged protesters to "follow black women," and members of the Sacramento activist group Incite Insight passed out bottled water and snacks to protesters, who marched for four hours.
One of the speakers grabbed the megaphone to remind protesters that Clark was not just "killed." "What we saw was overkill," he said. "Every one of those shots that entered that black man's body was fatal."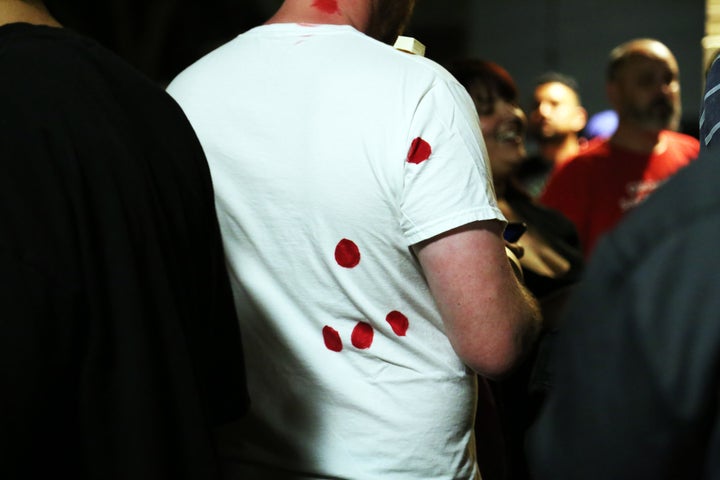 Black Lives Matter Sacramento founder Tanya Faison opened and closed the march with the words of activist Assata Shakur:
It is our duty to fight for our freedom. It is our duty to win. We must love and support one another. We have nothing to lose but our chains.
Faison and BLM Sacramento organized three straight days of protests outside Sacramento County District Attorney Anne Marie Schubert's office last week. Faison and other activists are calling to vote Schubert, a Donald Trump supporter, out of office in this fall's election.
"Mr. Trump, this is a national crisis."
On Saturday afternoon, retired Sacramento Kings basketball player Matt Barnes hosted a rally at Cesar Chavez Plaza before the Kings were set to play the Golden State Warriors later that evening.
During the rally, Barnes stressed the importance of community.
"There's so much isolation and so much segregation," Barnes said. "We fear what we don't know. We don't know these cops, so we fear them. They don't know us, so they fear us. Get out here. Know your communities. Have a better understanding of your community."
The NAACP called for police body cameras to no longer have an option to mute audio. Protestors that gathered had a clear message: The fight for Stephon Clark is just beginning.
"We believe that what happened to Stephon Clark was murder," Rev. Shane Harris of civil rights organization National Action Network said during the rally. "There's no way to justify 20 shots for a cellphone."
Politicians need to act, Harris said.
"If you're running for political office in this country, you're gonna have to stop by Sacramento and talk about Stephon Clark," he said, adding: "Mr. Trump, this is a national crisis."
Cleveland was transported to a local hospital by the fire department after the sheriff's vehicle left the scene, witnesses told the Bee.
"He never even stopped. It was a hit-and-run. If I did that I'd be charged," Cleveland, who suffered bruises to her arm and head, told the Bee. "It's disregard for human life."
A representative for the sheriff's department did not immediately respond to HuffPost's request for comment.
This post has been updated with information about the investigation into the sheriff's vehicle incident.
Hayley Miller contributed reporting.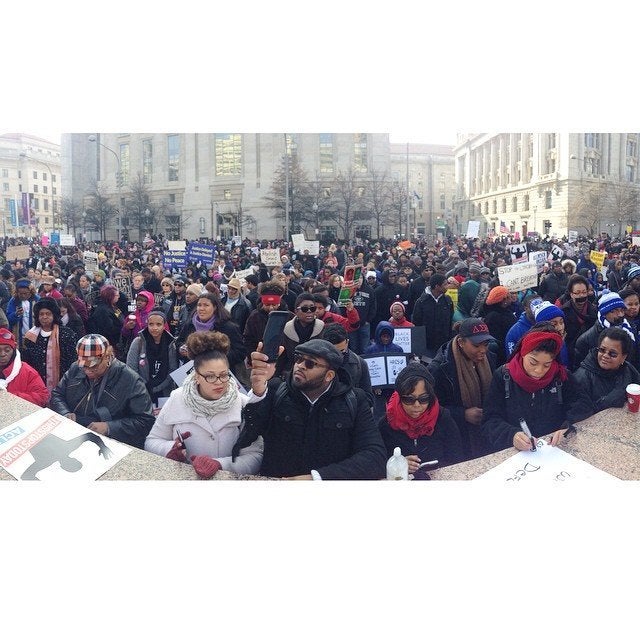 Powerful Black Lives Matter March In Washington
Popular in the Community