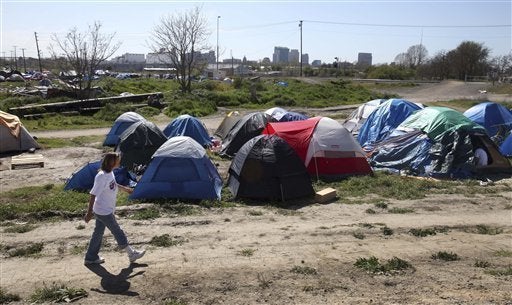 Sacramento city officials announced yesterday that the famous tent city in Sacramento would be cleared out by the end of April. The evacuation is necessary, an official tells the Huffington Post, because the tents are pitched on land owned by a utility company that plans to develop the site.
The plan is to provide access to shelter, food, and health care to each of the several hundred people camped on the site. Some people will no doubt refuse the assistance.
"There will always be people that don't want to go to shelters," mayoral spokesman Steve Maviglio tells the Huffington Post.
On the west coast, tent cities play a big part of a veritable movement. Small encampments that started out of necessity or as acts of protest have become city partners providing permanent refuge for dozens. In Olympia and Seattle, Washington, local municipalities work with homelessness activists to regulate tent cities that rotate from one host site to another every three months.
The city of Sacramento came to its decision to clear the tent city there with the help of a task force that included a tent resident. Mayoral spokesman Maviglio says the city will consider the examples of its northern neighbors as possible long term solutions.
Related
Popular in the Community