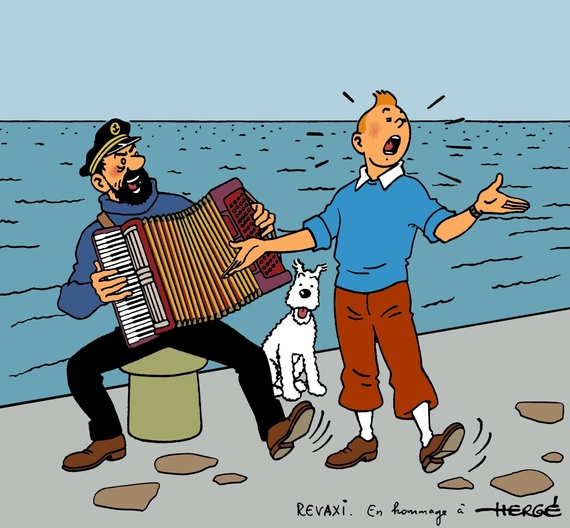 I grew up in Paris reading the classic Tintin et Milou albums. I learned about some countries I had never been, and the best curse words I had never heard from Capitaine Haddock.
Nobody in real life used his blasphemous words. As a kid, I did not know nor realized that Tintin was in fact a slightly racist and homophobic young man. To me he was simply a brave explorer with a malicious dog and some flamboyant friends - think of the opera diva named La Castafiore, constantly and deafeningly out of tune!
I had all 22 available titles written by Belgian artist Hergé (1907-1983), including "Tintin au Tibet", but my collection, passed down from my parents to my older brothers, and then to me was missing "Tintin chez les Soviets" - as that one had been censured and no longer for sale. Over 300 characters came alive in the 23 illustrated books, and many are still to this day part of many French school-age kids education.
I dreamed of going to the moon, about mysterious islands, desert treks, Chinese adventures, buried treasures, sunken ships, temples of gold, oil trade, pharaohs, Indians, magicians, Arabs, missing jewels, shady characters, deadly poisons, and wonderful endings.
The Tintin books were never disappointing, they always ended well, saved all good people, vanished (not killed really) bad ones, almost always saved the World. I learned about far-away countries, forgotten locales, strange planets, and Tintin was showing me the way in geography better than any school books ever did (my mother was a geography/history teacher and would likely turn in her grave if she was to read this.)
Milou (known as Snowy in America) made me chuckle at every page, with his tendency for being clumsy, smart, funny, and a practical helping hand to his young master Tintin. The genius of Professor Tournesol and the far-fetched idiocy of the Dupont/Dupond twins were mesmerizing to me.
The Capitaine Haddock had a serious problem with rum. He definitely drank too much, and the books were good at showing the bad side effects that alcoholism can have on people. His swearing was incredibly creative, with words I had never heard in the French language - and that I am not about to translate!
Tintin's creator was from Belgium, but used French to write his beloved books. His name was Hergé, which stands for George Remi, his initials: R + G. Beginning at the end of the 1920s, the illustrated books often denotes of some incorrect political views about the then USSR, Red China, and other repressed countries.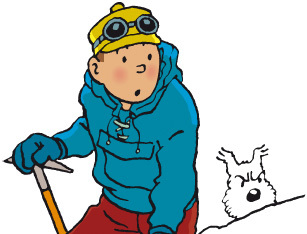 People from then Congo (Africa), American Indians, cowboys and Chinese all have been stereotyped and shown under bad angles and blinded looks, but this never impeached my own joy at reading the books at a very young age, as I was never able to see all the racism and discriminations of the stories.
It's only as an adult that I realized all of these problems with my adored childhood companions, and when time came to teach my own children, and to let them enjoy my books collection, I made sure to warn them about the very sad discrepancies in the stories.
Still to this day, I enjoy a good sitting with the books. The one missing from my Tintin collection, the very first published, was found a few years ago at an antique dealer store in Provence, where I had to buy it, despite the enormously exaggerated sticker price.
Now I have them all and they will stay on my bookshelves, part of my legacy for generations to come. I moved many times so far in my life, different countries, continents, cities, and my Tintins always followed, I would never leave them behind anywhere.
Tintin was a reporter and I always wondered if he was the one responsible for my own passion for the printed words and my newspapers career. I even had several Milous!
Now, a new exhibit at the Grand Palais in Paris is about to open and promises you will have fun with the show. Reviewing the entire career of Hergé and the many facets of his incredible success, the exhibit highlights with true colors the masterful publishing work of the vivid author.
Hergé's influence came from several masters of classical art. Translated into hundreds of languages of the World, many have changed some of the names to resonate more with each culture, but Tintin is almost always Tintin!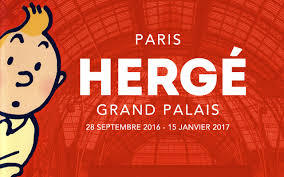 INFO:
HERGE: Grand Palais Museum, 3 avenue du Général Eisenhower, 75008 Paris.
Métro stop: Franklin-D.-Roosevelt,or Champs-Elysées-Clémenceau.
September 28 to January 15, 2017. The Grand Palais has several entrances, the Hergé show is on the Champs-Elysées side. Open every day from 10 a.m. to 8 p.m., with extended hours to 10 p.m. on Wednesdays. Timed tickets start at 10 Euros and are 1 Euro for under 16.
Free on Saturday, Oct. 1st after 8 p.m. and until midnight, for the White Night event.
Calling all HuffPost superfans!
Sign up for membership to become a founding member and help shape HuffPost's next chapter