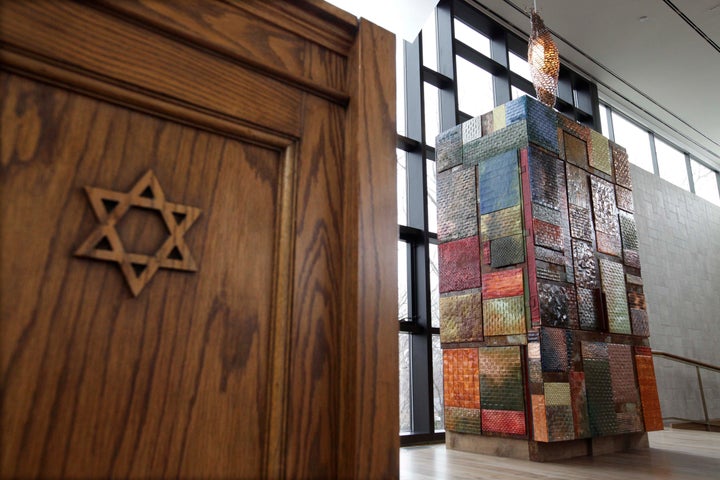 It was in early 2008 that my Jewish community moved back into our new spiritual home. Our old building had long suffered from poor design, flooding and roofing issues and from a heating/cooling system that worked only parts of the building at any given time. After much research and discussion, it had become clear that doing nothing would no longer be an option. Although we sincerely explored both renovation and moving, we soon realized that the best option for the Jewish Reconstructionist Congregation would be to tear down and rebuild.
Sitting in the sanctuary today, with it's impressive ceiling overhead, you might not realize that only the bottom 7 feet of the room are being heated and cooled. And although the warm wooden cypress slats that line the walls will easily embrace you, you might not remember that they once lined mushroom houses in upstate New York. Similarly, the ceremonial doors that welcome you to the building remain impressive in size, but it might go unnoticed that they were fabricated from trees that were sadly removed from the property during our construction. In so many ways, it is precisely what you don't realize, what you might not remember and what is invisible to the eye that make our JRC building sacred. Stewardship has been woven into the fabric of our communal history and is now a foundation of our communal spiritual life.
I've been thinking a lot about sacred space lately, as Passover preparations one again urged me to ritually remove every crumb of bread from my house. This act of separating clean from unclean imbues a palpable sense of intention to a space that previously had none. Similarily, the secular ritual of spring cleaning separates my experience of Chicago's long winter from the possibilities of warmth and growth yet to come. In connecting to these ritual acts of separation, I find myself connected to a greater sense of order. I am reminded that in Hebrew the word for sacred is kadosh. Though most commonly translated as "holy," kadosh can also be translated as "to set apart, or make separate." Through these acts of separation, connecting with an order that is ordinarily forgotten and often unseen, I am somehow again made whole.
It was with study and discussion of Jewish values that JRC committed to set apart our building project from traditional building plans. Importantly, the process of building green allowed us to consider how our seemingly individual project might actually be connected to a greater whole.
Rabbi Yitz Greenberg has taught that kadosh perhaps best translates as "intense," and certainly the intensity of our commitment toward stewardship of the earth and her resources contributed significantly to the sacredness of our space. Energy and water saving technologies were matched with the heartfelt desire to bring our values to life. The quality of the indoor air was discussed alongside the design of how our prayer space would look and function. Decision after decision was considered regarding the impact the building would have on the natural environment outside of us, as well as the impact this built environment would have on those who would soon dwell within. Bringing ancient teachings to life, we had the chance to do in community what we might not be able to do in our own homes. We watched with wonder as our values and dreams took shape hand-in-hand. Being neither the wealthiest nor greenest of congregations, I still find it extraordinary that a small congregation in the southwest corner of a Chicago suburb could become the first LEED-Platinum house of worship in the world. Ours was a journey grounded in values-based decision-making, and we courageously took action to make those decisions more than simply words. We are proud that the creation of our sacred space was undertaken in a sacred manner and joyous that we have been able to share our story with others seeking to do the same.
When I enter the sanctuary to pray, the large windows reveal the trees outside as they weather the changing seasons. As I witness them from this sacred space, my connection to them is unavoidable. Sacred space should touch you in a way that leaves you transformed, and at JRC this is most certainly true. Touched, I seek to connect with those around me. Transformed, I seek to act. I have come to realize that sacred space lies not in what I can see and touch in our building itself, but resides instead where we find ourselves coming together with intention and called to look beyond ourselves to serve a greater whole.
May the prayers of all of our hearts join together with the work of all of our hands so that we might soon bring a lasting sustainability into being.
REAL LIFE. REAL NEWS. REAL VOICES.
Help us tell more of the stories that matter from voices that too often remain unheard.