Netflix is finally on its way to conquering one of its largest potential international markets — India.
The streaming giant released its first Indian original series, "Sacred Games," on Friday. The series ― which was released in 190 countries, and has been dubbed in four languages and has subtitles available in 24 ― is receiving positive reviews for its cinematic quality, compelling production and stellar performances.
"Sacred Games," based on a book of the same name by Vikram Chandra, is a remarkable take on the age-old gangster-cop trope. The story follows a cat-and-mouse game set up between notorious mob boss Ganesh Gaitonde and police inspector Sartaj Singh. The show is set in Mumbai (including when it was still Bombay), and takes viewers on a sometimes historical, sometimes nostalgic journey through the decades of organized crime, corruption, politics and espionage beneath India's economic renaissance. It weaves together the lives of the privileged, the famous, the wretched and the bloodthirsty.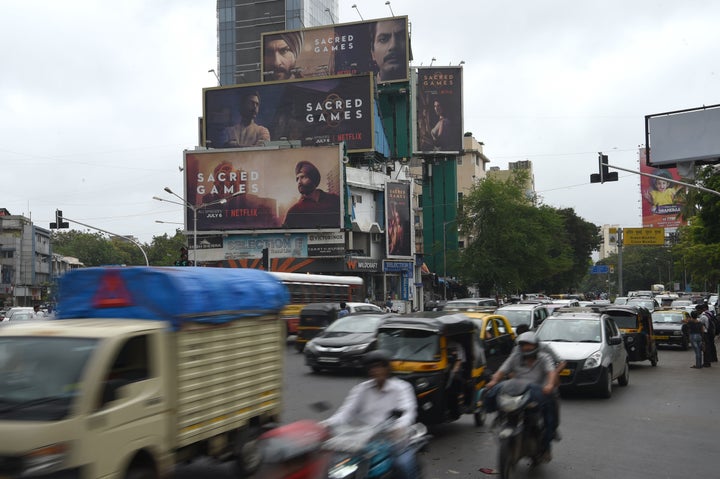 Netflix has had its eye on international markets for years. If there's anything to be learned by the smashing success of series like "Narcos," it's that the company's international subscribers are key to the streaming service's future.
"Our expectation is that a show like 'Sacred Games' will not only be important for India but also the world," Erik Barmack, Netflix's vice president of international originals, told BuzzFeed News.
Competition for streaming providers is heating up in India. The country's online video market is valued at over $700 million, and expected to grow to $2.4 billion by 2023, according to research firm Media Partners Asia. Netflix lags behind several rivals, including Hotstar (owned by 20th Century Fox), Balaji Telefilms and Amazon Prime Video. By the end of 2017, Hotstar reportedly had 75 million subscribers, while Balaji had 2.5 million, Amazon Prime Video had 610,000, and Netflix only had about 520,000 (out of 117 million global subscribers).
With "Sacred Games," Netflix is hoping to close the gap.
The company tapped top Bollywood actors for the series, including the legendary Saif Ali Khan and Nawazuddin Siddiqui. The prolific Radhika Apte also shines ― especially considering she is from an industry and a country that typically do not portray women in a positive light ― as an intelligent, respected and fierce RAW agent (India's equivalent of the CIA).
Netflix also brought in well-known Bollywood figures to write and direct. Directors Vikramaditya Motwane and Anurag Kashyap experimented with a new style, as they shot scenes for the two lead characters separately: Khan worked with Motwane, while Siddiqui worked with Kashyap.
"Sacred Games" is based on a novel that's nearly 1,000 pages long, and the eight episodes in Season 1 cover only a fraction of the story. The series is expected to have four seasons, Khan told DNA India.
Viewers can expect more original Indian content from Netflix in the meantime. "Selection Day," a story about a young boy who tries out for a cricket team, and "Bard of Blood," a political espionage series, are expected soon. The company also announced in February that it was working on three other original series from India: "Leila," "Ghoul" and "Crocodile." And late last month, Netflix announced it would be making a series based on Midnight's Children by British-Indian author Salman Rushdie.