Where might you find the tomb of Genghis Khan? Ask Explorers Club President Alan Nichols. With a smirk, he'll say he thinks he has identified its exact coordinates, which researchers have struggled to locate for centuries. That doesn't mean, however, that he'll tell you where the Mongol emperor lies.
Recently, the 108 year-old club -- home to astronauts, underwater archeologists and world record holders -- elected Nichols as their 38th president. The 82 year-old attorney from Belvedere, California was the first person to bicycle the entire Silk Road and also the first to traverse sacred Mt. Kailash in Tibet.
Looking to the future of the club, which seems to be emerging from an era of infighting, Nichols said he wants not only to modernize the non-profit but also to maintain stride with its original mission: to unite explorers in the bonds of good fellowship and to promote the work of exploration by every means in its power.
"First of all [my goal] is to expeditionize the club to make sure that what we are doing expands expeditions and exploration throughout the world," Nichols said. "There's a lot to do, but we are in the perfect position to do it."
Since its 1904 inception, the Explorers Club has become a watering hole for pioneers in science and exploration who convene to exchange valiant tales of wonder. Club members -- including Charles Lindbergh, Sally Ride and Teddy Roosevelt -- have traversed virgin territory: They were the first to the moon, to the deepest part of the ocean, to the North and South Poles and to the summit of Everest.
The 3,000 member club also funds research and expeditions grants. Last year, for example, the club funded an expedition to monitor coral reef health and resilience in Honduras as well as research on the effect of habitat loss on Lemurs in Madagascar.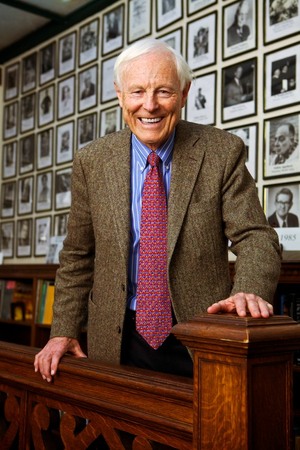 Today, its Jacobean revival headquarters on the Upper East Side functions as a time capsule, archive, and meeting ground that hosts public lectures and special events. The Lowell Thomas Building, renamed after the journalist and club member best known for popularizing Lawrence of Arabia, was once owned by the Singer sewing machine fortune. It houses ornate global relics like expedition flags that have gone to the moon with NASA missions as well as a taxidermy polar bear, 5,000 maps, and rocks from Everest.
"There are a lot of people who are interested in exploration and we want them to participate and we want to support them," Nichols said. "[We want to] do whatever we can to make this club the cyber center for exploration, especially for young people."