I joyfully present the first in a remarkable series of conversations about the Divine Feminine. Diva Carla Sanders talks about sensuality, healing and reveals why the Divine Feminine is needed today.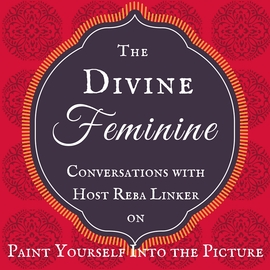 Be uplifted by Diva Carla's story. Find inspiration in this discussion of sacred sexuality and its connection to the Divine Feminine.
Click here to watch the video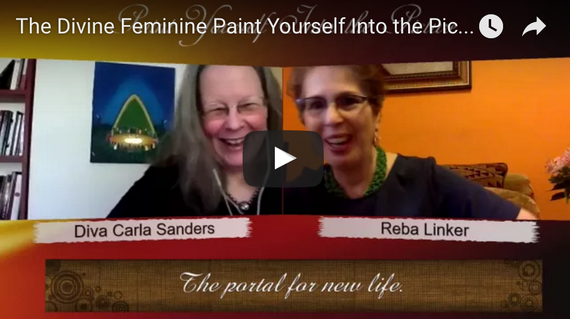 Click here to watch the video
The Call of the Divine Feminine
You can say that the Divine Feminine called to me and I heeded that call! I joyfully handed over the platform of my show, Paint Yourself Into the Picture, for this sacred exploration. Together with my guest experts, we probe the meaning of the Divine Feminine.
Why was I seeing so many women labeling themselves as 'Goddesses'? What did this trend mean?
Why is it important? Why now?
Is it 'for real'? Does it hold benefit for everyone? Does one have to don a headband and live on a beach? Engage in tribal rituals full time?
I needed to know if this is something women in all walks of life could incorporate into their lives!
These are the questions that danced in my head and heart as I launched into this remarkable series on the Divine Feminine. Believe me, the interviews have proven that this is a subject whose time has come. Without further ado, I invite you to immerse yourself in this sacred ongoing conversation. Click here to watch the video
About the Divine Feminine Series:
There will be at least 5 episodes of Paint Yourself Into the Picture devoted to the exploration of the Divine Feminine. Subscribe to the show (it's all free, no email address required, no strings attached, simply a loving gift to you) so as not to to miss a single episode. The entire month of July will be dedicated to the Divine Feminine and after that subsequent recordings will be interspersed with the regular coaching show format.
(Note: I am still accepting applications for those who wish to schedule a free coaching session with me as a guest on Paint Yourself Into the Picture. Click here to apply to be a coaching guest.)
More new and exciting changes:
I'm honoring the Divine Feminine in both content and form. My new distribution schedule makes sense to my playful feminine side. The show will air on days that are multiples of my lucky number '9' - that is, the 9th, 18th and 27th of each month, or the closest weekday thereto.
On weeks that do not contain one of those shows, an episode will be released on a day of the week that has not been represented. In other words, if there are shows released on Mon, Tues and Thurs, then I will release the 'odd week' shows on a Weds or Fri. In addition to being fun, creative and quirky, this will enable me to better gauge which days of the week garner the best responses.
Most important of all...
What could that be?
Why, YOU, of course!
This show is totally grassroots driven. If you love these heart-centered, healing conversations, if you think these topics are important for the world and for you personally, then thank you for being my partner in bringing this show to others who need its healing message! Your 'Likes', comments, subscribes and loving shares help lift the show's ratings and help it reach others.
I've been blessed to receive so much help and healing in my life and this show is my way to pay forward the many blessings that I received. It is a labor of love, my gift to the world.
May your generous help in sharing it is also be a gift that will be returned multiplied to you. May healing thoughts, healing messages and divine healing energy always be readily available to you whenever you need them!
Would you like to schedule a free on-air coaching session?
Are you ready to create a new, more vibrant and joyful picture of your life?
Are you ready to step into a greater sense of connection with spirit and self-actualization?
Are you ready to create opportunities to expand your life and actualize your dreams?
Click Here to apply to be a guest on the show today.
Or, if you would prefer to work with me privately...
Simply contact me to see if working with me is a good fit. I keep it lo-tech on purpose, just drop me a line, person to person, and let's set up a time to chat.
Explore my books and online courses. Be sure to get your free gift http://rebalinker.com/imagine-self-love-free-chapter/
Click here to join my free FB group, Leaders in Self-Love
REAL LIFE. REAL NEWS. REAL VOICES.
Help us tell more of the stories that matter from voices that too often remain unheard.