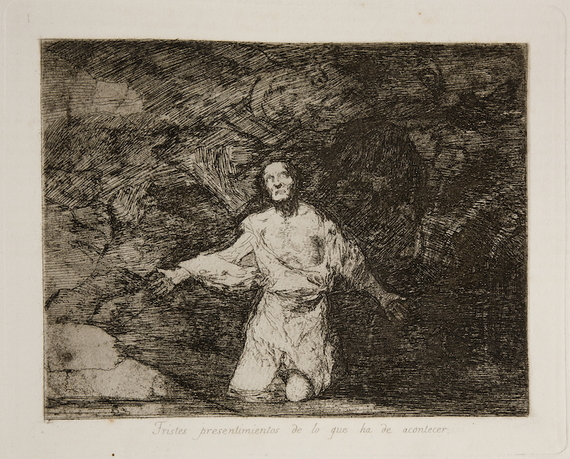 Francisco Goya, Tristes presentimientos de lo que ha de acontecer (Sad presentiments of what must come to pass), etching, circa 1810-20, 17 x 22 cm (plate)
"...for there is no folly of the beast of the earth which is not infinitely outdone by the madness of men " ― Herman Melville, Moby Dick
I think often, especially recently, of this particular etching by Francisco Goya, the frontispiece to a suite of 82 prints Los Desastres de la Guerra (Disasters of War). Goya completed these prints during and soon after Napoleon's brutal occupation of Spain and the installation of his brother as king, which sparked a popular uprising among the Spaniards and violent repression by the French. Goya witnessed and recorded much of the violence, though no one saw his prints until they were published in 1863, 35 years after Goya's death.
In the series we witness unsparing images of brutality, hunger, despair, destruction, retribution, torture, corruption, folly, atrocity, famine, degradation, rape, and death. Stripped of uniforms in many of the images, both sides in the conflict are indistinguishable in their viciousness; long-held transcendent values of justice and righteousness are derided (a specialty of Goya), loyalties and politics irrelevant and forgotten.
It is impossible to look at these prints without feeling abhorrence and revulsion at what Goya depicts. He exposes the unimaginable truth, refusing to turn away from the unrelieved obscenity around him, offering no consolation, redemption, or justification to the violence. He says: I saw this; this is what people do to each other. And we have to look. The helpless fellow at the beginning of the series of prints knows what's will come to pass, and he has no words.
REAL LIFE. REAL NEWS. REAL VOICES.
Help us tell more of the stories that matter from voices that too often remain unheard.