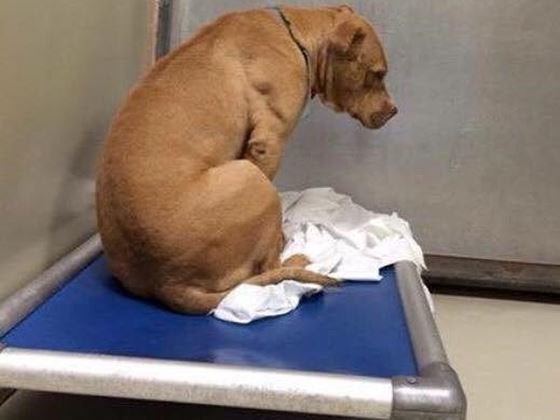 March has been a rough month for a shelter dog named March. But after a photo of the pit bull mix hunched over and staring sadly at the wall of his kennel went viral, people across the Internet donated hundreds of dollars to help him find a permanent home, Fox reports.
"I was hoping it would get him a little more exposure [but] I had no idea that it would go viral," Doven Collins of ACCT Philly, the Philadelphia animal control agency that has been caring for March, told ABC News of the picture. "It was amazing to see the outpouring [and] to see that number of people that cared about March and other animals like him. With all the crazy things going on in the world, it gave me some hope in humanity."
According to Fox, March entered ACCT Philly on March 3 as a stray. He was found on the back porch of an alley and was brought into the shelter by an animal control officer. He adjusted well and ACCT Philly spokeswoman, Ame Dorminy, told Fox he was snuggly and a "really sweet, happy, friendly" dog.
On March 17, Collins, who's a transport volunteer, took March to the local no-kill rescue facility only to be turned away due to a miscommunication. She had to take March back to ACCT Philly.
"The whole way there, I talked to him … I said, 'This is awesome, You're going to be safe,'" Collins told ABC. "We [even] stopped for a burger, so I felt incredibly guilty having to take him back."
Two days later, Collins came back to the shelter to check on March and found him slumped over in his kennel, seemingly depressed and suffering from a doggy cold.
Collins told ABC that the combination of leaving the shelter only to come back and catching a cold must have been rough on March. She felt bonded to the dog and wanted to boost his chances of getting adopted.
So snapped a picture of him in his sad state and shared it with a few local Philly sites, who posted the photo online:
Collins also decided to start a YouCaring crowdfunded campaign for March to help raise funds to "support saving March and getting him settled into a rescue and/or foster/adopter's home," she wrote on the site. She also noted that any remaining funds would be donated to Philly ACCT to help save other dogs.
So far $970 have been donated, which exceeds the original goal of $500.
On March 21, March was taken in by a no-kill shelter where he'll have a greater chance of getting adopted, though Collins and Dorminy don't think that will be much of a stretch of the imagination.
Soon after his story went viral, ACCT Philly received hundreds of emails from people who wanted to adopt March.
"I have no doubt that he'll get adopted," Collins told ABC. "He grabbed my heart."
REAL LIFE. REAL NEWS. REAL VOICES.
Help us tell more of the stories that matter from voices that too often remain unheard.
BEFORE YOU GO
PHOTO GALLERY
10 Stereotypes About Pit Bulls That Are Just. Dead. Wrong.