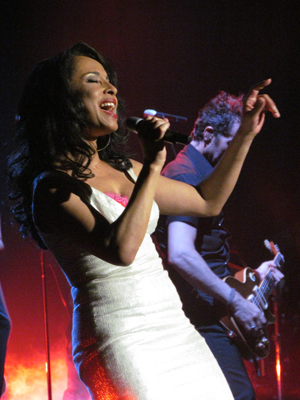 All photos by Karin Lindberg Freda. Used with Permission.
Sade's show at Honda Center in Anaheim August 30, 2011 was such a triumph of visual and sonic beauty, I started to wonder if pure gorgeousness could fix the economy or make political parties get along or point the way to world peace. Sade are a band of four musicians, not merely one stylish dame with a ponytail. Sade are Stuart Matthewman, Andrew Hale, Paul S. Denman, and Sade Adu, plus two inspired backing vocalists, Leroy Osbourne and Tony Momrelle, drummer Pete Lewinson, additional guitarist Ryan Waters, and percussionist Karl Vanden Bossche.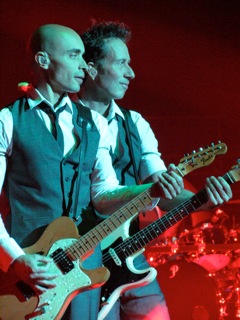 Matthewman is every bit as essential to the band as singer Sade Adu. His sax and guitar create the twin sparks that make every song, the new stuff from the Soldier of Love album and the old stuff from the 1980s, so cool and so hot. Sade are not aloof; they are articulate. Sade are broken-heartedness and resilience. They play all the beauties of the boudoir and all the agonies of desire's defeat. Out of jazz, soul, reggae, pop, and other influences, Matthewman, Hale, and Denman build a unique edifice. Sade's grooves are not the backdrop for aural wallpaper, they are an architecture of rumination, confession, and connection unlike any other.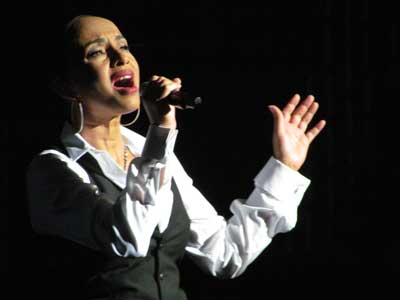 Singer Sade is so timelessly elegant, time itself seems happy to have lost, in this one instance, its ability to degrade and diminish. She is beautiful in her black pants and top as she opens the show as the Soldier of Love who has survived the eighties, nineties, aughts, and the anxieties of our present day. She is both a dashing diva and a humble member of an ensemble in a boyish white shirt and black vest. She is beyond beautiful barefoot in a white gown that discloses the lace of a cerise brassiere. You have to call up Garbo and Josephine Baker, Audrey Hepburn and Halle Berry to begin to describe Sade Adu's allure but these don't account for the genius of her freckles. Beyoncé is pretty. Sade is profound. Divine.
More than any singer except Joni Mitchell, Sade Adu makes me appreciate the truth-telling audiences get when a songwriter sings her own words and is not interpreting the thoughts, however brilliant, of someone else. All lyrics on the new album are credited to S. Adu. Her words work through the grooves of the songs with a pristine persistence, often delivered as a commanding hush. The process of a Sade song resolves suffering into survival. In "Skin," she confronts excruciating knowledge. "When I found out this love's undone/I was like a gun" and she arrives at a truth about lost love few are willing to face and tells it terse: "It couldn't be right cos you're not right within." The album is filled with invaluable clear-eyed confrontations. As a writer, her ability to chant a problem always includes a rare capacity to out-think and outlast desperation by detailing it, riding it all the way through to a return to dignity. Christine McVie of Fleetwood Mac, born Christine Perfect, is a singer-songwriter whose alto sounds a similar restrained grace. I scavenge through lists of other vocalists who possess greater natural gifts than Sade -- Dame Cleo Laine, Cassandra Wilson, Feist, Norah Jones, Yukimi Nagano -- to find a way to praise what Sade's ability to muse aloud achieves. The sumptuous stoicism of her voice translates grief into relief. On Tuesday night her vocals improved from the opening notes of "Soldier of Love" followed by "Your Love Is King," finding commanding expression during "Jezebel" and on every song after it. Her words, presence, and canny collaborations with the band and two supporting vocalists combine to made Sade Adu a singer of colossal authority.
The band's good taste finds elegant fulfillment in the design and direction of the show, credited to Sade and Sophie Muller. The musicians are often surrounded by three walls of a a curtain swathed in stunning projected images. This cocoon of pictures arrives and leaves gracefully. Visual projections evoke noir and neon for "Smooth Operator" without appearing trite or retro. Silhouettes of dancers look both classic and contemporary. The design and pacing are exquisite without a moment of posturing or preciousness. Kate Betts' recent book on the strong style of Michelle Obama Everyday Icon points out that Americans are deeply suspicious of style and stylishness. Puritans among us construe style as an enemy of sincerity. Everything about Sade's show, the visual, the costumes, the setlist, Sade's generous intros of her mates and their group curtain call, and also the way many in the Orange County crowd dressed up for the evening, argues for style as an outcome of sincerity. Will we have to wait another ten years for more music and our next dose of high-style-as-sanity from Sade? We can continue to groove to the recordings, to the old "Lovers Live" DVD that shows another devoted, rapturous SoCal audience. We can celebrate how style places us in our survival's hands when we see how the grand gown of allure really does look best accessorized with the bare feet of resilience and resolve.
John Legend opened with a beautiful set.
The Sade/Legend Tour continues in Anaheim 8/31 with an additional California date in Ontario 9/3 and on to to Phoenix, Vegas, and more http://www.sade.com/us/live/.
Calling all HuffPost superfans!
Sign up for membership to become a founding member and help shape HuffPost's next chapter