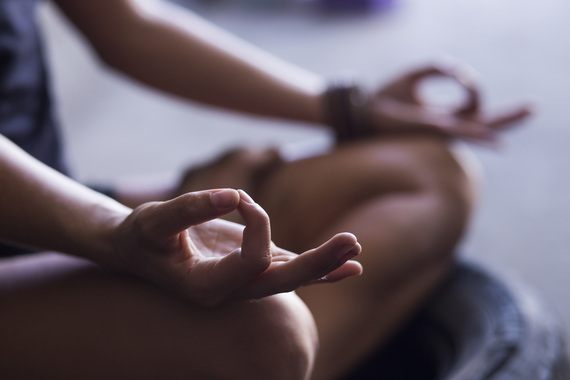 To know me is to know I have a very high energy level. I've always been one whose mind races ahead of my body, sometimes my body races ahead of my mind. Sometimes I find myself inventing new words. I have a bottomless enthusiasm for championing people and causes who are doing good in the world. From the time I sold POW bracelets as a teenager during the Vietnam War, I have supported all sorts of causes from human rights to the empowerment of girls and women. I've advocated for clean water, better education, and social and emotional intelligence in schools. And of course, I created Greenopia, a business around which I am able to champion environmental health, the cause nearest and dearest to my heart.
For someone like me the idea of sitting still to meditate sounded like too big a hill to climb. That was until the day my good friends Jill Goldman and Vicki Kennedy invited me to attend a meditation workshop with Jaggi Vasudev, commonly referred to as Sadhguru at the Donna Karan Urban Zen Center in New York City.
The idea that Sadhguru could show me in two days how to slow down my fast-paced, always moving and thinking body long enough to sit still every day for thirty plus minutes to reflect upon nothingness sounded as much of a fairy tale as Jack and the Beanstalk. But I'm always up for a challenge and my friends had convinced me this was too good of an opportunity to pass up.
Three years later meditation is not only a part of my daily practice; it defines my daily living.
Meditation is different for everyone but for me; this is what happens when I sit. I shut down the outside noise, go inside and look for that still place in my heart where I can listen to the quietness of my soul.
For the first forty-five days after I was introduced to the Shambhavi method by Sadhguru, I practiced twice daily. Some of these practices were in airport bathrooms and the back seats of Ubers. Now my practice is a daily commitment. It's something I make time for and look forward to, getting up earlier than anyone else so I can have my time to sit still. My family and friends respect the time I spend in meditation - even on those days, they have to wait for their breakfast or have an urgent question to ask me.
What I've observed over the years is that the quieter I get, the more present I get and the more content I feel. I'm not sure if there is a direct correlation between quiet and content, but I have noticed that the more content I feel, the happier I've become. Irritating people and things seem to roll right off my back, and I am quicker to forgive and laugh more at myself and others.
None of this would have been possible without the teachings of Sadhguru. So when I was asked to co-host a book signing for Sadhguru last week in Santa Barbara on the U.S. book tour for his new book: Inner Engineering, A Yogi's Guide to Joy. I was delighted to offer my friends the chance to hear his message.
Sadhguru is a yogi, a mystic and the founder of Isha, an all-volunteer organization devoted to humanitarian and environmental projects. One of my favorite quotes he shared with us was this, "In making an offering you focus your energy in one direction. Once your energy is one-pointed, you will move forward in life."
That quote really resonated with me. As an environmentalist committed to living with a green heart, I know how important it is to set an intention to live this way. But it also resonated because I have begun writing a book (more to come on that shortly). Sadhguru's words are a reminder of where I need to focus my energy to live my life to its fullest potential. I invite you to read Inner Engineering, A Yogi's Guide to Joy. Perhaps it will spark something within you too.
Calling all HuffPost superfans!
Sign up for membership to become a founding member and help shape HuffPost's next chapter