 A trip to Africa is on a lot of bucket lists. For many of us in the United States, the continent seems majestic and mysterious yet dangerous and uncharted. Much of what we know about Africa is what we see in the media, a land of lions and giraffes, war and poverty. The Africa I know and love is a land of beauty and wonder that I have now dedicated my life to sharing with travelers.
My travel company, Eyes on Africa, has been sharing the wonders of Africa with those eager to travel and explore the continent's beauty, wildlife, wilderness and culture for 10 years. Many of those we work with are planning a first trip to Africa and have a plethora of questions, from where to stay, when to go, what to pack and more.
I've chosen a list of 10 most frequently asked questions that I'm often pressed with from those with a desire to travel to Africa. We pride ourselves on our knowledge of the land and culture and strive to educate travelers on the essence of Africa.
When should I start planning for a trip to Africa?
We encourage our clients to plan their African safari as far in advance as possible; several months at a minimum to ensure a better selection of camp availability. This is especially important if they are planning to travel during the Southern Africa safari "high season" months of July through October.
How much does it cost?
Most of the African safaris and African holidays organized for our clients are 100 percent customized to their individual interests, timeframe and budget. The rates for the destinations we offer cover a wide range and typically vary significantly from the "high season" (generally July through mid-November) to the "low season" (generally November through June).
Is travel to Africa safe?
Africa's biggest enemy is the international media who represent all 46 African countries as a single entity and not as unique and individual countries with their own characteristics.
It would come as a surprise to many people to find out that there are in fact areas that are worse off in more developed countries than in the "dangerous" African countries. No country can claim to be 100% safe, and so as with travel to any new or unknown destination, it is advisable to take certain standard security precautions. Visitors should take the same precautions as they would normally take in any other destination worldwide. Keep an eye on your purses, wallets, passports, money and cameras when walking in a crowd. Avoid walking in the cities at night and place valuables in your hotel safe. Choosing a knowledgeable operator such as Eyes on Africa as your specialist Southern African tour operator is the best move you could make.
While staying at African safari lodges and tented camps you are typically far removed from human settlement and crime in the camps is virtually nonexistent, in fact, we have never heard of it and have been traveling to the camps for years.
Where in Africa should I visit? What animals will I see?
First, let's define the regions. In terms of wildlife safaris, Southern Africa includes South Africa, Botswana, Namibia, Zimbabwe, Malawi and Zambia while East Africa is essentially Kenya and Tanzania. Meanwhile, Uganda, Burundi, Rwanda and The Democratic Republic of the Congo, all destinations popular for gorilla tracking safaris, are generally considered Central Africa. Malawi and Zambia are also sometimes classified as Central Africa.
In terms of landscapes and attractions, the regions are quite different. East Africa boasts Mount Kilimanjaro, the Serengeti Plains/Maasai Mara ecosystem and the Ngorongoro Crater. Southern Africa includes Botswana's Okavango Delta wetland, the Skeleton Coast and Namib Desert of Namibia, the miles of coastline with diverse habitats and the Kruger National Park of South Africa, the semi-arid Kalahari Desert of Botswana and northern South Africa and the lower Zambezi River basin including Victoria Falls along the borders of Zambia and Zimbabwe.
The wildlife species found in the two areas are essentially the same; most of the predators and plains game can be seen in both regions and only some birds and a few mammals and reptiles are distinct between the regions. East Africa offers herds of zebras and wildebeests in the hundreds of thousands. The annual migration between the Maasai Mara in the north and Tanzania's Serengeti in the south is a spectacle unequaled anywhere on earth today. However, Botswana and Zimbabwe are home to 80% of Southern Africa's 300,000 elephants and huge herds are a common sight along their northern borders.
The major differences between East Africa and Southern Africa for safaris are the density of tourists, the safari accommodations and the safari vehicles. East Africa, in general, has earned a reputation for a high density of tourists staying in hotel-styled lodges. The most common safari vehicle in East Africa is the mini-van with its pop-up roof, whereby passengers stand up to take pictures while peering out of the roof or sit in the enclosed vans. Conversely, Southern Africa is known for its luxury tented safari camps and huge tracts of wilderness areas with very low tourist densities, making for a private safari experience. The safari vehicles used here are modified, open-air Land Rovers which also add to the intimacy of the experience.
That said, there are a growing number of luxury lodges cropping up in East Africa, particularly in Tanzania and these lodges offer a far more exclusive experience than the large safari lodges which may have typified Kenya and Tanzania.
For the most part, Southern Africa is dominated by huge land concessions, which are owned or leased by luxury safari camp operators, and these concessions are for the sole use of the individual camp and its guests. With an average camp size of only 10-16 guests and only one or two vehicles for the entire concession, one can drive all day and not encounter anything but wilderness and wildlife.
What are the entry requirements?
All people traveling to the Southern African region require a valid passport that is normally valid for six months beyond the intended length of stay. At present, holders of American passports do not require visas for South Africa, Botswana and Namibia. They do however require visas for Kenya, Tanzania, Zimbabwe and Zambia; all but Kenya's may be purchased at the point of entry for a nominal fee. It is advisable to check with the consulate of the country that you intend to visit as requirements can change without notice.
Southern Africa has become very strict with regards to passport control requirements. There have been instances of visitors being deported due to non-compliance. Passports MUST be valid for at least six months after your return home date. We recommend a validity of nine months to prevent any problems in this regard. The passport entry requirement for any travelers entering South Africa is a minimum of two blank pages in their passport (in addition to the two endorsement pages in US passports). If however a guest should be traveling to more than one African country via South Africa, then the traveler must ensure they allow for sufficient pages for each country visited and also have the minimum of two blank visa pages for each re-entry into South Africa.
Should I take any medical precautions before going to Africa?
As vaccination requirements change on occasion, we recommend that you check with your local doctor or health department for the latest health precautions. The most important health consideration in Southern Africa is malaria and it is strongly recommended that prophylactics (i.e., oral tablets) be taken as a preventative precaution. You are not legally required to have any vaccinations unless you are traveling from a region where yellow fever is prevalent, in which case an inoculation will be required against the disease.
Should I get traveler's insurance?
Yes. Insurance should include coverage of cancellation or curtailment of the trip to Africa, emergency evacuation expenses, medical expenses, repatriation expenses and damage/theft/loss of personal baggage, money and goods.
Is communication with the "outside world" possible while on an African safari?
For most people wishing to visit the remote parts of Southern Africa, getting away from civilization so to speak, is the major attraction and reason for going. As with electrical power, communication by phone, fax, etc. is out of the question given the remote locations of the camps. All camps do however have radio communications with their town/city offices in case of any emergencies. Most lodges in South Africa offer full telephone and internet services for those who do not wish to detach from the world completely.
What weather should I expect on an African safari?
In general, the climate in southern Africa is as near perfect as you can get with dry season temperatures similar to those of the Mediterranean, but without the humidity. Daytime temperatures average 70-80 degrees Fahrenheit but can get much hotter, especially in the months of October and November, just before the rains arrive.
During the winter period, June through August, nighttime temperatures in some areas can drop to freezing or below. Early morning game drives during these winter months can start out very chilly and you should bring a warm sweater, gloves and even a hat to cover your ears. However, by mid-morning the days will heat up dramatically. The rains occur each year during November through March, with the dry season stretching from April through October.
What types of food are served on an African safari?
Top-class British and European cuisine as well as some local dishes are served in the hotels, lodges, camps and restaurants. Most foreign visitors are very impressed with the quality and quantity of food provided while on an African safari. Some of the more up-scale camps provide food, presentation and service which rival that of a five-star hotel in any top city. The tables are elegantly set under the stars, under thatch or even in a boma, and we promise you will never go hungry.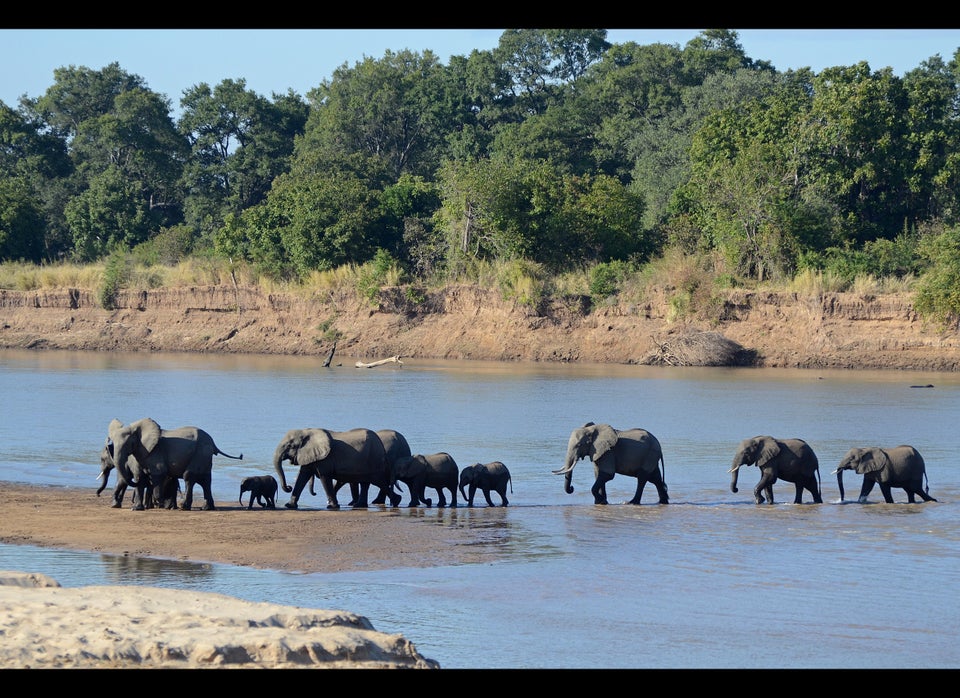 A Look at Wildlife on Safari
Related