I think we are all clear by now that I am a serious Africa-phile. That said, I do sometimes get the itch to travel somewhere other than Africa. But, wherever I travel, I still look for that "safari" type of experience. For me that means small properties in amazing and remote natural settings, exclusivity, personal service, talented guides, fun, good food and wine, and responsibility to the local community.
Once you start looking you really can find these experiences all over the world! Here are just a few places and properties I have found that I think any safari-lover would really enjoy:
India
Do you love game-viewing and have already checked Africa's Big Five off your list? Well then go find them in India! India has a wealth of stunning national parks and is home to Asiatic lions, rhinos and elephants as well as leopards, hyenas and buffalo. Of course what sets India apart are the tigers. Although sightings of tigers are not as guaranteed as lions are in Africa, there are some fabulous properties where that offer a true safari experience -- and you most likely will get some great tiger sightings as well as a new animals and birds to add to your list!
Jamtara Wilderness Camp is a great example of a property that captures that safari-feel in India. Staying at Jamtara one can almost forget that this is not Africa. This intimate camp, is in a large private area bordering the National Park so you have nature all to yourself. Camp guides are knowledgeable and fun and the whole scene is reminiscent of all the fun of Africa. The nearby farming village is picturesque and very welcoming. Read more about my mother Marcia's time at Jamtara in Pench, and in Kerala here.
I would recommend combining Jamtara in Pench with Kanha National Park to increase your chances of seeing a tiger. In Kanha you can stay at AndBeyond's Banjaar Tola Tented Camp. AndBeyond owns several gorgeous properties in East and Southern Africa (including Phinda Reserve in South Africa and Ngorongoro Crater Lodge in Tanzania) and in India they keep classic safari style and the high level of service they are known for.
The Atacama Desert, Chile
If you like the desert (think Namibia) then you will love the Atacama Desert in Chile, the driest desert in the world. In 3-5 nights in this martian landscape you can go on desert treks, sand board, horseback and bike ride, visit hidden lagoons and hot springs, and explore local villages. As in Namibia, there are no lights on the ground so taking in the incredible night sky with a local astronomer is sure to be a highlight (find all the reasons you should visit Namibia here).
Atacama is a year-round destination but I recommend going between April and September. October through March is busier because this is the season to visit Patagonia and many people add on a visit to Atacama. There are several great properties in Atacama including Tierra Atacama and Explora Atacama but my favorite is Awasi Atacama because it is the smallest property in the area and offers all of its activities on a private basis, so you will have a vehicle and a local guide all to yourself.
If you want to add to your Chile safari experience the fertile wine regions of the Colchagua Valley are an easy parallel to the Cape Winelands and the magnificent Torres Del Paine in Chilean Patagonia offers all the hiking and horseback riding an active traveler could ask for, Mt. Kenya or Namibia's Tok Tokkie Trail meets Zambian walking safari.
Visiting the Galapagos and seeing the unique species that call the islands home is definitely on my bucket list, but I'm not crazy about being locked on a cruise ship with people I don't know. Luckily I have found the perfect alternative: Galapagos Safari Camp, a gorgeous tented camp perched on a hill on Santa Cruz Island overlooking the sea and a several of the most famous islands. This camp is a real treasure, offering incredible access to all the diving, sea lions, tortoises and blue-footed boobies you can handle AND an intimate tented camp safari experience. You can take day trips to nearby islands or if you want to go further afield, you can easily combine a 3 or 4 night cruise with 2-3 nights at Galapagos Safari Camp.
I also recommend staying at the stunning Hacienda Zuleta before you fly out of Quito. The Ecuadorian highlands are very beautiful and what better way to experience the area than on a working hacienda owned and managed by a prestigious Ecuadorian family. Hacienda Zuleta's decades of history and welcoming atmosphere will give you a real taste of Ecuador.
For me the safari experience is as much about authentic cultural interactions and getting out into local communities as it is about game-viewing. Tiger Mountain Lodge in Pokhara, Nepal checks all of those boxes for me. It is an intimate, understated, socially responsible lodge in a perfect location, surrounded by views of Everest's Fishtail Peak and the Annapurna Range. The lodge and its amazing local guides offer treks through this gorgeous mountain setting. Tiger Mountain has all the attributes of a great safari camp: fresh local food, lantern lit pathways, coffee and tea service in the morning to watch the sunrise from your deck and attentive staff who come from the community and have a genuine authenticity and joy in sharing their love of their little corner of the world. Read about a recent trip to Tiger Mountain Lodge here. Shakti Himalaya offers several similar experiences in India.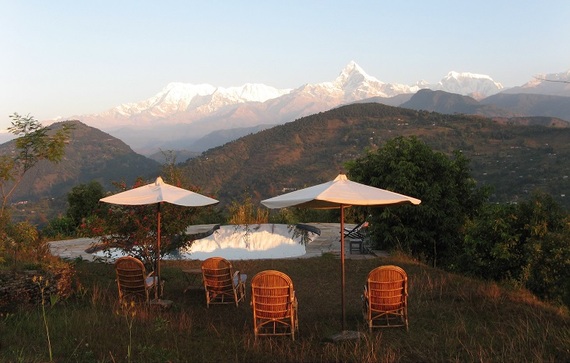 These amazing destinations get me excited about all the possibilities and all the experiences that can be found around the world for a safari-lover like me.
But don't get me wrong, I love Africa! I am writing this from a hotel in Harare before heading out to explore Zimbabwe's Eastern Highlands by road and I couldn't be happier, more about that in the New Year!
Related