Student activists and rape survivor advocacy organizations sided with higher education officials on Thursday to oppose a bill that would prohibit colleges from punishing accused rapists if the reporting victims do not go to police.
During a hearing in the House of Representatives' Education and the Workforce Committee, higher education representatives laid out their opposition to the Safe Campus Act, warning it could have a "chilling effect" on rape survivors reporting their assaults.
Stanford University students attending the hearing held up signs protesting the bill, while the advocacy group Know Your IX led an online campaign that referred to the legislation as the "Unsafe Campus Act." By the time the hearing concluded, nearly 2,000 people had signed a Change.org petition against the bill that was launched on Thursday.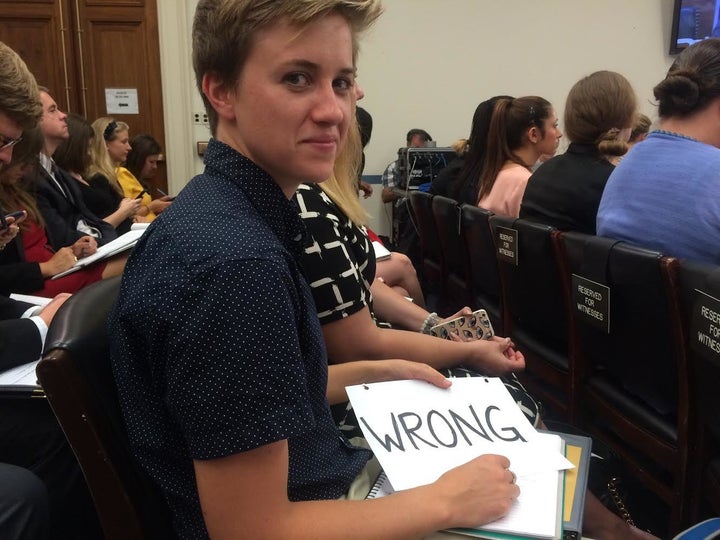 Under the gender equity law Title IX -- which requires colleges to address reports of sexual violence -- survivors have the right to choose whether to report sexual assault to their school, law enforcement, or both. But under the Safe Campus Act, a college or university could not take any sort of punitive measure against an accused student unless the person reporting the attack agrees to go to law enforcement.
In that case, police would have several weeks to investigate the complaint before a school is allowed to start its own inquiry. Colleges would still be able to address sexual harassment or stalking, regardless of police involvement.
Reps. Matt Salmon (R-Ariz.), Kay Granger (R-Texas) and Pete Sessions (R-Texas) introduced the bill in July with the backing of national fraternity and sorority groups and the Foundation for Individual Rights in Education, a civil liberties organization. Rep. Brenda Lawrence (D-Mich.) has since signed on as a co-sponsor.
Requiring early reports to cops would help ensure that survivors have the evidence they need to pursue charges months after an assault, Salmon said in the hearing.
But Penny Rue, who served as a witnesses in the hearing and is vice president for campus life at Wake Forest University, disagreed. "Our experience teaches us cops look for violence, for signs of struggle, for weapons -- they usually don't understand the nuances," she said.
While the bill would still allow a college to provide academic and counseling accommodations to students who report sexual assault, Rue and other critics believe that the mandate to send the case to police in order to be able to take punitive measures against an accused student would stop survivors from coming forward at all.
"If you're looking for a way to not have students report -- not only just to the school, but also to law enforcement -- make it mandatory," said Lisa Maatz, vice president for government relations at the American Association of University Women.
The sole witness in favor of the Safe Campus Act on Thursday was Joe Cohn, who is the legislative and policy director of FIRE, the group backing the bill. While Cohn conceded the criminal justice system has problems handling sexual violence, he argued that colleges "been proven incapable of competently determining" whether an assault occurred.
"There's no better way to build up more trust with police than to work with them," Cohn said during the hearing.
As Cohn spoke, Stanford students help up pieces of paper reading "wrong" to voice their objection to these and other comments. A committee staff person instructed the students to stop.
"We chose to take space directly behind the panel, so even if it didn't make it on C-SPAN, we knew the representatives would see it," Tessa Ormenyi, a 2014 Stanford graduate, told The Huffington Post.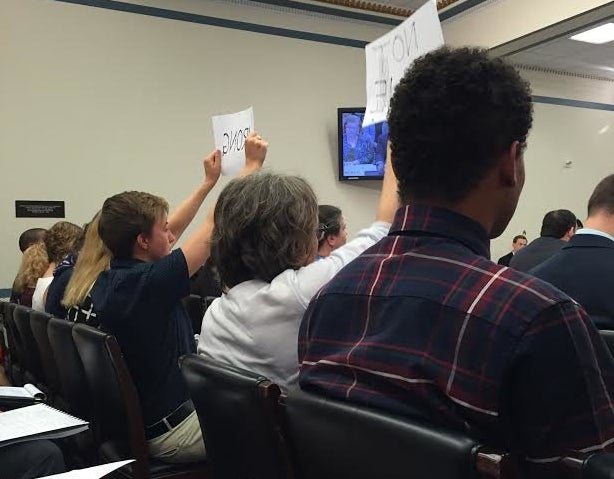 As of Thursday, 136 U.S. colleges have come under federal investigation due to allegations that they mishandled cases of sexual assault and harassment on campus. Growing student activism on the issue has led lawmakers in both the Senate and House to introduce competing bills to reform school regulations on sexual violence.
While sexual assault activists largely support the bipartisan legislation on campus rape in the Senate, the proposal faces criticism from higher education officials. And so far, both students and school administrators are united against the newer Safe Campus Act.
"We wanted to find a way to bring survivors' silenced voices to the Congress members," Dana Bolger, co-founder of Know Your IX, told HuffPost as she explained why her group helped promote the petition against the bill.
When the Safe Campus Act was presented, national fraternity groups boasted that it would address higher education groups' concerns. Yet the groups they cited, including the American Council on Education and the Association of Student Conduct Administration, declined to support the bill when HuffPost asked whether they planned to do so.
Fraternities also pointed to polling they commissioned, which found that Americans support putting more campus sexual assault cases in the hands of law enforcement. A recent HuffPost/YouGov poll also found that 47 percent of Americans believe a college should not suspend a student accused of sexual assault unless police investigate, while 37 percent said a school should be able to do so if they believe the accusations are credible.
However, the HuffPost/YouGov poll showed that women were more likely to believe that a college should be able to suspend an accused student, regardless of whether police investigate -- 43 percent of female respondents supported the idea, while 40 percent were opposed. People under the age of 29 were also more likely to support school suspensions without a police investigation.
Meanwhile, 54 percent of men said a college should not be able to suspend students without a police investigation, while 31 percent disagreed. The poll consisted of 1,000 completed interviews conducted Aug. 20-23 among U.S. adults.
Related
Popular in the Community