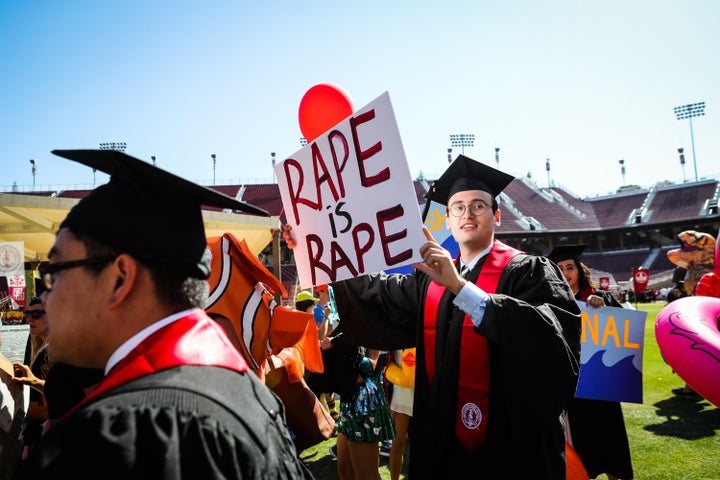 Three fraternities that have lobbied in support of controversial campus rape legislation -- Alpha Tau Omega, Sigma Nu and Kappa Alpha Order -- are withdrawing their support following a wave of opposition to the bill.
In recent days, the biggest supporters of the Safe Campus Act have changed course and announced they will no longer support a bill fiercely protested by sexual assault survivors and their advocates. One co-sponsor has pulled his support, while more higher education organizations have come forward in opposition to the bill. 
The Safe Campus Act is universally derided by groups working with sexual assault survivors -- 220 of which signed a letter in opposition to it -- often with a focus on the bill's requirement for rape victims to report their assaults to police before colleges can look into the cases. Sexual assault and battery would be the only form of student misconduct subject to this restriction; other illegal behavior such as theft and physical assault would not. 
Over the weekend, the Association of Public and Land-grant Universities issued a legislative analysis explaining why it opposes the bill, noting it is "deeply troubled" by the restrictions blocking colleges from fully responding to sexual assault reports. 
The International Association of Campus Law Enforcement Administrators and NASPA: Student Affairs Professionals in Higher Education have also recently joined the lengthy list of organizations opposing the Safe Campus Act. Campus safety groups have not endorsed the bill.
Rep. Matt Salmon (R-Ariz.) introduced the Safe Campus Act in the U.S. House in late July, with Texas Republicans Pete Sessions and Kay Granger as co-sponsors. Rep. Brenda Lawrence (D-Mich.) signed on as a co-sponsor in September.
Rep. John Garamendi (D-Calif.) had his name attached to the bill for about a month, but quietly withdrew his co-sponsorship on Nov. 5.
"While Rep. Garamendi originally felt that the bill could help streamline and standardize adjudications, a further review of the language left him deeply concerned about certain provisions in the bill," said Donald Lathbury, a spokesman for the congressman. "The bill requires that victims report allegations to the police and await the results of a criminal investigation before internal disciplinary proceedings can move forward. This might go against the will of some victims, and result in lengthy delays of justice for others."
Sessions also sponsors the Fair Campus Act, a bill that is similar to the Safe Campus Act but does not impose limits on when a college can investigate a sexual assault as a violation of the school's code of conduct. The legislation would allow students to be represented by attorneys in hearings and allow schools to use more stringent burdens of proof to find accused students guilty. 
The fraternity groups said they plan to put their support behind the Fair Campus Act now.  
"ATO arrived at the decision to withdraw support [for the Safe Campus Act] after internal discussions with ATO members, the NIC, and fellow NIC-member fraternities," Wynn Smiley, CEO of the national Alpha Tau Omega office, told HuffPost. "ATO, along with the NIC, supports the Fair Campus Act, which will provide a safer environment for all students to further their education."
Sigma Nu national executive director Brad Beacham said in an email that his fraternity
"supports the decision made recently by the NIC and NPC to focus their support on the Fair Campus Act and to withdraw support of the Safe Campus Act."
Kappa Alpha Order did not return a request for comment.
Sens. Claire McCaskill (D-Mo.) and Kirsten Gillibrand (D-N.Y.), who are lead co-sponsors of another campus safety bill, issued a statement saying they look forward to working with the fraternity and sorority groups that have withdrawn support for the Safe Campus Act. The senators had publicly criticized the fraternity lobbying effort and written to the heads of the organizations.
"We want to commend these groups -- who are critical voices in this national dialogue -- for reexamining their approach to helping curb sexual assaults on our college campuses," McCaskill and Gillibrand said in a statement. 
The senators' Campus Accountability and Safety Act would reform how colleges are obligated to handle sexual assault cases. That bill has the support of a number of rape victim advocacy organizations, as well as some higher education groups, and has 34 co-sponsors. Three presidential candidates, Sens. Marco Rubio (R-Fla.), Lindsey Graham (R-S.C.) and Bernie Sanders (I-Vt.), are backing the McCaskill-Gillibrand bill. 
PHOTO GALLERY
Out-Of-Touch Politicians
Calling all HuffPost superfans!
Sign up for membership to become a founding member and help shape HuffPost's next chapter