Among the collaboration's top recommendations was a progressive suggestion: establishing "safe consumption sites" ― centers where drug users can go to consume or inject their drugs in a medically supervised environment.
Opponents of safe injection sites say they enable drug users. But proponents argue that they keep drug use out of public spaces, such as bathrooms and alleys, and also connect people to treatment options and medical professionals.
Meanwhile, it appears that strategies like cracking down on doctors' opioid prescribing practices aren't working. With less access to prescriptions, more Americans have turned to street drugs and are overdosing on heroin and the synthetic opioid fentanyl, according to the U.S. Centers for Disease Control and Prevention.
"A very unintended consequence of stopping pill mills and the supply is that it's a great boon for the heroin market," Susan Sherman, a professor at Johns Hopkins Bloomberg School of Public Health who was on the report's writing committee, told HuffPost. "It's not like people stop [using drugs]. We don't have enough treatment slots."
The report's recommendation could spur U.S. policymakers to provide the sort of safe injection sites that Europe and Canada have benefited from for decades.
"In terms of an investment in a public health endeavor, it's a pretty high yield," Sherman said.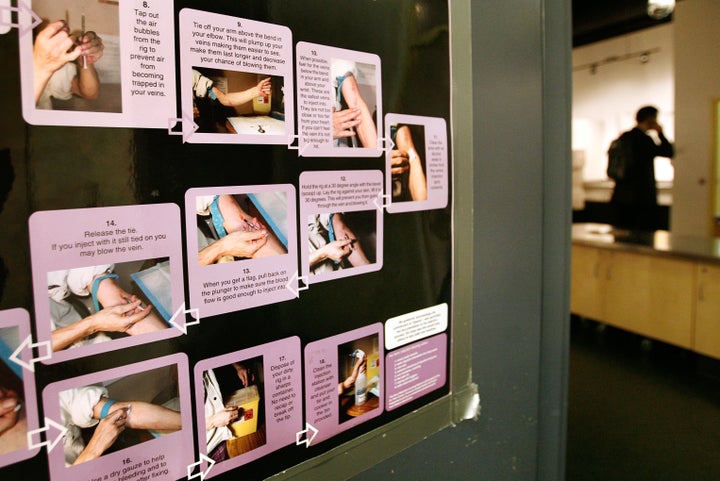 Why Safe Injection Sites Are Controversial
There are about 100 supervised injection sites operating in 66 cities around the world, including in Australia, Canada, Denmark, France, Germany, Luxembourg, the Netherlands, Norway, Spain and Switzerland. At these sites, drug users can inject illegal drugs in a clean and legal facility under the observation of trained staff. These centers don't provide drugs, and drug users don't share drugs or equipment. It's simply a space to consume them.
Although harm reduction strategies like clean needle exchanges and naloxone access laws have been widely adopted in recent years, no U.S. state has legally implemented a safe injection site, and law enforcement and neighborhood groups have opposed plans to start them. 
After Seattle and King County, Washington, announced plans to implement two pilot sites in January, Republican state Sen. Mark Miloscia passed a bill in the state Senate to ban such sites in March. (The legislation has yet to advance.)
"We need to stigmatise the people hooked on heroin who refuse to go into treatment, to save their lives," Miloscia told Al Jazeera. "We need to push people into treatment, with cultural values and cultural pressure."
A very unintended consequence of stopping pill mills and the supply is that it's a great boon for the heroin market. It's not like people stop [using drugs].

Susan Sherman, a professor at Johns Hopkins Bloomberg School of Public Health
Despite that opposition, supervised injection sites have an established foothold in the public health community. In June, the American Medical Association expressed support for supervised injection sites in response to a Massachusetts Medical Society study.
"State and local governments around the nation are currently involved in exploratory efforts to create supervised injection facilities to help reduce public health and societal impacts of illegal drug use," board of trustees chair Dr. Harris Patrice said in a statement. "Pilot facilities will help inform U.S. policymakers on the feasibility, effectiveness and legal aspects of supervised injection facilities in reducing harms and health care costs associated with injection drug use."  
Moreover, Miloscia's point of view is directly at odds with the Clinton Foundation and Johns Hopkins recommendation to avoid stigmatizing language directed at people who use opioids. The report says such language can make them reluctant to acknowledge their addiction and can ultimately delay treatment. 
"You give them a place; lo and behold, they get some stability in their lives and people are more likely to go into drug treatment," Sherman said.  
What The Research Says
Since safe injection sites aren't yet legal in the U.S., the literature is focused on international facilities. One study, published in the Journal of Public Health in 2007, found that participants who used a safe injection site in Vancouver, Canada, were more likely to practice safe injection strategies, like using clean needles, filtering drugs and disposing of needles safely. They were less rushed and less likely to inject drugs in public places. 
Another research paper, which used data from existing safe injection sites to create a hypothetical model of a facility in Baltimore, predicted that opening that site would decrease the transmission of HIV and hepatitis C, as well as reduce skin infections and overdose deaths.
The paper, which Sherman co-authored and which was published in Harm Reduction Journal in 2017, found that the model would decrease overdose medical care, increase medication-assisted treatment and would save the city a net $5.98 million per year.
In the absence of legal safe injection sites in the U.S., an underground safe injection site has been operating in an undisclosed location since 2014, according to an August article published in the American Journal of Preventive Medicine.
The two-room site is open five days a week for four to six hours at a stretch, with entry by invitation only. A staff person trained in overdose prevention, naloxone, rescue breathing, injecting techniques and harm reduction oversees the injection room at all times.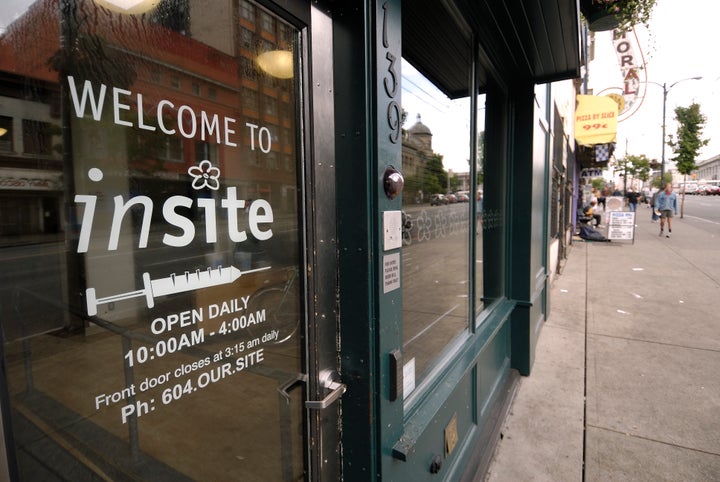 Although the full benefits of the site couldn't be analyzed because it's not sanctioned, surveys of the more than 100 program participants found that 90 percent of them would have been injecting in a public bathroom, street, park or parking lot if they hadn't been at the site. Eighty percent said they had to rush injections outside of the site to avoid getting caught injecting in public. Sixty-seven percent reported recent unsafe disposal of used equipment, such as used needles.   
In addition, the site facilitated a space for conversations about safer drug use and options for addiction treatment programs. 
There were two overdoses in the first two years of the site's operation, but both were reversed using naloxone. That's consistent with the overdose rates at Vancouver's legal safe injection site between 2004 and 2008, before fentanyl overdoses became more widespread.
Most importantly, no one died.
"In the millions and millions of injections that have happened since the first safe injection facility opened in Switzerland in 1986, not one person has died from an overdose," Sherman said. "It saves lives."
"Although supervised injection sites may not substantially reduce the number of people who use opioids and other injection drugs, they do attenuate the serious medical sequelae of this epidemic, including preventable infections and deaths," wrote Alex Kral and Peter Davidson, who co-authored the report published in August in the American Journal of Preventive Medicine.
"It is time for local, state, and federal governments to consider removing legal barriers such that a comprehensive pilot of this innovative intervention can be implemented," they added.
Calling all HuffPost superfans!
Sign up for membership to become a founding member and help shape HuffPost's next chapter