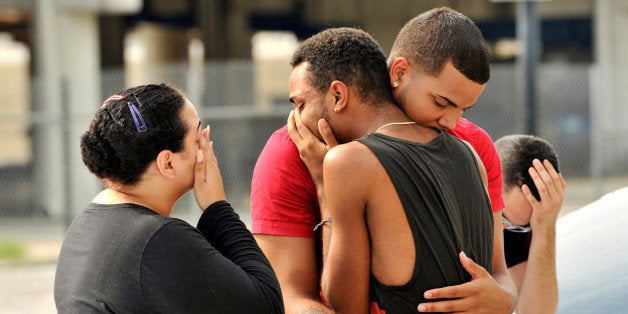 If a nightclub in Orlando is not a safe place for LGBT people to gather, how do we create safe places for us be different together? A hate crime against one person or group is a discriminatory assault against any one and every group. How do we support one another? What will we do and say and be this week and every week?
The head of the NAACP spoke eloquently Sunday about the need for us to stand together against hatred and discrimination of all kinds. Likewise Nihad Awad, executive director of the Council on American-Islamic Relations (CAIR), spoke about the connections between homophobia, transphobia, and Islamophobia.

Faisal Alam of the Muslim Alliance for Sexual and Gender Diversity in an interview Sunday said that there are those in many religions that call homosexuality a sin. A statement by that group put out Sunday said, "There is no religious justification or precedent in Islam for mass shootings targeting any population, regardless of identity, nor is there justification in American law or values. This tragedy is a reminder of the terrible harm that can result from the wide availability of guns and explosives. The proliferation of guns facilitates acts of violence by individuals whose own values conflict with those of most Muslims and most Americans which hold human life to be sacred. With that in mind, we call for a renewal of the national conversation around strengthening gun control."
It is true that within many religions, including Christianity, there are segments that make their case against homosexuality and transgender identity. However, even though there are thousands of Christians who are LGBT that does not translate into fear of or hatred of all Methodists, or Baptists, or Lutherans, or Roman Catholics. It may, however, translate into LGBT people not feeling welcome in some local congregations.
How do we create safe places for us to be different together? For a person to really be not only tolerated, but welcomed? Not only welcomed, but understood? Not only understood, but embraced? At such a time as this, we may easily grow more fearful. We may fearfully grow more closed in. Or we might dare to become insistent activists and more radically inclusive.
First, breaking a record--"The largest mass shooting in American history"--is not a worthy record. We have noted before that we have become almost immune to death by gun violence, calling it "senseless violence," (it is making sense to the shooter), seeking the details, gluing ourselves to the television for the required number of days of attention. We can change. We can heed Nihad Awad and Faisal Alam. There is no religious justification in Islam for mass shootings. Nor is there in Christianity or Judaism, or other major religions. This is a land of many religions. We need to be a nation where it is safe to be different together.
Second, what can faith communities do? Coincidentally, Saturday night, I was attending a regional church assembly of the Evangelical Lutheran Church in America. Our church body does ordain women and men who are gay and lesbian. We are open to diversity. And yet we also need to continue to talk about how we can be even more inclusive, not just welcoming of people who might happen to come on a Sunday, but known in the community as congregations that really are places where all can really feel not only accepted, but embraced and cherished for who they are.
That's a challenge for all us of, I believe, in whatever communities with which we associate, whatever our beliefs. We can care about, mourn for, and pray for those "over there in Orlando." Good. But even better, is to change our own gathering places, communities and this nation into safe, healthy, trustworthy places to be different together.
Calling all HuffPost superfans!
Sign up for membership to become a founding member and help shape HuffPost's next chapter