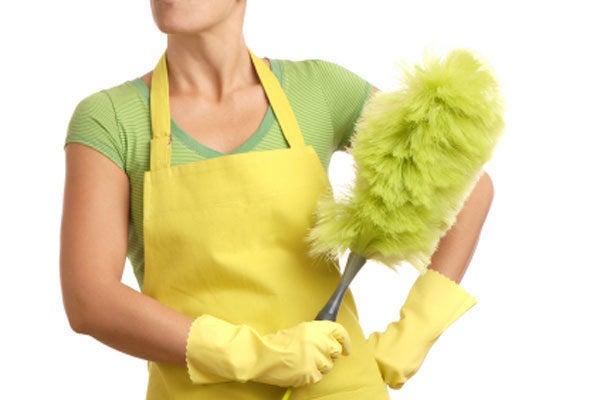 Most think of spring cleaning as a time to sweep away the dirt and clutter that made its way inside during winter, but what most people don't realize is that by cleaning with harsh chemical-based products, they can do more harm than good, especially for parents-to-be and growing families. By cleaning items that are constantly in your children's hands and mouths with regular household cleaners, you risk exposing your child to toxic chemicals that can end in health risks.
According to the Consumer Product Safety Commission, 150 chemicals most commonly found in homes have been linked to allergies, birth defects, cancer and psychological abnormalities. Based on both personal and professional experiences, I would like to share some of my parenting advice with you on how to spring clean your home this year without endangering your family.
As a mother of three and a parenting expert, I often tell parents the importance of keeping your environment clean for your children. It is so crucial to clean the areas that children often inhabit as germs are on all surfaces. This is especially true for infants and toddlers who often put items in their mouths. However, what parents do not realize is that sometimes the very cleaning they are doing to protect their children from sickness is causing them to be ill. The children are becoming ill due to the high levels of toxic ingredients in their cleaning solutions. Parents need to understand the gravity of dangerous cleaning supplies and how they can easily and affordably clean their home without harming their children.
Spring cleaning is often the best time to start applying a new practice of regularly cleaning child's toys, room, toy cabinet, playroom, bedroom and other areas of the home. It is a good time to start because the weather is improving and allows parents to open the windows and doors to circulate air and expose all areas to a complete cleansing. With this new cleaning plan, parents can easily implement change in their purchasing so that they can incorporate safe cleaning products into their lives. If parents do not use safe cleaning products, they may be doing more harm than good with this spring cleaning by introducing harmful chemicals into their lungs and body. Spring cleaning cannot just be about physically cleaning, but also mentally understanding the importance of ridding your home of these dangerous cleaning products.
Many companies have developed complete lines of cleaning agents to help parents with this change. They understand that parents want to protect their children not just by eating organic foods and using the right bottles, but by doing a complete protection of everything the child ingests. Think about working hard to feed your child safe food and drink, but serving them on dinnerware covered in chemicals? This makes no sense as the children are ingesting the chemicals from the dish soap, on the kitchen counter, even the spray used to clean the high chair. There are many companies such as BabyGanics, Method, California Baby and 7th Generation that provide comprehensive, safe cleaning product lines for home and baby.
This spring aim to really do the "right" cleaning for home and mind by switching to safer cleaning products. Think about your child's day from morning until night and all of the harmful chemicals to which he or she is exposed. When tossing out items such as old toys and furniture, also toss the toxic products in your home. As a busy mom, I felt terrific when I replaced my cleaning products. From washing laundry to washing my children's hair, cleaning their toys to the playroom floors -- everything is free of these toxic materials. Spring cleaning never felt so good!