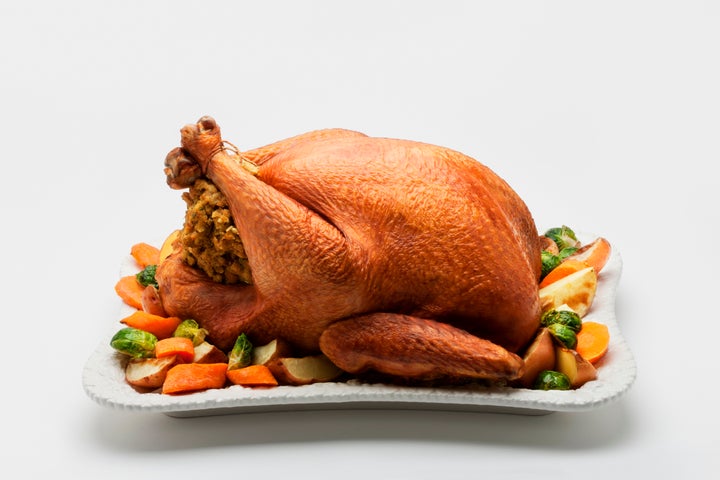 Marianne Gravely usually roasts a 25-pound turkey to feed her large family on Thanksgiving. Just before popping it into the oven, she stuffs it with a just-prepared homemade mixture of cut-up bread, sautéed celery and onions, seasonings, butter and eggs.
"It takes forever [for the turkey] to cook," Gravely told HuffPost. "And then I have to cook it longer because I have the stuffing in it."
Gravely, who lives in northern Virginia and works in Washington, is well-versed in properly preparing, stuffing and roasting turkeys. As senior technical information specialist and part of the food safety education staff at the USDA's Food Safety and Inspection Service, she has advised Thanksgiving cooks on the intricacies of stuffing turkeys, including how to do it safely, through the agency's Meat and Poultry Hotline and consumer education programs.
When stuffing isn't prepared correctly or cooked until reaching 165 degrees, it increases the risk that bacteria can live and grow in the stuffing, even if the turkey itself is cooked. In some cases, this can cause foodborne illness, like salmonella, listeria and E. coli, which may take days or weeks to show up, even though "people tend to think it's the last thing they ate that made them sick," Gravely said.
The Science Of Stuffing
Serving a stuffed turkey on Thanksgiving versus serving turkey with dressing on the side (not cooked inside the turkey) is a personal preference often linked to family tradition. Choosing to stuff, however, can complicate the cooking process.
Along with ensuring that the stuffing reaches 165 degrees, which cooks can check by placing a thermometer into the center of stuffing deep inside the turkey's cavity, the USDA also recommends stuffing turkeys loosely, letting the turkey rest for 20 minutes before serving and refrigerating leftover turkey and stuffing within two hours after cooking.
Also, the stuffing mixture shouldn't be fully prepared in advance to reduce the risk of bacteria growth in the ingredients. Additionally, the wet and dry ingredients can be prepared and kept separately until it's time to stuff. Turkeys should be stuffed just before going into the oven, never ahead of time to prevent cross-contamination of ingredients and bacteria growth. Gravely said the USDA also doesn't recommend purchasing pre-stuffed turkeys for the same reasons.
"It is safe to stuff a turkey, but only if you use a food thermometer, and you just have to take care," Gravely said. "It's probably safer not to stuff your turkey because it does add more handling risks. It makes the turkey take longer to cook because, frequently, the turkey will be finished at least 30 minutes sooner if you don't stuff it. You have to cook it longer to make sure that the stuffing reaches 165 degrees, which in many cases means the turkey will be overcooked to accommodate the stuffing."
The Tradition Of Stuffing
Thanksgiving is a time when many people who don't regularly cook try their hand at making a turkey, said Janice Stahl, a supervisor with Butterball's Turkey-Talk Line, an aid for holiday cooks that has been around since 1981.
In her 12 years with the hotline, Stahl has just about heard it all where turkey is concerned, and many of the questions revolve around stuffing.
"The one we get the most is, 'Can I stuff it in advance?' And, we say no," Stahl told HuffPost. "You want to stuff it right before you put it in the oven. The second question is, 'How much should I stuff?' and we say just loosely stuff the cavity. Don't go crazy and pack it in."
Stahl says people often ask whether they should cover the stuffing while it cooks in the turkey, but she says that's a personal preference.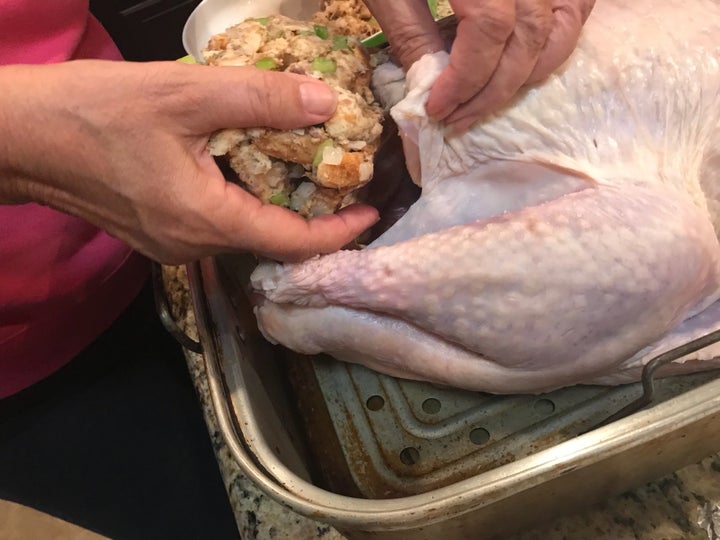 While she noted that some people crave a crispy edge to their stuffing — "in my family, we fight over the crispy edge" there are others " who don't want that, and they cover (the stuffing) so none of it gets crispy on the outside."
A "fun question," said Stahl, is, "What type of stuffing should I make?"
"It's definitely how you grew up," she said. "I grew up with a stuffed turkey so I stuff mine. I grew up with ground beef in my stuffing, and I have given out my stuffing recipe to many people. Whoever you get [on the Talk Line] may have a family recipe, and we're always happy to share our recipes."
The Turkey-Talk Line is open from Nov. 1 to Dec. 24 and regularly receives 100,000 calls over the season, with about 10,000 on Thanksgiving alone, a Butterball spokesperson told HuffPost. This year, the company added a skill for Amazon-enabled Alexa devices to help Thanksgiving cooks access advice.
Stahl says the helpline sometimes gets interesting, unusual and funny calls. A memorable one came from a mom whose son was playing with toy cars on the kitchen counter while she was stuffing her turkey. Once the turkey was cooked and the mom was dishing out the stuffing, she discovered that it was full of her son's cars that he had put in the cavity without her realizing before the turkey went into the oven.
"She wanted to know if it was still safe to eat the stuffing," Stahl says. "We were like, 'We don't know what was in those cars.' So, we get some funny things like that."
Stahl said she enjoys talking to people from all over the country about their stuffing traditions, which are often based on family recipes or region. She said Southern cooks tend to not stuff their turkeys ― they instead serve "dressing on the side" ― while people on the West Coast are known for oyster stuffing. She's heard East Coasters talk about adding Parmesan and sausage to their stuffing, and callers from New Mexico using cornbread and chilies.
She added: "We just ask that you take a temperature on the stuffing and make sure that it's 165 degrees."
The Importance Of A Working Meat Thermometer
Stahl believes most people are not aware of the 165-degree rule. (Stahl also recommends that a turkey's temperature should read 180 degrees in the thigh.)
"We get a lot of calls from people who don't even have thermometers," she said. "That's one thing about stores being open on Thanksgiving. We'll actually say to people, 'It would be great if you could just step out and get a thermometer because it's really the only way to know that it's done.'"
Lindsey Gray, owner of Eggshells Kitchen Co. in Little Rock, Arkansas, interacts with home cooks daily and said that not everyone knows to check the temperature of the stuffing when roasting a stuffed turkey. She urges cooks to do some research and a recipe "test run" before stuffing turkeys to "avoid a debacle on Thanksgiving day," especially if they've never done it before.
"When your family is gathered is not the time to show off something new that you haven't tried out to make sure it works," she told HuffPost. "I would recommend that you go to a family member and ask for their tried-and-true recipe. I would want to know that someone I trusted had tried that recipe before I tried it."
Gray said there's an uptick in sales of trussing tools and meat thermometers at her shop this time of year.
How Nutritious Is Stuffing, Anyway?
Kristen Gradney, a Baton Rouge, Louisiana-based spokesperson for the Academy of Nutrition and Dietetics, said that while a stuffed turkey is "delicious," it takes time and could pack in some extra calories.
While calorie counts of stuffing vary based on the ingredients, a cup of stuffing cooked inside the turkey contains about 300 to 400 calories, while boxed stuffings contain fewer calories, Gradney said.
"Cooking stuffing on the inside will add a little bit more calories, because of the drippings from the meat," she said. "But, if you're going to stuff it, you can do so without adding butter or chicken stock because it will have those natural flavors in drippings from the turkey."
Stuffing or dressing is a big part of the Thanksgiving plate, and Gradney said that instead of worrying about taking away a holiday favorite because of the calories, focus on adding nutrition. Replace white bread with whole wheat and add fruits and vegetables, like cranberries, Brussels sprouts, pumpkin or squash to make the dish healthier.
"The goal is not to take away from some of our favorites on a day like Thanksgiving, but if we can add to it and make it a little bit healthier, then do that," she said.
Before You Go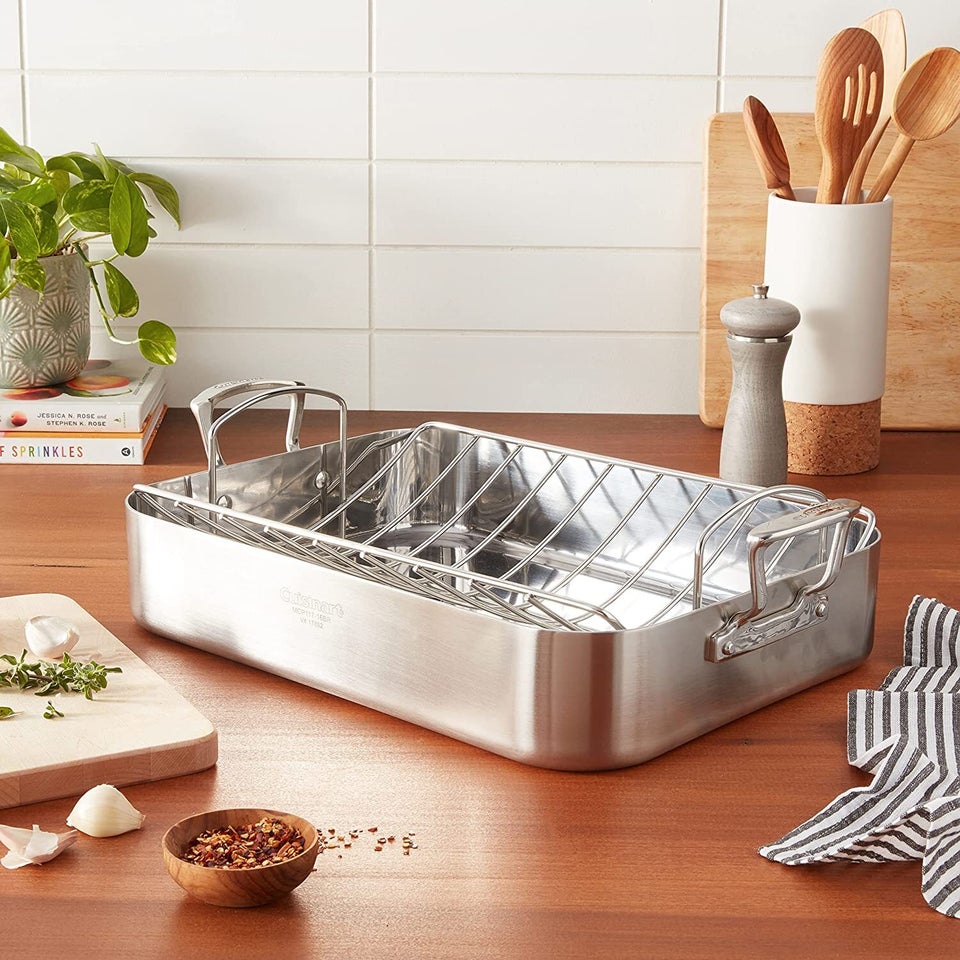 The Best Roasting Pans To Buy For Your Thanksgiving Turkey And Beyond