vul·ner·a·ble

1. susceptible to physical or emotional attack or harm.
- (of a person) in need of special care, support, or protection because of age, disability, or risk of abuse or neglect.
I learned not long ago that many of the homeless youth and young adults who call Trinity Place Shelter (TPS) home, have their very first birthday there. In my world of privilege, it had never occurred to me that children might grow up without ever having a birthday cake. Or a birthday present. But yes, it happens. Often. When I think of the faded photographs of my own birthdays, at age 5, and 7, and 12 years old, a cake adorned with candles in the dining room, family gathered. I can't imagine if those photographs were taken away from me, the memories never made. It doesn't take much for us to buy a cake, and a gift. To gather around, offer support and love, and a safe, welcoming space; the feeling of a dozen people singing happy birthday to you, for the very first time. Is there anything you wouldn't do to make sure every young person has that? That is part of what makes TPS more than a shelter; what makes it a home for the youth who live here.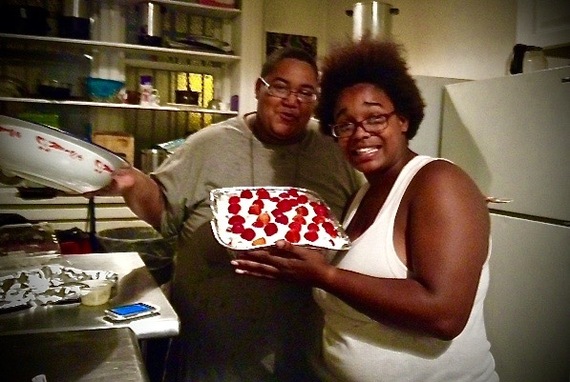 Seven years ago, I started volunteering at Trinity Place Shelter. It's a shelter for homeless LGBTQ youth/young adults, up to age 24 in New York City. I volunteered to bring dinner, and occasionally to supervise overnight. One evening, a young man who was living in the shelter, whom I'd gotten to know on previous shifts, walked over and dropped a folder on the table in front of me. "Look inside," he said. I opened the folder; it was information about a nearby college. I flipped through the pages. It was an acceptance letter. I took a deep breath, fighting back tears as I smiled and congratulated him. "I'm still waiting to hear back from two others," he replied. I looked down because I could feel the tears were winning now. If you have never seen a whole life turn around, right in front of your eyes: it is immense, powerful and humbling. Homeless, without family or stability, no money, working full-time and going to school and supporting himself before he was old enough to really know how. And then, on top of that, making applying for college. And getting accepted. And then again, and again.
Ten years ago a professional social worker, a pastor and a teacher had an ambitious idea. During a cold winter in New York City, the crisis of LGBTQ youth homelessness was reaching a new peak. Trinity Lutheran Church of Manhattan had a large space that was largely underutilized at night. Kevin Lotz, LCSW, Pastor Heidi Neumark & Lydie Raschka, M.Ed., opened the space to 10 homeless LGBTQ youth in December 2005. They acknowledged that the teachings of many mainstream religious institutions had contributed to this epidemic of youth homelessness by teaching parents intolerance and condemnation of their own children, often resulting in these children being kicked out of their homes. This was a chance to make amends, to offer hope. Trinity Place Shelter does not proselytize and is not religious or sectarian.
The success of the three-week pilot in December 2005 inspired Kevin, who spent months studying the feasibility of permanently establishing the shelter. He presented to the diverse congregation of Trinity Lutheran Church of Manhattan, who unanimously voted to establish the shelter. Trinity Place Shelter officially opened on June 12, 2006, and under Kevin's oversight, has remained open, without interruption for 365 nights a year, for nearly a decade.
Trinity Place Shelter is small and family-like, run by an expert team of professional staff. The youth at TPS call it home, because it feels like a home. Their names are known, and spoken. Their birthdays are known, and celebrated. Their favorite grocery list items are known, and bought. And, their traumas and professional care needs are known, and addressed. It's small, grassroots, independent and non-profit.
People come together in a crisis. We see that every day at TPS. A young person without a home is a crisis. People have come together to help and support TPS in fighting this. Recently, on Valentine's Day, 2016, the coldest day in NYC in the past 22 years, the boiler that heats Trinity Place Shelter broke down. We sprung into action. Within 24 hours we had relocated the youth to a large apartment that was generously provided by our longtime shelter supporter, Saint Michael's Church. Using emergency funds, we provided air mattresses and other supplies. We were able to provide uninterrupted shelter, safety, warmth and all of the services that TPS offers. But the contractors stated the boiler was irreparable, and that it would need to be replaced entirely. We suddenly had a $35-$45,000 bill. And that was when people began to come together to help. The outpouring of support on our current Crowdrise fundraising page has been immense and has filled all of us at TPS with emotion and gratitude. It is proof that people care, that they will help when you need it, that we can overcome this crisis.
I choose to devote my time to TPS because one person can make a huge difference here. Sometimes that means bringing dinner for the group, sometimes it means helping to paint a wall, or tutoring, or making a donation, or bringing in winter clothes, or toiletries, sometimes it's a food drive and sometimes it's a holiday meal.
It takes surprisingly little to change a life.
If you want to learn more or get involved, check out our website, or send us an email if you have questions.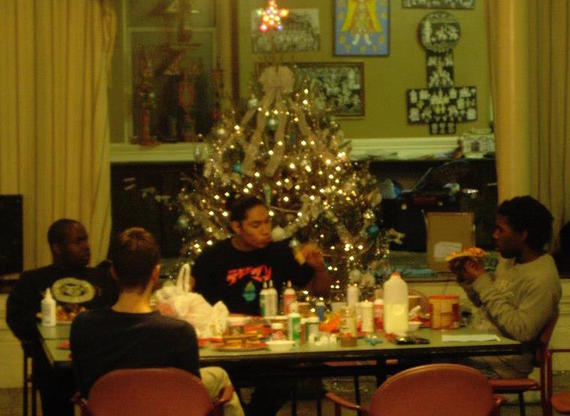 Calling all HuffPost superfans!
Sign up for membership to become a founding member and help shape HuffPost's next chapter