Outside in the world, Safeguard Properties was supposed to be protecting millions of homes that had slid into foreclosure, shoring up and repairing abandoned properties for the banks that were responsible for tending to all this real estate gone bad.
But inside the offices of Safeguard's complaint department, Kevin Kubovcik says he gained a starkly different perspective on his company's pursuits as allegations of incompetence, malevolence and larceny rolled in day after day.
People with legal title to their property called to complain that Safeguard contractors had broken into their homes and carted off family heirlooms, valuable artwork and weapons, he recalled. People living next door to foreclosed properties complained that Safeguard mixed up the addresses and locked them out of their own homes.
Complaints came in seemingly without end. "I'd pick up the phone, put it down, and then it would ring again," Kubovcik said.
A recent Huffington Post investigation focused on Safeguard as the largest player in a little-scrutinized industry spawned by the American housing bust: the contractors tasked with the gritty work of maintaining a veritable empire of distressed real estate. Safeguard has been the target of dozens of lawsuits alleging that its contractors have wrongly broken into properties and carted off people's property.
In response to previous questions from HuffPost about break-ins at occupied properties, Safeguard dismissed such incidents as "extremely rare" compared to the sheer volume of jobs the company manages. But Kubovcik, who logged and investigated complaints for more than two years until he left the company in April 2010, said his experience attests to precisely the opposite.

"It was a constant barrage," he said.
Kubovcik provided HuffPost with Excel spreadsheets that he said he had personally maintained during the time that he tracked complaints. Though the records are incomplete -- a four-month stretch from September through December of 2009 is missing -- they provide a detailed window into the frequency and types of complaints flowing into the company at the peak of the foreclosure crisis.
The complaints came from homeowners, mortgage companies and neighbors of the properties Safeguard managed. Between January and August of 2009, Kubovcik logged 682 such cases, according to his records, or about 85 per month. During the first three months of 2010, the pace increased to nearly 100 a month. The records show that more than two dozen mortgage companies hired Safeguard to perform work that led to a complaint. Citigroup, HSBC and Aurora Loan Services (now part of Nationstar) are the most frequent clients named in the records.
Safeguard CEO Robert Klein told HuffPost that his company has implemented procedures to avoid the sorts of troubles outlined in the complaints. He dismissed the validity of accounts from former employees.
"I would not take their word as gospel," he said, while declining to address the substance of Kubovcik's documents. "I'm comfortable that when we report a property as vacant, that it really is vacant. The vast majority of properties we maintain are being done so correctly."
For Kubovcik, one particularly hectic day stands out: March 18, 2010. On that day alone, his documents show nine separate complaints. One was from an unnamed tenant of a property in Georgia who returned home allegedly to find "numerous missing items." Another was made by a representative of a mortgage company in Arizona who complained that a contractor had taken a washer and dryer from a foreclosed or bank-owned home.
Also included in the day's tally were complaints made by three different people who apparently had the misfortune to simply live near a foreclosed or defaulted property. One in Michigan said that his property had sustained water damage, likely from work being done next door. Two others, in Ohio and Oregon, claimed that a contractor had "secured" their home in error, meaning a contractor had forced its way inside and then installed a lock on at least one door that would allow easy access for anyone with a passkey.
A fourth complaint, this one from Florida, alleged that a contractor had removed an entire roof in error.
"I tried my best to keep things like this from hitting the media," Kubovcik said.
Kubovcik said that he investigated the claims and sometime negotiated payouts, though often the company forced the contractors to pick up the tab. The most common strategy, he said, was to stall -- ignore the claim for as long as possible with the hope that the person who had called in would give up. "We would wear them down with paperwork and make them go away," he said.
As the lone member of the department, Kubovcik simply didn't have the capacity, he said, to fully investigate and resolve each case. "Whoever screamed the loudest got the attention," he said.
Kubovcik said he does not recall how the specific issues recorded that March 18 were resolved.
The most memorable claim Kubovcik recalled came from a family that had recently purchased a foreclosed home in Michigan. Though they were not behind on their mortgage payments, contractors from Safeguard broke into the house and secured their property anyway, he said. Contractors allegedly helped themselves to a daughter's wedding presents and Coach handbags meant for her bridesmaids, he said.
Kubvocik said decisions about whether to force entry into a private home should not be left to contractors, many of whom are poorly paid and trained. Too often, he said, they make the wrong decision, which even if nothing is removed can leave homeowners feeling vulnerable and frightened.
"It's called breaking and entering," Kubovcik said
A private company, Safeguard does not disclose profits, but in recent years the 23-year-old business has captured an increasingly large share of this kind of inspection and preservation work, according to contractors and others who work in the industry. In 2012, its contractors carried out 14 million work orders, according to the company. Safeguard also acquired the field services arm of Bank of America last year, increasing its portfolio by as much as one-third.
The company employs about 1,200 workers in its headquarters in Valley View, Ohio. Thousands of contractors in communities across the country work either directly for the company or as subcontractors through another business entity.
Though American home values have appreciated in recent months and new foreclosure filings have finally abated, companies like Safeguard still have plenty of work on their hands. Banks and federal agencies, including the U.S. Department of Housing and Urban Development, hold hundreds of thousands of homes on their books, and default and foreclosure rates remain historically high.
In March, representatives from Safeguard and similar companies visited at least 3.5 million properties, some multiple times, a figure based on the tally of foreclosed, defaulted and bank-owned properties provided by the online real estate company RealtyTrac.
Most of the allegations of abuse against Safeguard and others in the industry flow from one specific task required under most mortgage contracts: After a borrower falls behind by more than 45 days on mortgage payments, the bank is required to "inspect" the property -- usually at least once a month -- to determine if it has been abandoned. Left untended, abandoned homes can become dangerous eyesores. They also can fall into disrepair, eroding their value.
Industry rules prescribe that contractors check electric meters, talk to neighbors and look for other visible signs of neglect before reporting a house as abandoned. Yet contractors employed in the trade say that low pay -- typically $4 or $5 per inspection -- and poor oversight often yield shoddy or incomplete work. Some individuals don't even bother to get out of their car before determining that a property is abandoned, contractors say.
If a property is reported as vacant, a second contractor is scheduled to visit in order to change locks and take a series of steps to protect against damage, such as repairing broken windows. These contractors are also supposed to ensure that a house is truly abandoned before forcing their way inside, but often they don't, homeowners claim.
On Jan. 14, 2009, Kubovcik's records show, Christopher McLain called to complain that someone from Safeguard had broken into his Michigan home and taken, among other items, two guns.
In a recent interview, McLain, a single parent of four children, said that he fell behind on his mortgage payments after his business collapsed, but that he still took care of his lawn, and the house remained his legal possession.
A few days before McLain lodged his complaint, he said, a neighbor called to tell him that someone was removing possessions from his house. Among the missing items were two shotguns, hunting clothing, an expensive hunting bow and even family photos that were hanging on the wall, he said.
According to McLain, it should have been obvious to anyone entering that his place was not abandoned. He filed a police report and called his mortgage company, American Home Mortgage Servicing, he said. A representative at the mortgage company told him to call Safeguard and complain. He did, but never heard back from the company, he said. American Home did not respond to a request for comment.
Klein, the Safeguard CEO, said his company employs an "intensive quality control" process to avoid improper handling of properties. In the past year, he added, Safeguard has expanded its background check requirements to include both direct contractors and anyone they subsequently hire to perform the work.
"We make sure the people who work for us are 100 percent qualified," Klein said.
But complaints against his company and its contractors continue, according to homeowners.
Kara Lingenfelter was forced to leave her North Haven, Conn., home in a hurry this past November after a winter storm knocked out power to the region. At the time, she was negotiating with Bank of America for permission to short-sell her house, meaning to sell it for less than what she owed the bank.
She never moved back in, but also did not abandon the house, Lingenfelter said. Most of her belongings remained inside, she said.
On March 30 of this year, Lingenfelter returned to the property to discover that one of the door knobs had been replaced with a lock box, she said. She also discovered a long list of items missing, she asserted, including two pellet guns, an iPod, jewelry and her son's coin bank, which contained about $200 in change. Someone had even taken his Boy Scout badges and medals, she said.
"Every cabinet door, every box, every closet door was open," Lingenfelter said.
She filed a police report and a report with the Better Business Bureau. On April 2, she spoke with a Safeguard representative -- likely the person who now has Kubovcik's job.
"We'll get back to you," Lingenfelter said she was told.
Related
Before You Go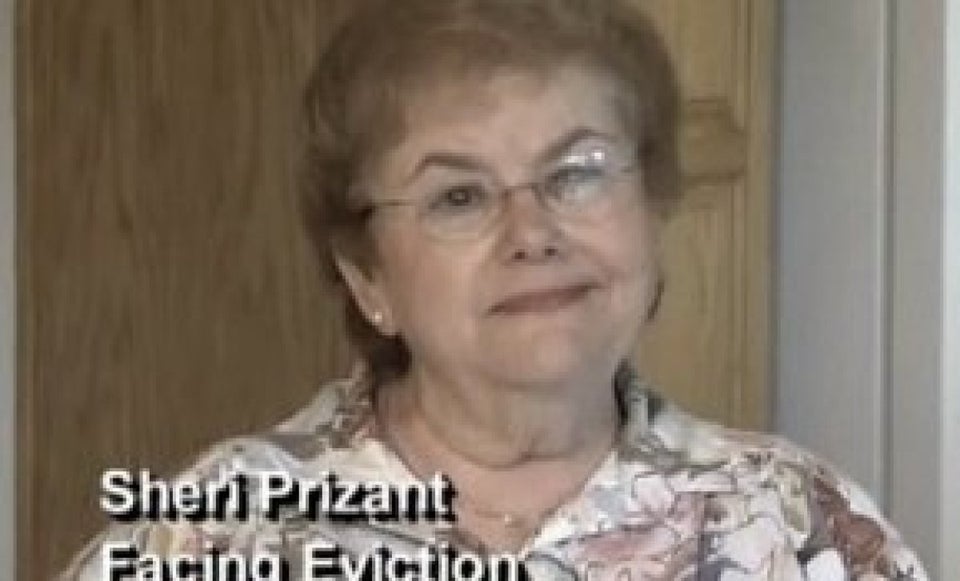 America's Worst Foreclosure Fails
Popular in the Community