Imagine a gun that a person could leave on his or her kitchen counter, without having to worry that someone else would fire it. That gun exists. A so-called "smart gun" uses biometrics or radio signals to stay locked until it's held by its rightful owner.
Smart guns could save some of the hundreds of lives -- many of them children's -- lost in accidental shootings every year. And they could reduce the number of shootings committed by criminals with stolen guns.
"We see things all the time where guns fall into the wrong hands," San Francisco Police Chief Greg Suhr told The Huffington Post. "Since we're stuck on getting any sensible gun control legislation like background checks, it seems like there would be no argument against this technology."
Yet thanks to a poorly written gun control law in one state and the efforts of overzealous pro-gun groups -- and in spite of the fact that at least $12.6 million of taxpayer money has been spent researching and developing the technology over the past 20 years -- smart guns are not available for purchase anywhere in America.
In early May, almost immediately after the Washington Post reported that Engage Armament, a Maryland gun shop, would soon start selling the Armatix iP1, store owner Andy Raymond received phone calls and online messages threatening to kill him and burn his shop to the ground.
"Even by local people, people I thought were my friends," Raymond told HuffPost. "It was one of the craziest fucking things that's ever happened to me." After being threatened, Raymond said he decided not to sell the gun at all.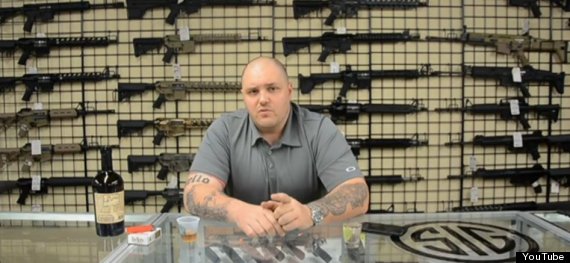 Andy Raymond, the owner of a Maryland gun shop, said he got death threats after announcing he would sell the Armatix smart gun.
THE 'SMART' LAW THAT BACKFIRED
The threats on his life, Raymond explained, came from pro-gun fanatics who were afraid that his decision to sell the Armatix smart gun would trigger an obscure, 14-year-old law in New Jersey.
The law, which was passed in 2002 after aggressive lobbying by gun control groups and in anticipation of the sunsetting Federal Assault Weapons Ban, mandates that once a smart gun goes on sale anywhere in the country, all other types of guns in New Jersey will be banned within three years.
The law's intention was to make child-proof guns more common. "We were just hearing the beginning of the stories of research into that area [of smart guns]. So one reason was to help spread development," New Jersey Sen. Loretta Weinberg (D), the law's author, told HuffPost. "Second, we thought once those guns were available, we assumed that most people would want those. So that in case some child finds a way to get into Mom or Dad's gun locker, the kid can't use it."
Yet in practice, the law freaked out the National Rifle Association and other gun groups, who thought it violated their right to bear arms. "The 'smart guns' issue clearly has the potential to mesh with the anti-gunner's agenda, opening the door to a ban on all guns that do not possess the government-required technology," the NRA says on its website.
Even smart gun manufacturers and smart gun advocates interviewed by HuffPost said mandate laws like New Jersey's, which have been proposed at the federal level and in other states like California and Maryland, are ill-conceived.
Bill Gentry, whose company Kodiak Industries makes the "Intelligun," a fingerprint scanner that can be added to the grip of some handguns, said forcing people to buy a certain kind of weapon is wrongheaded. "This is simply an additional level of safety that people have the right to choose," he said.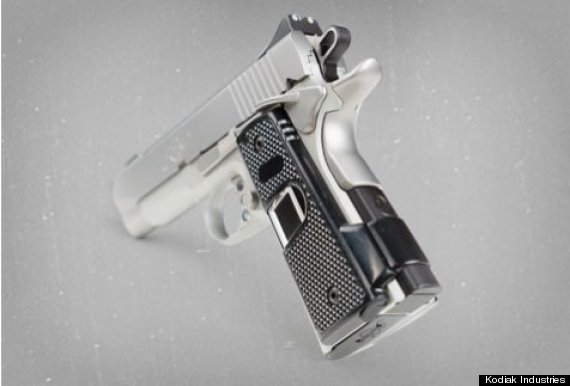 Above, the fingerprint scanner made by Kodiak Industries in Utah.
The New Jersey law puts pressure on gun lobby groups to prevent the technology from coming into the marketplace, said Donald Sebastian, the senior vice president for research and development at New Jersey Institute of Technology, where a team is currently developing a gun that stays locked until it recognizes the owner's grip.
"Because the technology has become so wrapped up in mandate legislation, it opens the door to making this a debate about gun control instead of about gun safety," Sebastian said. "It adds logs to the fire."
Because the New Jersey law ended up chilling the very market it was supposed to create, Weinberg told HuffPost she'll repeal it. But first, she wants the NRA to publicly promise not to block the manufacture or sale of smart guns.
"That would go a long way toward finding common ground," she said.
Weinberg said she wrote the NRA a letter in May with her offer, but "hasn't heard a word" from them since. The organization has been equally mum in responding to HuffPost's repeated requests for comment.
The NRA also has a history of opposing smart gun technology: after Smith and Wesson partnered with the Clinton administration in 2000 to develop a personalized gun, the NRA led a boycott of the company that nearly devastated it. Fourteen years later, gun control advocates say, that episode still has a chilling effect on firearms dealers and manufacturers.
"For the largest handgun maker in America to basically get put out of business," said John Rosenthal of Stop Handgun Violence, "that scared the entire industry."
Smart gun developers have had trouble finding gun makers to partner with. "It's fear of the NRA that seems to be holding them back," Robert McNamara, a founder of technology startup TriggerSmart Technologies, recently told HuffPost. McNamara's startup patented its own smart gun model about two years ago, but hasn't been able to find a gun manufacturer to take on the project.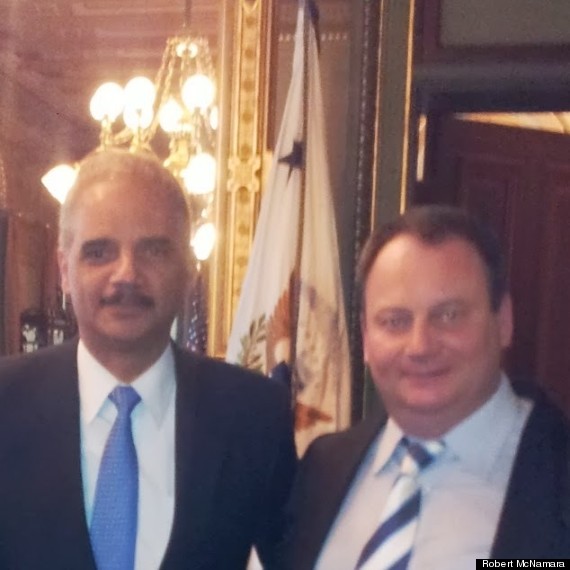 Robert McNamara of TriggerSmart (right) poses with U.S. Attorney General Eric Holder.
"[Gun manufacturers] say, 'Get the NRA on board and then we'll make guns childproof,'" McNamara said. "Until then, they are too afraid of the backlash."
Jim Schaff, the vice president of Yardarm Technologies, a wireless firearm technology company in northern California, told HuffPost that he changed the course of his company because of the intense opposition to smart guns.
Yardarm originally set out to design a gun that could be remotely disabled through an app, Schaff said. But he "quickly realized" how much resistance there would be from America's pro-gun forces to a consumer firearm that could be remotely shut down.
"The path to the consumer market is a challenging path," he admitted in a recent interview. "Lawmakers make their own issues by being very aggressive, which of course causes the NRA to be very aggressive, which then makes companies like us have to navigate that. As a startup there is only so much risk you can afford."
So last year, Schaff said, Yardarm abandoned plans to make a smart gun for consumers, and decided to develop a new technology for police and military guns instead: a sensor that recognizes when and where the gun is fired and transmits that information back to command centers.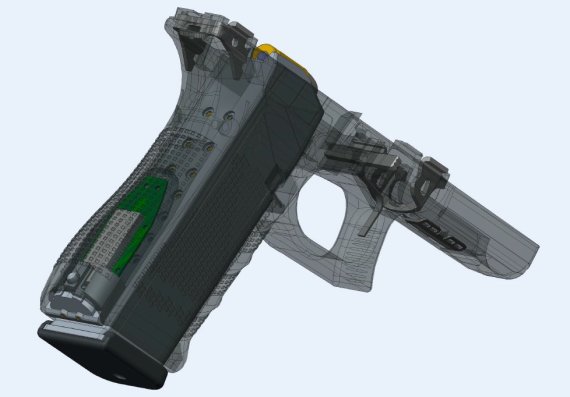 Above, a graphic of Yardarm's gun, which the company will market to police and the military. The green plate in the grip is the sensor, which transmits information from the field to command centers.
Critics of the Armatix iP1 say that the time it takes to put on a watch before you can fire a gun could be fatal in a dangerous situation.
One way around that, McNamara said, would be to have the tiny electronic chip that communicates with the gun surgically embedded in a person's hand. The chip, which is used in both Armatix and TriggerSmart's smart guns, sends a radio signal to unlock the pistol.
For people who don't want surgery, there are other smart gun models that theoretically eliminate the concern over having to put a watch on in a dangerous situation where time is of the essence. The grip-recognizing sensor in models from both Intelligun and the New Jersey Institute of Technology can unlock a firearm the instant the right person picks it up.
Yet availability is an issue. The New Jersey Institute of Technology's model isn't ready for purchase yet, and the Intelligun fingerprint scanner can only be added onto a specific type of handgun. The Armatix iP1, a .22 caliber pistol that won't fire unless the shooter is wearing a special watch.
According to a 2013 industry analysis by the National Institute of Justice, the only other smart gun development project said to be "commercializable" -- the iGun, a shotgun that won't fire unless the shooter is wearing a special ring -- was shelved after the company that makes it polled consumers and found limited demand for the product.
Second Amendment advocates say that any gun that relies on a battery to work -- which all the models discussed here do -- poses a risk because batteries can fail. "But who among us has not experienced a drained smart phone battery or had some other piece of electronic gadgetry not work, even a flashlight, fail when we needed it," reads a December blog post by Larry Keane of the National Shooting Sports Foundation, a trade organization for gun manufacturers.
Some also worry that even if a gun's batteries are fully charged, the technology itself will fail, leaving law-abiding citizens vulnerable in dangerous situations. "You can be trained how to overcome the malfunction [of a regular gun] quickly and efficiently," said Larry Pratt, the executive director of Gun Owners Of America, a lobby group with about 400,000 members. "But if it's inherent in the product, you're stuck."
Even without the threat of mandate laws, the gun industry is notoriously slow to innovate. "It's a very conservative industry," said Massad Ayoob, a self defense instructor and the handgun editor at GUNS Magazine. "Proven reliability is a paramount concern, and for that reason [the industry] has been reluctant to go to anything radical."
The industry also has a history of rebuffing gun safety technology, say gun control advocates. "For decades there have been safety devices that accomplish similar objectives to smart guns that are less tech-advanced and less expensive," said Jonathan Lowy of the Brady Campaign to End Gun Violence. He pointed to magazine disconnect safeties and gun locks, which require keys to unlock the firearm, as examples. "And they are still not the industry norm. The gun industry has essentially ignored them," he said.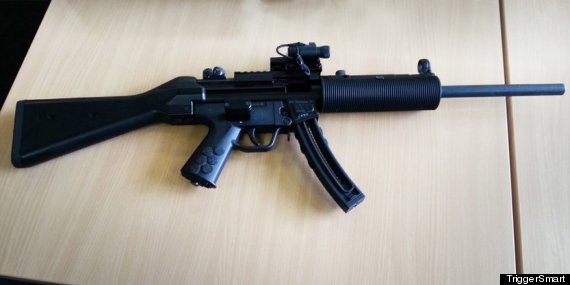 Above, a semi-automatic MP5 with a TriggerSmart lower receiver, according to the National Institute of Justice.
Not only could personalized weapons be a boon for gun safety, they could also be a lucrative way for gun makers to reach a new market of "fence sitters" -- people who won't buy a regular gun because they think it's too dangerous, but who might buy a smart gun. A national poll commissioned last year by the National Shooting Sports Foundation found 14 percent of respondents said they would be likely to buy a smart gun if such a product were available. Sebastian said those numbers could be much higher. NJIT did its own polling in New Jersey in 2004, he said, and found over 60-70 percent favorability towards the idea of personalized weapons.
Personalized weapons could also be helpful to undercover police officers, said Suhr, the San Francisco Police chief. "Our uniformed officers already have gun safety mechanisms on their holsters, but our plainclothes officers don't always have those same safety mechanisms. I think smart guns on plainclothes officers would make it safer for them [to do their jobs]," he said.
Meanwhile, TriggerSmart hopes a smaller gun manufacturer, one that doesn't have significant market share to lose, will step up to the plate and license his patent. Until then, he -- like the rest of us -- will have to wait.
"That's the missing piece of the jigsaw," McNamara said. "We have the tech. We know it works. We just need a gun manufacturer to say, 'Let's do it.'"
Related