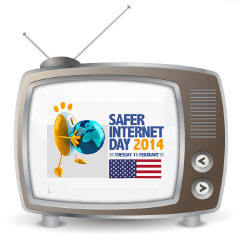 Safer Internet Day event to be webcast from 9 a.m. to noon on Tuesday
Safer Internet Day (SID) has been celebrated in Europe and around the world since 2004. While a few companies and organizations have sponsored Safer Internet Day programs in the U.S. over the years, there has yet to be an officially sanctioned U.S. event supported by a wide coalition of companies, non-profit organizations and government entities, until now.
This year ConnectSafely.org, the non-profit Internet safety organization where I serve as co-director, was appointed as the first U.S. host for Safer Internet Day. On Feb. 11, it will host the official U.S. Safer Internet Day 2014 event in Washington, D.C.
The event, which will feature U.S. Senator Charles "Chuck" Schumer, will be a celebration of the positive ways in which we all use the Internet. Young people, educators, representatives from technology companies, youth-serving organizations and government officials will speak along with a panel discussion featuring students from around the country and another panel with leaders from Instagram, Tumblr, Twitter, Xbox Live and Google/YouTube. European Commission Vice President Neelie Kroes will participate via video. In addition, the event will be streamed live on Facebook Live and at SaferInternetDay.us
Late in 2012, then-U.S. Secretary of Homeland Security Janet Napolitano and Vice President Kroes signed a joint declaration. This led to ConnectSafely's appointment as the U.S. SID host by the European Commission and InSafe, the Brussels-based non-profit that coordinates global SID events.
The event is supported by Microsoft, Facebook, Google, LinkedIn, Sprint, Symantec, Trend Micro and Twitter. ConnectSafely.org's non-profit partners include the National 4-H Council, the National PTA, Committee for Children, Common Sense Media, the Family Online Safety Institute, iKeepSafe, the Internet Education Foundation, the National Center for Missing & Exploited Children and the National Cyber Security Alliance.
A centerpiece of this year's celebration is ConnectSafely's "One Good Thing" campaign. People around the U.S. are sharing something they've done, benefited from or observed that either helps create a better Internet or uses connected technology to help create a better world. Then, they're submitting these short (sometimes as little as 20 second) "selfie" videos or very brief written statements about things they've done or witnessed - whether big or little - and submitting them at http://OneGoodThing.us or emailing them to SID@ConnectSafely.org. You can also Tweet or post to other social media about your One Good Thing or Safer Internet Day using the hashtags #SID2014, #OneGoodThing and @ConnectSafely. And do check out what people have contributed so far by visiting the SID blog.
Please join all of us in celebrating Safer Internet Day and each user's efforts, big and small, to make the Internet a better place and the world a better place using the Internet and connected media!
Disclosure: Larry Magid is co-director of ConnectSafely.org and co-chair of the U.S. Safer Internet Committee. ConnectSafely receives financial support from some companies mentioned in this article.