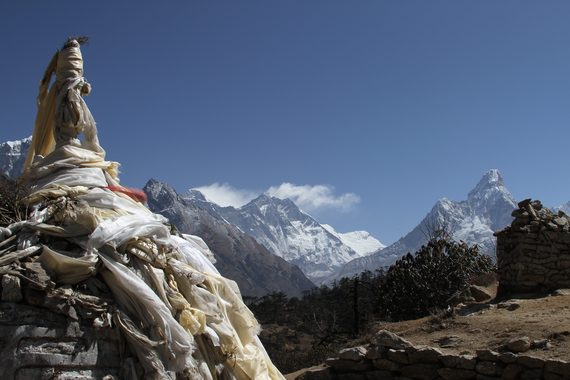 I just watched the film "SHERPA" that was directed by Jennifer Peedom and aired on Discovery channel. I appreciate that the Sherpas were portrayed as more than mountaineers or porters, common perceptions among Westerners. The Sherpa people are a tribe of people who migrated from Tibet hundreds of years ago. My friend Karma Sherpa wanted to make sure this point was made clear when I went back to Mt. Everest with him in 2012 to understand the Sherpa spirit. You can see and hear the Sherpas explain this and other points about their culture in my short film and blog posts over the years.
The "SHERPA" film followed Phurba Tashi during the 2014 climbing season when thirteen Sherpas and three Nepalese guides were killed in an avalanche. The story provides empathy for the struggle the climbing Sherpas face in deciding to provide for their families by climbing Everest (making up to $5,000 versus the average income of less than $500/year for Napalese living in rural villages) by risking their lives. To understand another perspective on this dynamic and the challenge of managing safety versus the demand of some Western climbers, watch my interview with Ang Kaji Sherpa one of the Sherpas who died in the avalanche. Tenzing Norgay, the first Sherpa to summit Mt. Everest is also featured, as are his children. You can learn more by listening to my first interview with Norbu Tenzing Norgay.
I talked with Karma today for nearly an hour. He has not yet seen the film so he couldn't comment on it specifically. We did talk about the need for more safety measures for those climbing Mt. Everest and for more support of the Sherpas. He believes we need more safety standards instead of just more money for incentivizing success. Some of this has been put in place for this season, with more ladders being fixed and helicopters being allowed to bring supplies to camp one. While this will limit the number of dangerous climbs with supplies by Sherpas through the deadly Khumbu ice fall, it may cause other problems because of the noise and pollution. More is needed such as ensuring that only qualified climbers attempt the Summit, in manageable numbers (271 climbers and 31 expeditions are registered to attempt the Summit this year) as well as insurance and load carrying guidelines for Sherpas.
Karma also talked about a deeper issue; in our race for advancements, like making it more efficient to get to the Summit and more money being paid by clients for lavish comforts like television sets at Base camp, the "extra" money being promised to Sherpas who get climbers to the Summit changes the energy. We are loosing site of the spirit by which the climbing community and Sherpas approached Chomolungma, the goddess mother. The Sherpa spirit that impacted me, and which Karma reminded me about, focused on servicing others and support for one another. Successfully reaching the Summit of Mt Everest is an amazing achievement, but at what (non-monetary) cost is it "worth" it?
Popular in the Community