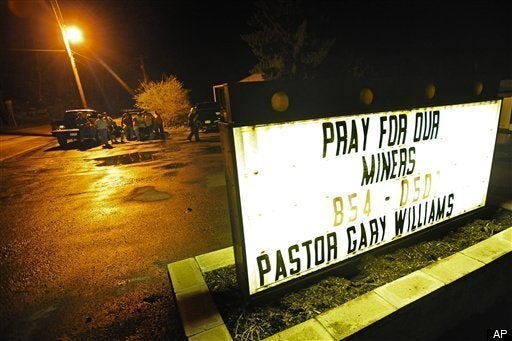 In the week since the nation's worst mine disaster in decades took the lives of 29 miners at the Upper Big Branch mine in West Virginia, the number of safety violations found by government regulators at mine owner Massey Energy's other operations has skyrocketed.
The Mine Safety and Health Administration cited 130 "significant and substantial" violations at dozens of Massey's mines from April 6 to April 14, according to a HuffPost analysis of MSHA records. That exceeds the number of violations found at those same mines for the entire month of March. Four of those violations involved ventilation plans which are intended to help prevent explosions and are designed "to control methane and respirable dust and shall be suitable to the conditions and mining system at the mine" -- the Upper Big Branch mine was repeatedly cited for such violations and was penalized $136,142 in January.
In total, the agency found 460 violations at Massey's mines, which exceeds the 351 violations at those same mines in March. Such S&S violations are considered much more serious, because they present a direct risk to the health and safety of mine workers.
Shockingly, almost half of the safety violations were found at just one Massey mine -- Mine #1, an underground mine operated by Massey subsidiary Freedom Energy Mining Company in Pike County, Kentucky. Two of the violations (MSHA code 75.370) concerning ventilation plans were found at this mine. That mine has amassed more than 3,000 violations since 2005 and incurred $3 million in proposed penalties, reports the Louisville Courier-Journal, though its non-fatal injury rate has been below the national average. (In addition, the Washington Independent has been keeping a running tally of violations at Massey mines.)
The numbers seem a clear indication of how unsafe the conditions are at many mines and a reflection of the Mine Safety and Health Administration's more aggressive posture since the tragic accident. In the wake of the tragic explosion, President Obama and federal regulators vowed to crack down on safety violations at mines across the country. The administration has been under pressure to respond forcefully since it was revealed that Massey had repeatedly been slapped with safety violations but was able to avoid closure by repeatedly contesting the citations.
Though the total number of violations did not surprise United Mine Workers Of America spokesman Phil Smith, he was alarmed at the number of serious violations found at Massey's mines.
"That is very concerning," Smith told HuffPost. "It's pretty clear to me that something is going on at Massey and the problem could even be worse. When MSHA goes into mines, our safety folks travel with the inspectors but a Massey mine [the company is not unionized], there are no workers accompanying the inspectors, just a Massey rep or nobody."
Smith said the increase in violations also indicates "that MSHA is paying special attention to a proven violator of the law."
A spokesperson for MSHA was not able to answer questions on Thursday evening about the increase in violations.
A spokesperson for Massey referred to the company's online press releases. In response to President Obama's speech today, the company stated its concern that Obama "has been misinformed about our record and the mining industry in general."
In addition, the company noted that MSHA awarded it three "Sentinels of Safety" awards in 2009 and claimed that "most violations are fixed the same day they are discovered."
Popular in the Community