Safeway bakeries are not known for artistry in the cake department. This should come as no surprise to anyone familiar with the website Cake Wrecks, which has featured more than a few awesomely bad creations courtesy of Safeway employees. Now, one Safeway is fighting back -- by outlawing photography.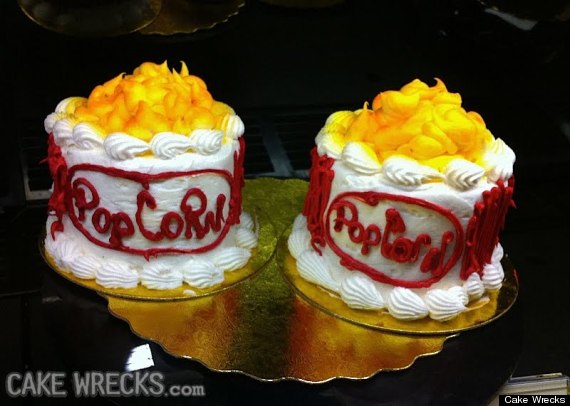 The local bakery, which Cake Wrecks is mercifully keeping anonymous, allegedly worked itself into a tizzy after receiving some unwelcome attention for a series of misshapen popcorn cakes. When the images were posted last year, Cake Wrecks offered some basic advice:
Now, bakers, the first thing to do when making a popcorn cake - and this is very important - is to try to make a cake that looks like popcorn.
Rather than taking the aforementioned wisdom to heart, the Safeway allegedly instituted a new policy forbidding photography in the bakery department. The reader who originally sent Cake Wrecks the tip, identified as Dara G., says she was told the move came from upper management, which is afraid more pictures will end up on the site.
A bakery employee went so far as to insist she delete an image off her phone, claiming the cakes were "all copyright protected." Fortunately she had another hidden on the phone, which was promptly sent to Cake Wrecks.
In the end, the Safeway's no-photography policy only succeeded in getting the popcorn cakes' more attention. Perhaps it's time to invest in some better cake training for bakery employees. Suppression never works, Safeway -- the truth will always come out!