There are only some people who will love you when you have shells in your hands and broth dripping from your elbows. They are your friends. And I am not above bribing them to my table with a steaming, teeming Frenchified clambake.
A full table is, after all, as vital as a full plate or a full stomach. Because a table is like a recipe. One person is exotic and spicy like saffron, another sweet like orange and fennel. One has the salty humor of briny shellfish, and another the acerbic wit of dry white wine. As for my friends, they are like a brimming bowl of seafood stew: perfect together, and I just can't get enough. When I'm away from them, I feel hungry. But with them, I always happy...happy, of course, as a clam.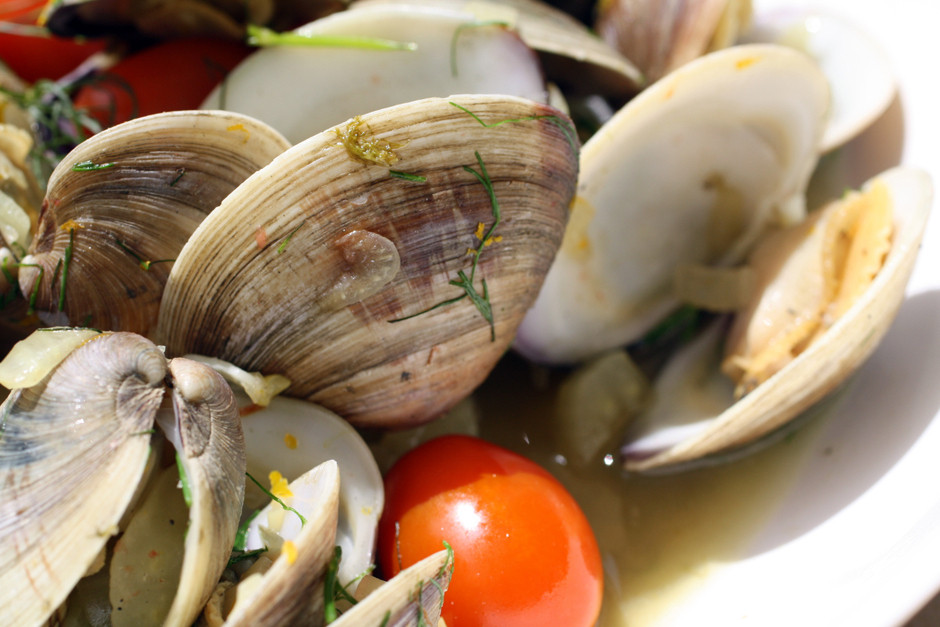 There was a dining room in college that had a famous stone hearth that read "Ubi Amici Ibidem Sunt Opes": where there are friends, there are riches. And even though this is a recipe for clams, and not pearly oysters, I think there is treasure here. Bouillabaisse is a peasanty and exotic maritime stew from Marseilles, full of today's catch and timeless spices, all bought for a king's ransom. This is a pot full of the finer things in life; but with a table crowded with riches, I think I can afford it.
Clams Bouillabaisse is a streamlined version of the traditional Marseilles fisherman's stew. A pot of liquid gold broth, gilded with saffron, sloshing with fennel, shallots, and garlic, white wine and tomatoes and sweet sea clams. And orange, for sunshine. I love this dish because it is social and sharable, yet casual. It is messy and simple, but sophisticated, and fifteen minutes of labor and a couple bottles of wine win you hours at a long, summertime feast. To cut cost, I replace half the clams with mussels. Bon app, mes amis!
Saffron-Soaked Clams Bouillabaisse
2 tablespoons extra virgin olive oil
2 shallots, diced
1/2 fennel, diced
4 cloves garlic, sliced
1 cup dry white wine
1 teaspoon saffron
1 bay leaf
1 pint grape tomatoes
4 pounds clams (Note #1)
1 tablespoon cold unsalted butter (optional) (Note #2)
1/4 cup fennel fronds, roughly chopped (or an equal amount of flat-leaf parsley)
Zest of 1 orange
Heat the olive oil in a wide pan with high sides on medium-low heat. Add the shallots, fennel, and garlic, and sauté for about 5 minutes: until fragrant and translucent.
Add the wine, saffron, and bay leaf. Simmer for 1 to 2 minutes to let the saffron start to steep in the liquid.
Add the tomatoes and clams. Cover, and steam until the clams just open, about 5 minutes.
Take the pan off the heat, and shake in 1 tablespoon cold butter (optional).
Toss in the fennel fronds and orange zest, and serve immediately with baguette that has been grilled, drizzled with olive oil, and rubbed with cut fresh garlic.
To clean the clams, put them in a large bowl of water, with a few tablespoons of flour stirred in. Put them in the fridge, and for the next hour, the clams will spit out all the sand they've been saving up inside their shells. Then, give them a quick scrub, and throw away any open shells. They're all ready to go.
Adding cold butter to a sauce at the very end adds body and gloss. I highly recommend it, but you could certainly go without.
Related