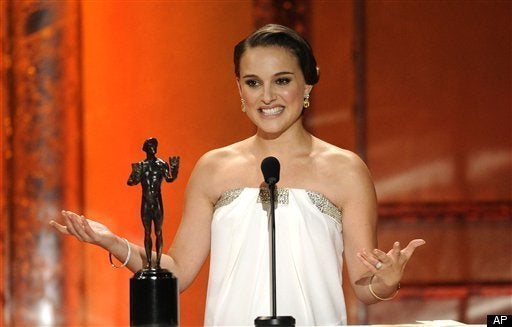 Maybe she was the Black Swan all along.
When Natalie Portman accepted her Screen Actors Guild Award for Best Actress on Sunday night -- for her role in 'Black Swan,' in which she plays an innocent dancer desperate to connect with her dark side -- she made sure to share a tip: "My parents who taught me to work my hardest and never be an asshole. It's never acceptable."
"Benjamin choreographed the film, and also you might remember him in the movie as the guy when they ask, 'Would you sleep with that girl?'" she said. "And he's like, 'Pffsh, no.' He's the best actor. It's not true: He totally wants to sleep with me!"
She also called co-star Mila Kunis "sweet lips."
As it turns out, Natalie Portman likes to get down and dirty.
Her newest film, 'No Strings Attached,' sees her inverting the usual romantic comedy roles, playing a sex-starved doctor who wants nothing to do with emotional entanglements. It's all part of her longterm movie plans.
"Because it's me, people are shocked. I see the value of a good-girl persona--it's so easy to subvert it!" she told Vogue in December. To that end, she's started her own production company, Handsomecharlie Films.
"We're very into female comedies; there just aren't enough," Portman said. "There's a difference between being in a bra and underpants as an object on a men's-magazine cover and playing yourself--a woman with desires and needs who loves and laughs with her friends--in a bra and underpants."
Expect it to deliver. Portman is next starring in 'Your Highness,' a medieval adventure comedy with James Franco, Danny McBride and Zoey Deschanel. Once again, she's inverting the roles, playing a raunchy warrior with less than optimal bathing habits.
Popular in the Community