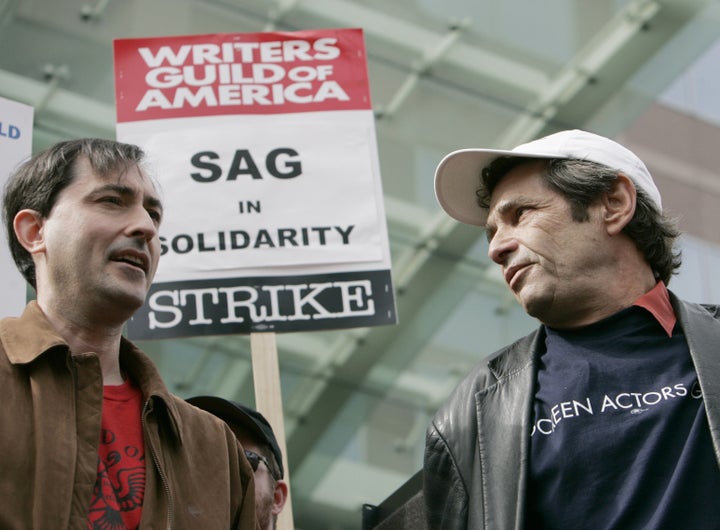 Over 130 stars have weighed in on the SAG strike authorization, coming out firmly against. Citing the economy, the A-listers "strongly" urged SAG members not to authorize a strike, and instead "take the high road ... unite with our brothers and sisters in the entertainment community and ... three years down the line ... make a great deal" when all the union contracts expire roughly simultaneously.
Finally, we're hearing from the A-listers, and it may be enough to pull SAG back from the brink. Meanwhile SAG Board members in NY and Chicago came out against the authorization over the weekend.
In addition, SAG President Alan Rosenberg was forced to cancel the emergency in-person National Board meeting he had scheduled for this Friday, after SAG activists pointed out in the strongest terms that had no right under the SAG constitution or state law to require that the meeting be in person, rather than by videoconference. (SAG uses videoconference for many of its meetings.)
Here's the A-listers' letter.
Dear SAG Board Members, officers and staff:
We feel very strongly that SAG members should not vote to authorize a strike at this time. We don't think that an authorization can be looked at as merely a bargaining tool. It must be looked at as what it is -- an agreement to strike if negotiations fail.
We support our union and we support the issues we're fighting for, but we do not believe in all good conscience that now is the time to be putting people out of work.
None of our friends in the other unions are truly happy with the deals they made in their negotiations. Three years from now all the union contracts will be up again at roughly the same time. At that point if we plan and work together with our sister unions we will have incredible leverage.
As hard as it may be to wait those three years under an imperfect agreement, we believe this is what we must do. We think that a public statement should be made by SAG recognizing that although this is not a deal we want, it is simply not a time when our union wants to have any part in creating more economic hardship while so many people are already suffering.
Let's take the high road. Let's unite with our brothers and sisters in the entertainment community and prepare for the future, three years down the line. Then, together, let's make a great deal.
Popular in the Community