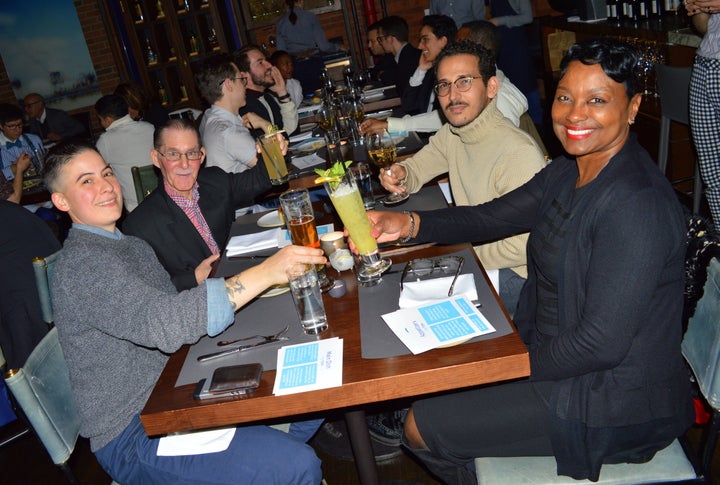 Rae Tutera, Michael Feuerstein, Abi Benitez and Debbie Brennan at March 23 SAGE Dinner at the Chef's Club
"I grow old, I grow old, I shall wear the bottoms of my trousers rolled." T.S. Eliot
We live in a society that worships youth and likes to pretend that old age doesn't exist. We hide our old people in retirement communities and often ignore and mistreat them. Unlike in Europe and other parts of the world where our elders are often asked to come live with their children and grandchildren as they age, here this is considered an imposition beyond the pale. The situation is so bad, that a new term "elder abuse" has been invented to describe those who prey on the old physically and financially. For LGBTQ people, the situation is perhaps even more critical than for others. Since gay marriage has only recently become law in certain states, many older gay and lesbian and trans people will never marry and families are rarer in the gay community. And for those who enter retirement communities a truly disturbing phenomenon has evolved: LBGTQ men and women who re-enter the closet for fear of often very real discrimination, especially in conservative parts of the country.
Enter SAGE, short for Services & Advocacy for GLBT Elders. As the country's largest and oldest organization dedicated to improving the lives of lesbian, gay, bisexual and transgender (LGBT) older adults, SAGE is unique. Founded in 1978, this groundbreaking organization's mission statement is to "lead in addressing issues related to lesbian, gay, bisexual and transgender (LGBT) aging." SAGE works to achieve a high quality of life for LGBTQ older adults while "supporting and advocating for their right and fostering a greater understanding of aging in all communities, and promotes positive images of LGBT life in later years."
In order to build awareness of the issues faced by LGBT people as they age, SAGE has launched an innovative new effort called SAGE TABLE that invites LGBT people to build connections by sharing a meal together on May 18.
On March 23, the NYC Steering Committee for SAGE Table gathered to experience what they are inviting others to experience on May 18. This event was generously hosted by actress and media personality extraordinaire Whoopi Goldberg and co-chaired by Tom Leonardis and Victor Jeffreys. According to Susan Herr, chief engagement officer for SAGE, "The leaders gathered here tonight are launching a truly heretical conversation about what caring in the LGBT community could look like if age no longer divided us. It's clear we need each other now more than ever."
In a preview of the May extravaganza, LGBTQ people of all ages and their friends sat at tables for a delicious gourmet meal and got to know one another inter-generationally in ways that are rare in today's busy age-obsessed culture . Everyone was asked to state their age and each table had a set of questions printed on cards such as "If you have had an LGBT mentor, how did they influence you?" and "How and with whom do you see yourself growing older?" As the dinner progressed people read the questions and everyone took their turn answering. At one point Leonardis said: " I feel privileged to have a great life and to feel like I am still in my prime. But I worry sometimes: how long will this last? And then what happens?" As a producer, Leonardis feels ageism even more acutely. "I work in the entertainment industry, which is also youth obsessed. So it's like a double whammy. I wanted to face my fears head on." Leonardis recruited his partner Whoopi Goldberg: "Whoopi would save the world if she could. It's my hope that on May 18th, we get thousands of people breaking bread and facing this important issue together all across the country." During the dinner, Goldberg got up to thank everyone for attending and wisely pointed out that given the recent presidential election results that the situation was only likely to get worse. Goldberg also placed the conversation that night within a larger context: "It seems to me that any discussion that we can get going among anyone be they black/white, gay/straight, young/old is a good thing. There doesn't seem to be a lot of camaraderie between the older and younger gays and of course SAGE is where we're going to fix this." Goldberg paused: "We are one community—aging is still aging no matter who you are. Let's get rid of the labels and connect younger with older."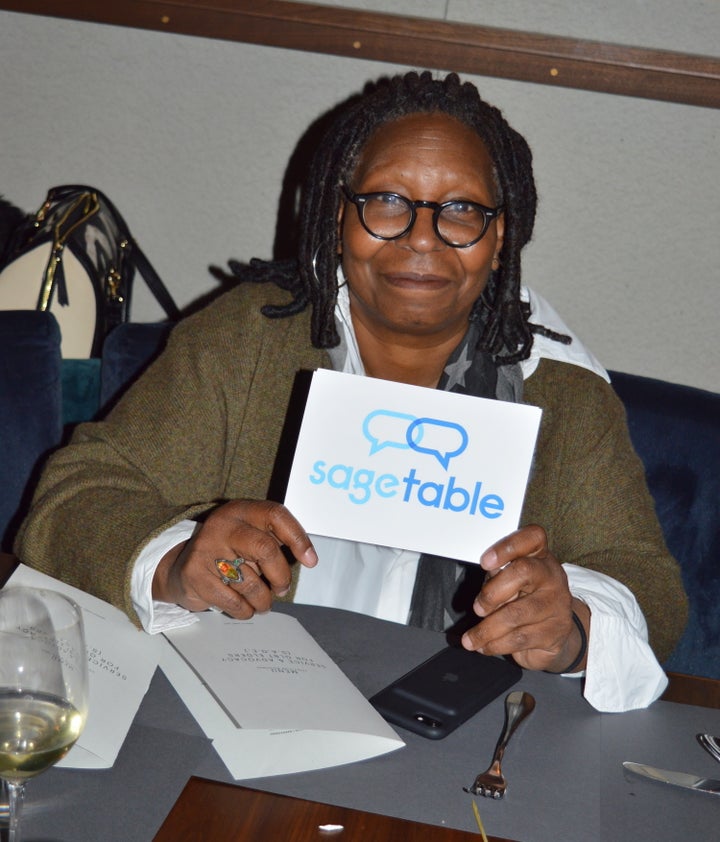 Whoopi Goldberg at March 23 SAGE Dinner
Participants in the March 23 dinner were just as enthusiastic. 31-year-old SahLeem Butler sat at a table with a 50 year-old black lesbian who recalled the AIDS epidemic and emphasized the need to understand what past generations of LGBT people endured: "She said that during the 70s and 80's she lost 90 percent of her friends, and when she said that it shook my soul to the core. As a Millennial I have not experienced death on that level. ..While I didn't share her lived experience, I did share her grief….something inside me changed as I listened to her voice and looked into her eyes." When Cecilia Gentilia, 45 told her translatina mentor that she wanted to be just like her, the response was surprising and underlined the importance of this frank discussion about aging in the LGBTQ community: " She told me I would encounter three things in that case: I would be a whore, take drugs and die young. I never thought that I would have a chance to think about getting older."
But perhaps the most unique aspect of the SAGE dinner was the opportunity that people were given to simply expand their universe and meet others that they might not otherwise encounter in their daily lives. Jen Hatch, 56, noted: "I feel like my world expanded. I am not sure I would ever have received the opportunity in real life to really get to know the people at my table. There are no other circumstances, short of being stranded on an island, where I can imagine learning so much about my table mates." As for who will take care of us as we get older, Hatch commented:' That's when it got very provocative! It is really, really uncomfortable to think about that question. But we did: we talked about it out loud. Whew."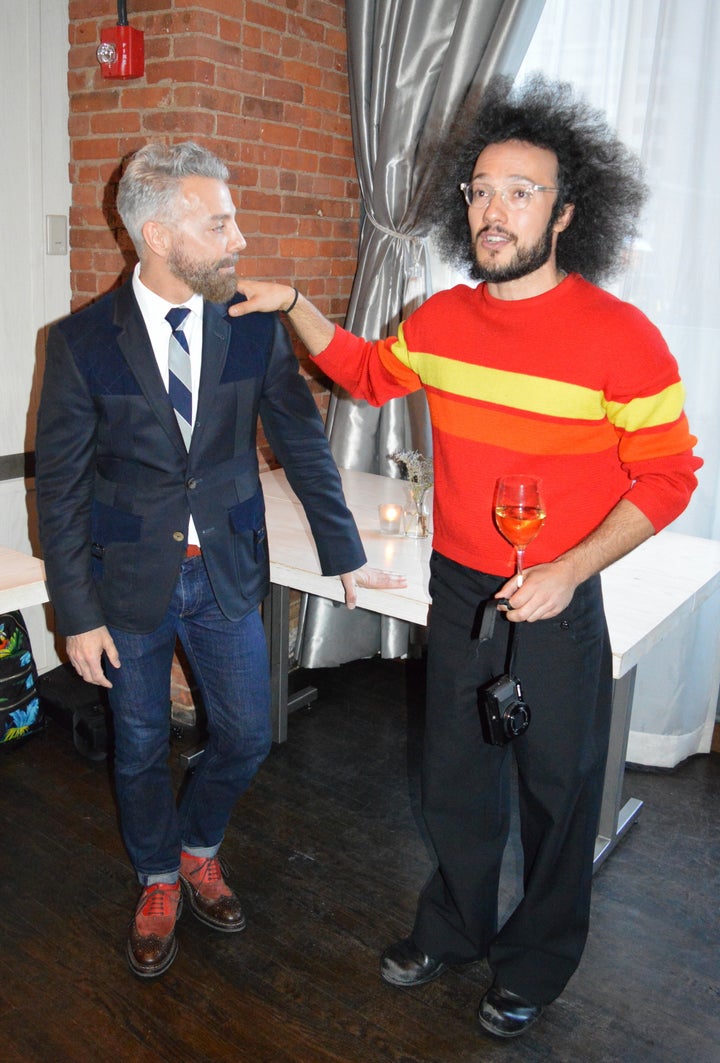 On May 18, Form Your Own Table
What can we as individuals do to help open up the dialogue on age in general and in the LGBT community in particular? A lot, it turns out. Apart from simply being more aware of the situation, to fighting ageism in all its forms in the work place and in everyday life, we can start by supporting organizations like SAGE. And on May 18th, every LGBTQ person or friend/ally of an LGBTQ person reading this article can start their own SAGE TABLE at home or in a favorite restaurant or bar. Get some friends together and have them invite other friends of different ages and backgrounds and get to really know one another on a deep, human level.
Every one of us—gay or straight and regardless of race or religion―is going to get old, whether we like it or not. There is nothing we can do to change that fact. However we can do a surprising amount to change how we age and how we treat others who are aging. So on May 18th join the discussion and aging and form your own SAGE TABLE. You'll be surprised at how much you learn.
To learn more about hosting a SAGE TABLE or to request a seat at the many events already scheduled, go to: sagetable.org.
Calling all HuffPost superfans!
Sign up for membership to become a founding member and help shape HuffPost's next chapter