Picture the scene: It's a sweaty, crowded NFL locker room a handful of miles from the heart of Baltimore, a little over a decade ago. There's a scrum of reporters, trying to inch closer and closer to the prize interview: Ray Lewis. And as the voices shout over one another, urging the linebacker to look every which way, one journalist's tone differentiates itself from the rest.
It's the voice of Sage Steele, and as the only woman amid the horde of media members, the octave of her voice allows her to be the one to grab and hold onto Lewis' attention.
Today, the 43-year-old Steele is known as both the face and the voice of ABC and ESPN's NBA Countdown. Come Saturday, she'll be speaking to millions of us through our TV sets, as the host of the new NBA Saturday Night on ABC package. And come June, she'll ring in the NBA Finals as emcee of the biggest show of the season, working with names like Jalen Rose and Doug Collins to introduce and analyze the league's marquee event.
But it hasn't always been like this for Steele. A self-described army brat bullied throughout high school for her biracial background, Steele has dealt with a unique blend of discrimination in her time. One day she's too white, the next she's too black. Her curly, un-styled hair is considered either an asset or a detriment, depending on the week. And even as she has received rave reviews for her work with ESPN, she's anticipating the day when her increasingly grey locks age her out of her job in a way that simply wouldn't happen to a man.
In a word, she's surrounded on all sides by -isms. Ageism, sexism, racism -- you name it, Steele has felt it. But today, in her 21st year in the biz, the longtime journalist is able to reflect on her time on studio sets and in locker rooms, and decipher where and when those constant currents of isms, don'ts and can'ts have made her stronger, sharper and more apt for the job.
Steele recently spoke with The Huffington Post about everything from the discrimination she's faced to her relationship with Stuart Scott, from the importance of having thick skin to that GIF of her and Bill Simmons. She's spent the last two decades in the trenches -- those grimy, Gatorade-stained locker rooms of Indianapolis and Baltimore -- and now she's explaining how she was able to stay on her feet through it all, remaining humble, hungry and happy, no matter what.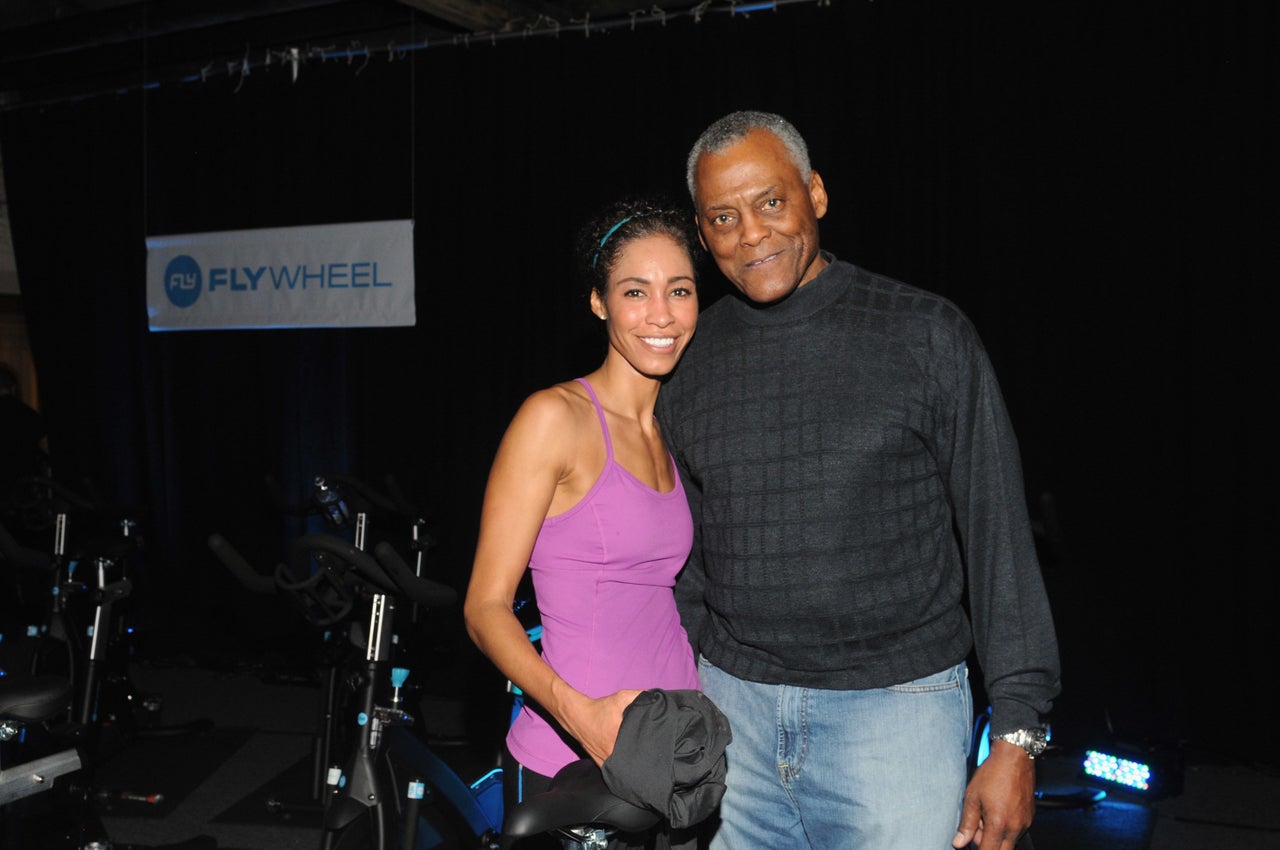 HuffPost: With your father in the military, you moved around quite a bit throughout your childhood. But when your family moved to Indiana right before your senior year of high school, you suddenly became a black minority in an overwhelmingly white school. What was that experience like as a young black woman?
Sage Steele: [In the military], race doesn't matter. There are so many interracial relationships and marriages in the military. It's probably the most diverse group that you'll find -- and I don't think people think of it that way -- but it doesn't matter. Race, religion, none of it matters, and I didn't know any different until we moved to Carmel, Indiana, a suburb of Indianapolis. You know, the thing is, I've met some wonderful people there, I really did. I didn't even know that I was the only black student out of 1,800 kids until someone told me, because I didn't look at people that way -- I never have. And, the people who told me happened to do it in a really mean, terrible, ugly way, and I just had never experienced [that kind of discrimination] before.
"I didn't even know that I was the only black student out of 1,800 kids until someone told me, because I didn't look at people that way -- I never have."
So anyway, it was tough, but I honestly wouldn't change it for the world. And I will say this though, and I'm pretty specific about it: My mom is white, half-Irish and half-Italian, and my dad is black -- so, I identify exactly 50 percent with each. Even though, if someone were to see me on TV, they wouldn't go like, "Oh yeah, you know that white girl with curly hair that does the NBA?" No, they're going to say the black girl, but it's really important to me to identify with my mom's side, as well.
That's an interesting point about trying to identify equally with your mother's side, because, as you just mentioned, at that point in high school, you were encountering for the first time stereotypes of black women and that stereotype does not represent the whole Sage Steele, obviously.
Yeah, and I'm experiencing stereotypes even to this day, from both sides. Sometimes it's even tougher -- and the words and comments are uglier -- from black people … I can't tell you how many times I've been called a sellout for marrying a white man and for having kids that look white.
"I can't tell you how many times I've been called a sellout for marrying a white man and for having kids that look white."
I'm pretty shocked by [that kind of criticism] and I just had no idea. It upsets me to this day, but then again I realize that these are close-minded people and many of them are the first in line to scream about diversity and acceptance, but then when it comes to the fact that I happened to marry a white man, then they're not quite as open-minded, which is pretty interesting and obviously hypocritical in my mind … [But] as much as it still hurts, I realize that they can have their opinion, that's fine, it's America. And I feel very strongly about that. It's up to me to choose whether or not to let that affect me and I refuse to allow that to happen.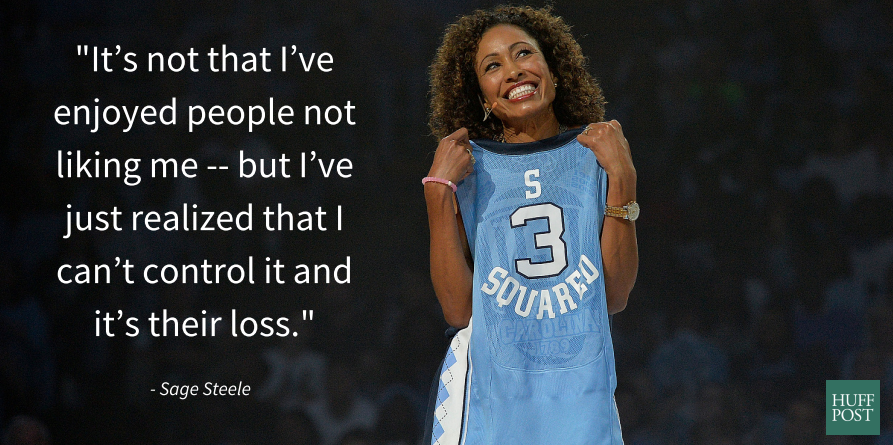 You've talked about how even when you were first breaking into the industry, you would stand up to sexist athletes. When you asked them questions and they would respond with comebacks like, "Only if you have dinner with me," you would just walk away. This past year, there has been a lot of conversation about female sports reporters being harassed by male athletes and colleagues, so I wanted to ask -- is sexism something you've dealt with your entire career? And how have you handled that?
I think early on I dealt with it a lot more because I was young and they smelled blood in the water. But it's funny, no one really had to tell me to stay away [from becoming personally involved with the athletes], because it was a no-brainer. Of course [it was] not my goal in this business to meet some hot, rich athlete, I just wanted to tell stories about athletes, because I couldn't be one.
So, I've experienced it throughout my career, but less and less as the years have gone by. One of the many advantages of being older in this business -- as I just recently began my 21st year -- I think once you're in it, they're around you. Especially when you're on a beat and you're covering a particular team, after a while they get to know you and these guys got to know me as a person, as a human being and as a friend in many cases. Coaches, as well. So then, it stopped.
"If you experience [sexism in the sports media], I think you have to talk about it, as well."
How can such a huge problem like sexism, specifically in the sports media industry, be combatted? What are the solutions? What do we need to do to mobilize ourselves so that women can really aspire to be sports reporters without the worry hanging over their heads that they might be harassed or lose their job because of how they look?
I feel like continuing to talk about it -- I know that sounds cliché -- but continuing to talk about it, that's a big deal. If you experience it, I think you have to talk about it, as well.
Diving into something else that you feel very strongly about, I wanted to talk about your hair. You have curly hair, which is somewhat unusual in broadcasting -- they tried to make you straighten it, if I'm correct? You once said it'd be kind of hypocritical if you were to go around changing your hairstyle. I wanted to know, how is your hair tied to your identity?
Well, it's just me. I can be really silly and way too chatty and, I don't know, it's just me! And, when I go straight, maybe once a year, max … people walk right by me and [don't] even say hi -- friends [don't] recognize me. And I would [see] on Twitter, "Who's the new girl on ESPN?" I'm so unrecognizable, I look totally different and I think I look older.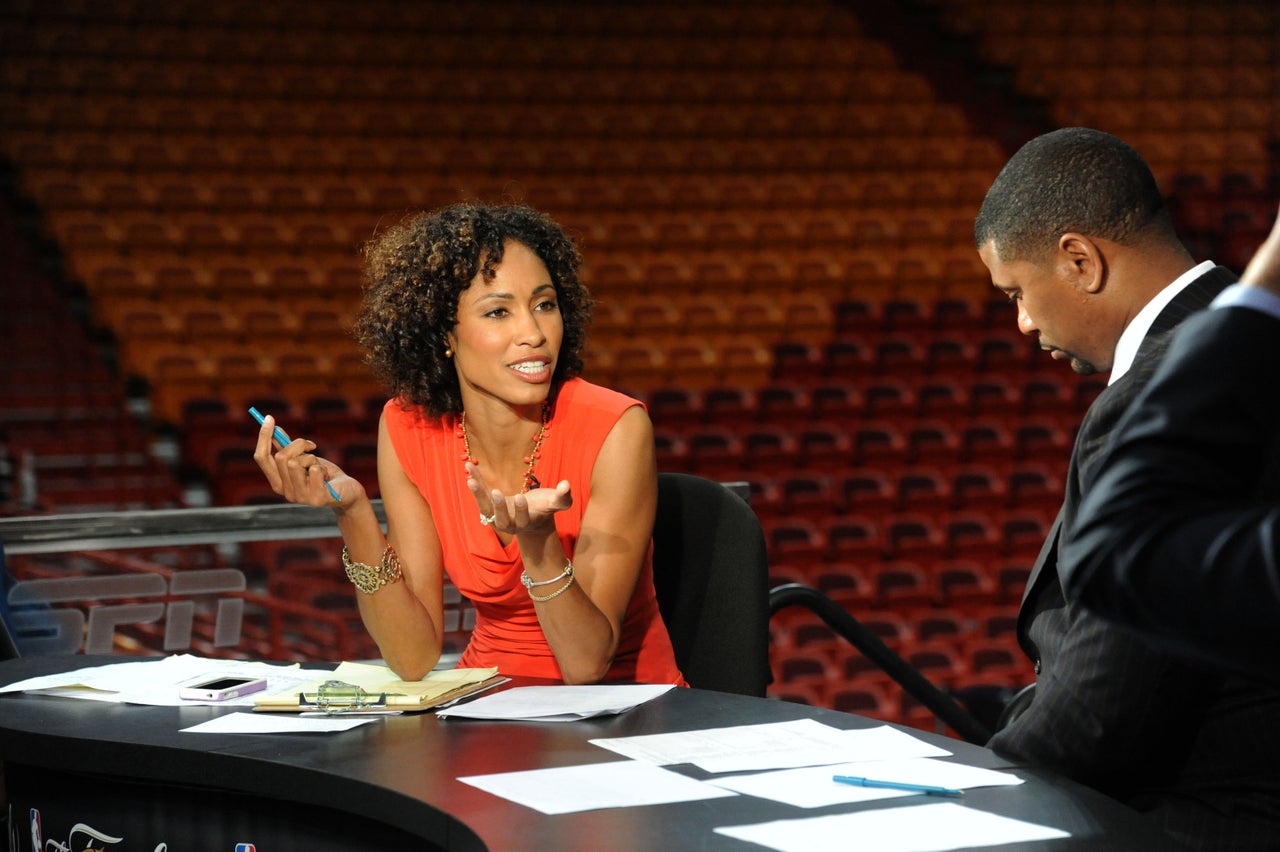 [I decided to go with the curls out of] laziness and, initially, because why am I going to spend half an hour extra getting ready every day to straighten this? ... At one point I was told that I was taken out of consideration for a pretty major job because of my hair. It's insane and I was told by one of my agents. That hurt, but now I'm like, "I'm really sticking to it!" And I preach that [lesson] to women -- being yourself and being true to who you are.
This may be an unusual question given the current sports media climate, but in your opinion, what are the advantages of being a woman in sports?
I think there are many advantages because it's quite often a difference voice. Now there are so many more women doing it than when I began, or even 10 years ago. But, I know that when I was a beat reporter covering NFL teams and you're in a scrum, so to speak, after the game and you've got 15 reporters crowding around Ray Lewis' locker and [I'm the only] woman -- when I speak, my question sounds a lot different and it gets people's attention because they're used to hearing men's voices. For me, it was an advantage in many ways because you sound different. Obviously you look different, but you sound different so that was helpful.
I also think -- and [I'm not speaking] for all women because that kind of stereotypes -- but I think it's our perspective, and me as a mom. I mean, I put myself in the shoes of these athletes' moms or sisters because I'm a sister to two brothers who are athletes. I think about how I word the question based on how I would feel if that were my kid being interviewed, so I really try to put myself in other people's shoes. And I think [men] do as well, but there's that extra sensitivity that a lot of women have.
"At one point I was told that I was taken out of consideration for a pretty major job because of my hair."
Another one of your strengths is your age. It's something that you're very proud of -- it's not typical for a 43-year-old woman to be very proud about being 43, but you told Cari Champion in an interview that "40 is beautiful!" What's concerning, however, is when people like Colleen Dominguez have to sue their employers for age and gender discrimination. I wanted to know if you had heard about Colleen's lawsuit and if it concerned you at all?
I actually did not hear about Colleen's lawsuit … But at the end of the day it is what it is and unfortunately there will always be different standards for women. Women cannot age on television as men are allowed to age. Whether that's losing their hair, getting fat, whatever it is, it's not that way [for men]. But, I also think that it's like that in other industries as well and in other offices in corporate America. It might not be said and it might not be as blatant and not as much scrutiny because it's not a public job, but I think it exists everywhere.
One of your most famous viral moments was when Bill Simmons said on air that he thought he wasn't getting enough time to speak, and you shot a quick, seemingly meaningful look at the camera. Are you aware of that GIF, and if so has it taught you anything?
I didn't even know I gave the look, I didn't even know. Again, I was in the middle of being on live TV and kept going … [But I ended up seeing] it and I thought, "Well, it was genuine and it was me," and I bit my tongue from there and we moved on. But I learned so much just from that first year in general [when] I was new on the job. I didn't know these people. I was trying my best to come in and be a good host and be a good teammate and everybody has their opinions of how that went.
"I didn't even know I gave the look, I didn't even know."
But I always say it, just like the stuff from Carmel High School when it was a really tough senior year -- I wouldn't change it and I wouldn't trade any of it and I can honestly look myself in the mirror no matter what … and know that I gave it my all and I tried my best and I wasn't any different from how I've ever been, because I was just so thrilled to have this opportunity. It's all I knew and whatever drama was involved in it before, during or after, like, I didn't know, I was just trying to do my darn job. I'm tougher for it, thicker skin, all of the above. I'm really better for it.
I'm sure this is a bit sensitive, but I wanted to talk about Stuart Scott, because we know how big of an impact he had on you and how he took you under his wing when you first came to ESPN. It's been a year now since he passed, but what's one thing from Scott's life that stays with you even today and what do you think his life can teach us overall?
A lot. What Stuart taught me without even saying it was to choose to be happy. He chose his happiness. At the end, the last year or so when he knew what was going to happen, you know he was never told his prognosis, he never wanted to hear it. But I could tell he knew something because he was like, "Let's go, let's live, let's visit here, let's do this," and he just did it … Now, in my everyday life, even on tough days or even when just stuff at home, big or small, [happens], I choose to focus on my choice of happiness ... I learned that from him and now hopefully I have many, many years to apply it in my own life. Because he didn't have enough time, but he was able to pass that along.
"What Stuart [Scott] taught me without even saying it was to choose to be happy."
He also was one of the few people who was extremely, extremely just open with me and supportive and told me to go be me and to let go, to let go of the other stuff and to not listen to the critics … [And now], finally, probably in the past six months, I'm finally OK with the fact that not everybody in the world is going to like me. And that used to just devastate me if someone didn't like me, someone I worked with or whatever. And now I'm like, "OK, I can't control what they think because they might have their own issues." Maybe it's legitimate, but maybe it's not because lots of people don't give you a chance before they put you in that box, you know? So he was really OK with people not liking him, and now I am, too. It's not that I've enjoyed people not liking me -- but I've just realized that I can't control it and it's their loss. It really is.
This interview has been edited and condensed for clarity.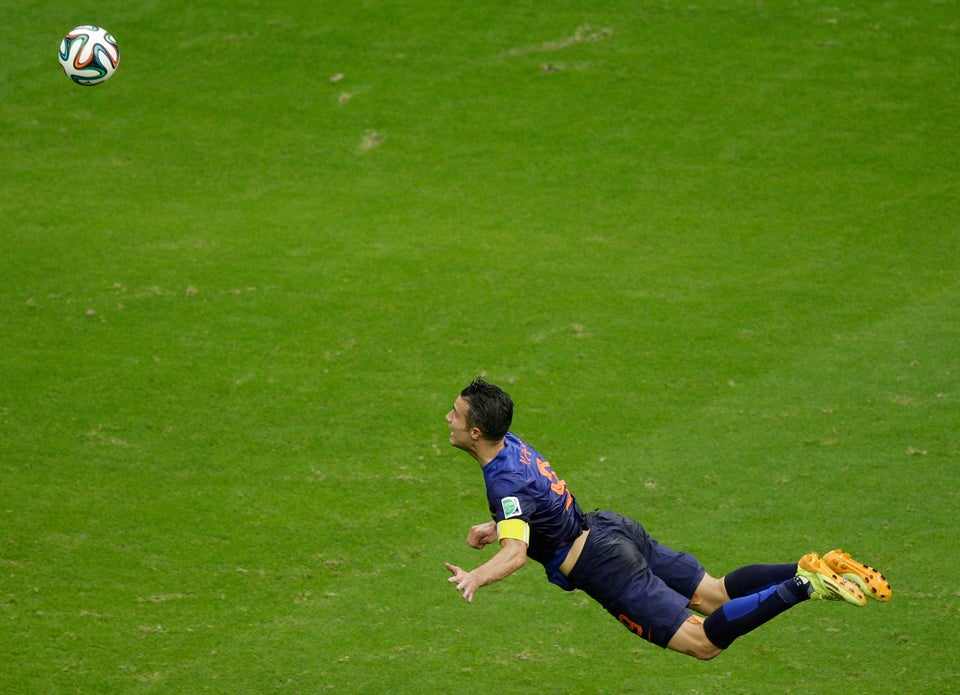 Amazing Sports Photos
Related
Popular in the Community