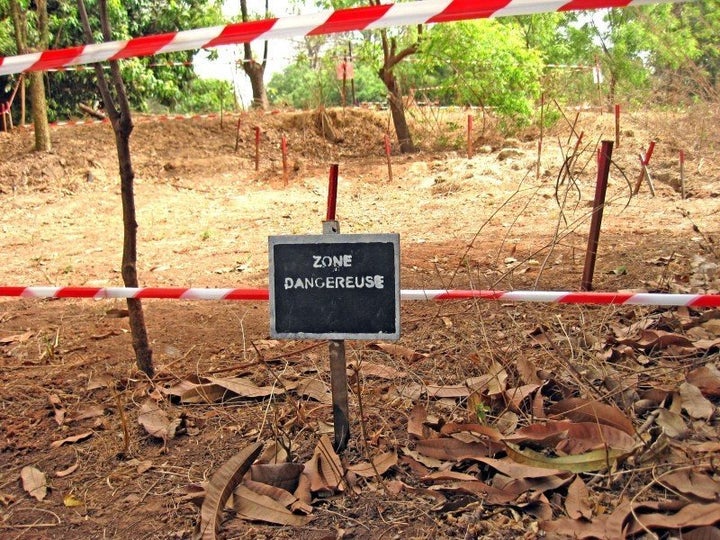 This blog is part of a series organized by The Huffington Post and the NGO alliance InterAction to call attention to the crisis in the Sahel, a region in sub-Saharan Africa where more than 18 million people face starvation and 1.1 million children under the age of 5 are at risk of dying from acute malnutrition. Click here to read more of HuffPost Impact's coverage of the Sahel and here to find out what InterAction members and others are doing in the Sahel.
Handicap International's team in Casamance, Senegal knows the country's southern soils intimately. These 23 individuals spend plenty of time on their knees, inspecting the region's abandoned paths, fields and orchards. The soil we work in is much richer than other areas of the Sahel, perfect for planting or for nourishing grazing animals. Casamance is even considered to be the barn of the country.
Yet few Senegalese, no matter how hungry, dare touch the land where we work. We are a demining team. And we are painfully aware of one cruel, ironic fact of the Sahel food crisis: many acres of fertile fields are littered with landmines and explosive remnants of war, rendering them too dangerous for seeding.
Anti-personnel, anti-vehicle landmines, and other munitions require just a bit of pressure to detonate. In Senegal, these are left over from Senegal's ongoing clashes with the Mouvement des forces démocratiques de Casamance (MFDC).
Many Senegalese do not dare cross these fields, let alone farm them. And they are not just located in fields -- we cleared mines 16 feet behind the Gonoum School, located in the center of the village.
When people are affected by hunger, they take risks. Elizabeth Nassalan ventured into an abandoned, mine-littered orchard on September 5, 2000. She recalls, "Like many other displaced women, and given the harsh conditions of survival, I went into the orchard to pick oranges that I would sell in the market to support my husband... and my family. We had been ordered never to venture there. That day, I preferred to go alone, because I thought that... I could get by, by being careful... Unfortunately this does not prevent me from stepping on a mine that has changed my life." She lost both of her legs in that accident. Her husband has since left, and she has to take care of her children alone.
We've done mine risk education and victim assistance in Senegal since 1997. We conducted a Landmine Impact Survey in 2005-06, showing that 93 localities in Casamance were polluted with mines. These weapons continue to affect 90,000 people. Up to now, Senegal counts more than 800 casualties as a result of mines, including 567 civilians. Since 2008, Handicap International's technical surveys and demining work have permitted the Senegalese government to return nearly 2,500 sq. km. of suspected areas to the population -- more than twice the size of New York City.
As we pay attention to sustainability, we have reduced the number of expatriate employees, while increasing our local demining staff. In the meantime, we are always looking for maximum impact and efficiency. The amount of land we can clear has increased fourfold since 2008, thanks to the acquisition of a demining machine one year ago. The powerful Digger bulldozing machine clears suspected areas ten times faster than a traditional team of deminers. Our deminers still play a crucial role in the planning, operation and maintenance of the Digger, as well as reporting and demining the places that the machine cannot access.
One of our local mine clearance operators, Elizabeth Sambou, says she is not "afraid" of the meticulous work she tackles: "Due to the threat of these mines, people can't get to certain areas they need to access on a day-to-day basis and to earn a living. These are the areas that feed them."
Thankfully, some countries in the Sahel have taken the high road. Burkina Faso has never used, produced or stored mines, according to the 2011 Landmine Monitor. Others, like the Gambia, report that its mined areas have been cleared.
Yet in places like Agadez, Niger, where food prices are soaring, Handicap International has run programs since 2010 to teach locals, especially women and children, the dangers of mines and unexploded ordnance. In school classes, we urge kids to stay away from polluted land. When they do come across objects, they should never approach or touch them, but rather mark the area and alert an adult. Handicap International also assists the people who have fallen victim to these weapons through access to medical care and by promoting their social and economic reintegration. The latter is the same course of action we follow in South Sudan.
Right now, many millions fear losing their lives to hunger. We don't think that it has to be so in countries where the soil can still support crops. At an event on June 15, 22 villages that Handicap International cleaned of mines were redistributed to locals. With safe land, they can enjoy a "normal" life -- a life that can now include farming. The land had been off limits for 30 years.
Without mines to threaten their bodies and minds, farmers have already imagined how they are going to cultivate these new parts of their village. At the event, the Minister of Foreign Affairs saw a hope for peace in Casamance, calling to the stop of armed fighting.
Until that happens, there is no doubt about how deminers will find their motivation to continue this peace and development process.
You can follow Handicap International on Twitter and Facebook for updates on our work in more than 60 countries.
Support HuffPost
The Stakes Have Never Been Higher
Related
Popular in the Community