"Hark now, hear the sailors' cry. Smell the sea and feel the sky." -- Van Morrison
Friends had told me about an old, iconic ship that offered a most distinctive sailing voyage, one that would be memorable, one that had my name all over it. Irresistible.
Finally, the long-awaited moment: There, before me in Grenada's harbor, the S/V Mandalay! She looked... interesting. This is decidedly not a spanking new vessel but rather a throwback to a former time when the world was young and romance abounded on the high seas. Built in 1923 for E.F. Hutton as a gift to his wife, Marjorie Merriweather Post, the ship is no longer a sexy lady -- but, come on! She's 91 years old!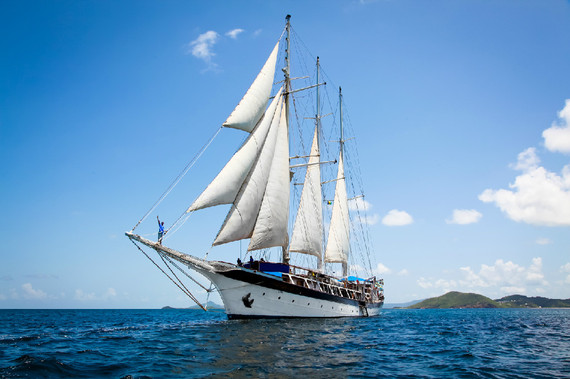 Clearly they do not build them this way anymore. Constructed mainly of white spruce, larch, pine and teak, this 236-foot sailing ship is noble and imposing, with a long and storied career as her stately sails took her to exotic ports all over the world. In 1953, she was used for oceanographic research by Columbia University and in 2012, after extensive renovation and restoration, she joined the Windjammer family. Mandalay now sails the Grenadines weekly and can carry up to 58 passengers. Her cabins are no-frills but serviceable and the ship's interior, including a large bar and communal dining tables is made of rich, burnished wood. With her illustrious history she brings a particular sense of adventure and romance to passengers while, at the same time, profitably supporting small, fragile island economies.
The Sweet Life on the Salty Sea
Shortly after boarding we set sail. Clearing the harbor, the Mandalay's sails billowed and soared as she leaned over ever so gracefully and her elegant bow cut cleanly into the chop of the waves. Moving now under full sail, I took a deep breath, faced the wind, and broke into a grin of pure joy.
Captain Sly is the man! Upon meeting, I asked him where he hailed from. His response: outer space. Okay... After a few days, I came to believe him. He is utterly unique, irrepressible, entertaining, totally in command and a joy to sail with. Every morning, we gathered on deck to meet with Captain Sly and perform a fun ritual. He would shout "Good Morning Everyone!" We, in turn, would yell "Good Morning Captain Sir!" If he deemed our response too weak, we had to repeat it till we roared a suitably enthusiastic greeting - a rousing way to greet the day!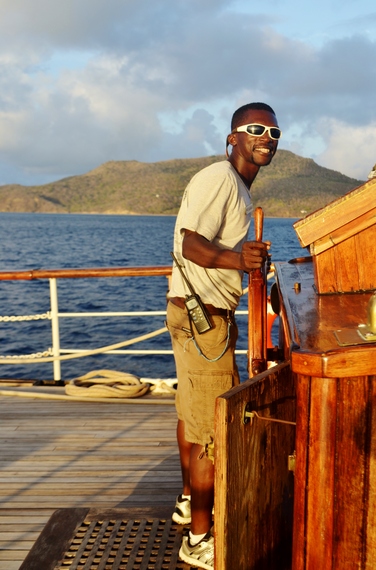 Then, his morning "Story Telling" segment - explaining the upcoming island destination and the various activities throughout the day. His "stories" were invariably interesting, informative and enjoyable.
The group on this voyage was small and intimate. After sharing a few meals at our communal table, we became a close-knit, warm and unified "family" of sorts -- something I began to sense was unique to the Mandalay. We sailed the Grenadine Islands. In Bequia, called "Island of the Clouds," I visited a turtle sanctuary which housed Hawkbill turtles, both hatchlings and adults.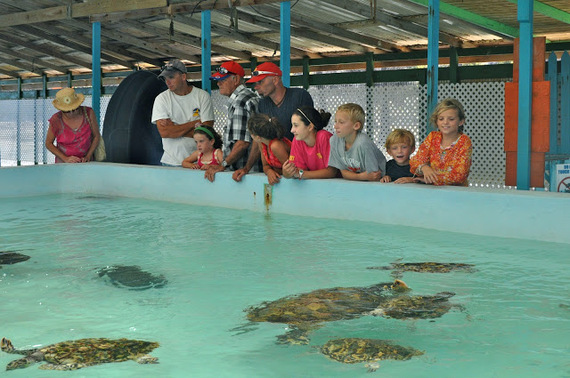 In Tobago Cays, I snorkeled with sea turtles. We dropped anchor in Mayreau, an island with a population of just 300 souls. Hiking up a steep hill, I came upon a tiny stone church, The Church of the Immaculate Conception. The pews were rough-hewn benches, the windows stained glass squares gaily colored yellow, red, blue and green. As I sat there, someone put on a recording of angelic voices singing Gregorian chants. A priest flung open all the windows to a strong breeze that caught the flags and banners lining the walls. They began waving wildly, calling to mind the film Black Narcissus and the insane winds that blew atop the Himalayas. The mood turned haunting -chanting voices, a padre garbed in a long white cassock, banners beating against the walls- and yet overall a sense of calm and quietude. I wished I could stay there the entire day. Returning on board tired but happy, a most welcome wine and cheese party awaited me.
At various ports, we bar crawled where there were always strong rum drinks and good reggae music. One day the crew hauled to shore all the fixings for a beach picnic lunch. Evenings, we engaged in games -- a nutty one was called "Battle of the Sexes;" everyone went gung-ho and totally threw themselves into it -- a lot of silly fun.
After a week I returned to Grenada, my voyage over but not the memories. I'll always remember lying in a hammock on the top deck at night, rhythmically rising and falling in very choppy seas. Another time I slipped off the ship into calm, azure waters and had a leisurely swim. But perhaps more than anything what will live on is the memory of that singular camaraderie between us and them -- the passengers and that lovely, kind and attentive crew.
The music of "Amazing Grace" played an important part on my Mandalay voyage. Each time the sails were raised, the strains of this heavenly hymn swept over the ship. We'd all rush to the deck and watch the crew, hard at work as a bagpiper sounded this poignant melody. Finally, I heard it for the last time as I bid Captain Sly and the crew adieu and descended the gangplank. Oh no, I thought, I'm gonna lose it! Holding back tears, I took one last look at this revered grande dame, hoping that she will be preserved and cherished -- she deserves no less -- she's earned it! A parting thought on the Mandalay: Go Small, Go Simple, Go Now!

If You Go:
Windjammer S/V Mandalay
www.sailwindjammer.com